This year has changed the way businesses around the world interact with their customers.
For small business owners, the ability to embrace online payment tools, pivot to e-commerce and find innovative new ways to deliver products and services has been crucial to keeping their doors open.
At Helcim, supporting small businesses and finding new ways for them to accept payments is our main priority. As COVID-19 changes how you interact with your customers, we are here to provide flexible and creative payment solutions that help support your business.
Here are the tools and payment solutions included at no extra cost with every Helcim account to help businesses adjust to the new demand for online sales and contactless payments.
Create an Online Store and Reach Customers Anywhere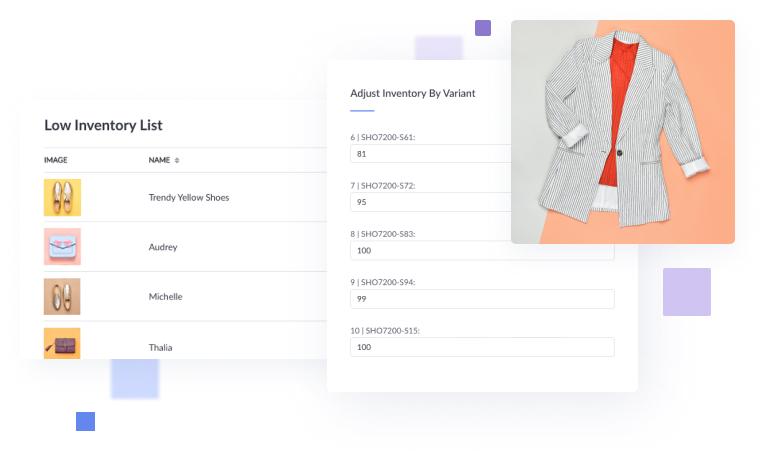 A common statistic being shared about the pandemic is that it has moved ecommerce adoption forward over ten years in a matter of months. Many businesses that had barely considered creating an online store in the past have not only launched an online presence but embraced the additional sales channel and used it to keep their business operating while they were unable to see customers in-person.
Consumers everywhere have embraced the convenience and safety of online shopping. Even as businesses are beginning to reopen, once again allowing in-store shopping, many customers are still placing online orders for curbside pickup or having items shipped directly to their homes instead of venturing out to stores.
If your business needs to set up an online store, Helcim makes it easy. Every account includes access to a fully hosted online store that can be customized to match your brand. You can display products already entered into your Helcim account in your Online Store with the click of a button, so customers can begin shopping online right away. Use the shipping and pickup customization options to control where customers can order from and when they can pick items up at your store.
Online Food Ordering for Restaurants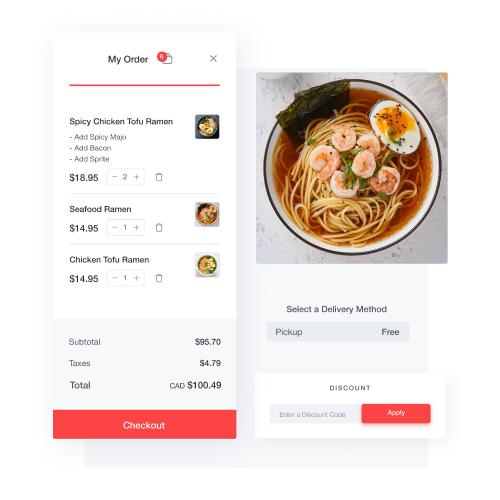 With uncertainty around accepting in-person guests, capacity restrictions, and cautious customers, there are a lot of reasons for those in the foodservice industry to continue offering takeout and pickup options to customers. With Helcim's Online Food Ordering, you can avoid the steep commission fees charged by the third-party delivery apps and take control of your online orders. Creating an online menu is easy, you can add menu items to your account in seconds and offer customers a traditional online store experience, or a mobile-friendly quick-order menu so customers can order from anywhere.
There are no additional monthly fees to use Helcim's Online Food Ordering solution, the tool is included alongside all the other features of your Helcim account. You can customize your menu to meet your needs with flexible configurations for food items including modifiers and add-ons.
Download the Helcim Payments app on your iOS or Android device to manage orders when you're on-the-go and keep customers informed using Helcim's integration with TablesReady.
Send Payment Requests by Text or Email
Use the Payment Requests feature in your Helcim account to avoid in-person payments and quickly collect payment by sending a notice through text or email. Once your customer receives the message, they can click on the link to view a detailed copy of their invoice and enter their payment details.
Businesses in many different industries can benefit by using Payment Requests, here are just a few examples of how they can be used:
Dry Cleaners and Tailors can send payment requests when an order is ready for pickup for the customer to pay before picking up their items
Professional Services providers such as Accountants and Lawyers can send payment requests when invoices are due
Home Services providers like plumbers, electricians, window washers, house cleaners, etc"¦ can all use Payment Requests as an easy way to notify customers when work is done and they need to collect payment
Mechanics can accept payment through Payment Requests for an easy contactless experience
Florists can send Payment Requests when orders are received and once payment is submitted they can complete the delivery or let the customer know they are ready for pickup
In a lot of these cases, businesses are providing services that can be done remotely or without the customer present, but that requires an in-person interaction to accept payment. With Payment Requests, you can remove the need for physical interaction with your customer which is safer for them and for your team.
Create QR Codes for Customer Self-Payments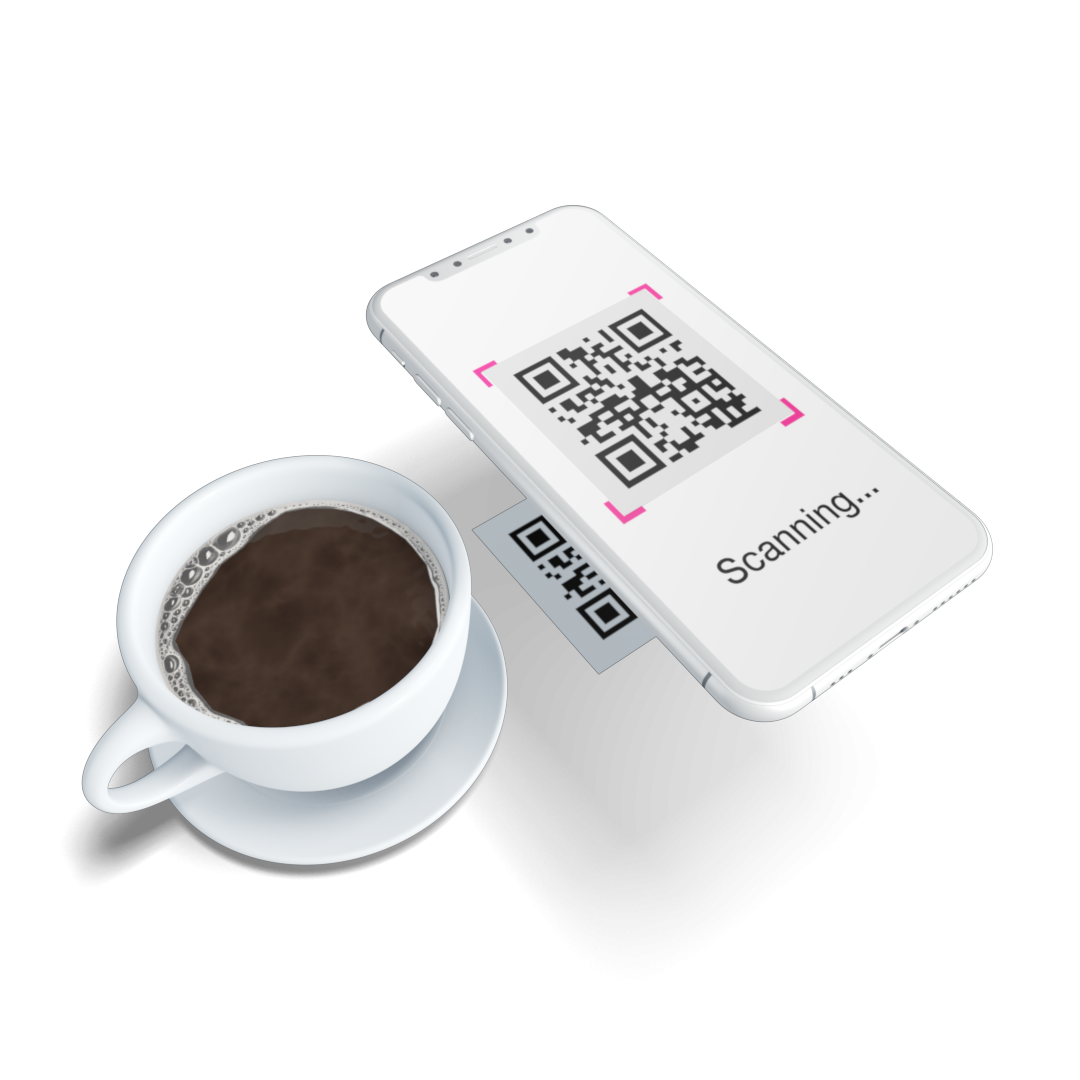 While it's debatable whether QR codes ever really caught on, they seem to be making a comeback as businesses look for new ways to encourage contactless interactions with their customers. You can create QR codes for any of your online sales tools including your online store, online food ordering, and hosted payment pages from your Helcim account. Once created, simply print and display the codes wherever you interact with customers, whether it's at the table or on your storefront window. Customers simply scan the QR code with their mobile device's camera, visit the destination link you've specified, and enter their payment details to complete the transaction. Best of all, they don't need to download any special apps to use the QR Codes, the codes can be scanned using the camera on their phone.
Different ways businesses can use QR codes are to setup codes that link to hosted payment pages for a wide range of uses including:
Creating a QR code to a payment page with a blank amount to accept tips and gratuities for those in the tourism, hospitality, and restaurant industry
Setting up a QR code that links to a donation page, you can leave the amount blank for customers to fill in or create pages with a set amount
Using a payment page with a blank amount to register a card on file for hotel stays or rental services where you need customer payment information on file
Creating payment pages with pre-filled items for service or products so customers can quickly pay
Adding QR codes with drop-in, registration, and service fees to make it easy for people to pay when they arrive at a location, without having to queue at the front desk
Using QR codes to access hosted payment pages gives you endless opportunities to replace the need for a terminal and to accept cash. You can create as many QR codes as you need to deliver a contactless payment environment that still meets your customer's needs.
Self-Ordering for Restaurants with QR Codes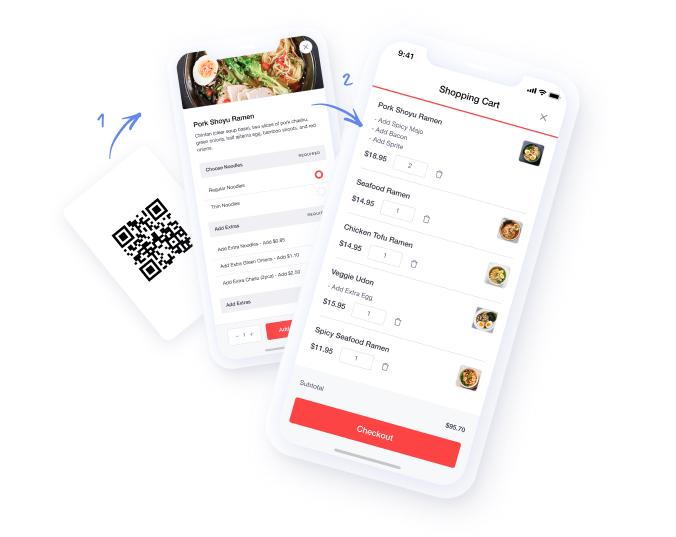 Once you have Online Food Ordering setup for your restaurant or foodservice business, you can add the use of QR Codes to let customers quickly pull up your online menu from their smartphone.
If you are offering a sit-down service at your location, you can create a QR Code for each of your tables removing the need for menus and letting customers self-order and pay. When you receive their order it will have the table number or description included in the comments box for the QR Code so you know exactly where the order goes.
For restaurants offering contactless pickup for their orders, you can add a QR code in your business's front window so customers can scan and order without having to come into your establishment. Food trucks can deploy QR Codes in a similar manner by displaying the codes outside their truck or on a sandwich board, so customers can order and pay without having to interact with your team.
In addition to removing the need for menus, shared terminals, and other common touchpoints, using QR Codes for self-ordering can make your business more efficient by letting customers order immediately, putting fewer demands on your team, and increasing order accuracy as customers are in control of the process.
Send Online Invoices Instead of Using In-Person Payments
Online Invoices are an easy way to collect payment from customers if you're trying to limit the number of in-person interactions you have. You can add products to your Helcim account to quickly create invoices when you receive orders, or create custom invoices to reflect your services for each customer.
Create and send an unlimited number of invoices from your Helcim account and deliver them to customers by email. When a customer receives an invoice from you, they can view and pay for the invoice right from their computer, tablet, or smartphone.
Online Invoicing is just one of the online payment tools that are built into your Helcim account, the feature includes customization options so you can display your logo, brand colors, and more. If a customer has an outstanding invoice you can send a Due Reminder with the click of a button, making it easier to remind customers when payment is due without having to chase customers down on the phone, worry about depositing checks on time, or making it to the bank before it closes.
Use the Virtual Terminal for Contactless Payments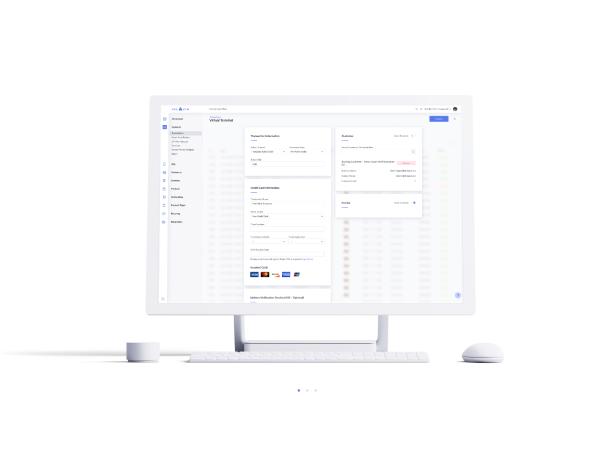 The Helcim Virtual Terminal is the easiest way to accept payments over the phone from customers. When a customer calls in to make a payment, you simply enter their payment information into your computer to process the transaction in real-time. You'll know right away whether it has been declined or approved and you can send the customer an email receipt with all the payment details.
Businesses offering products or services can benefit from using a Virtual Terminal because of how quick and easy it is to serve your customers. For example, consider a hair salon that can't see customers in-person, but who is offering take-home dye kits. They might not want to set up an online store, but they can take orders over the phone and use the Virtual Terminal to quickly accept payments for each transaction. Then, when the customer comes to pick up their kit it's all paid for and ready to go.
Helcim has the Payment Solutions You Need
All of the tools and features mentioned above are included with every Helcim account, making it easy for you to customize your payments and pivot to meet your changing business needs. The year 2020 has emphasized the importance of having an omnichannel payment solution and choosing a payments provider that leverages the latest technology, so your business has access to the flexible tools it needs to accept payments no matter what.
If you're a Helcim merchant who has questions or wants to learn more about making the most of the tools available to you, we're always here to help. You can reach out to the Helcim Gurus by phone or email anytime, or let us know how we can make Helcim work better for you.