Point of Sale: What Does it Mean?
When you hear the term POS, what do you think of? Maybe it's a card reader, or maybe the computer used by someone behind the counter to ring up your purchase. But what is it really? Well, the reason you likely thought of one of the above things (or even something else) is because there's a bit of confusion around exactly what a point-of sale is, but we're here to clear that up for you.
Simply put, a point-of-sale is just the location (or point) where a merchant processes a customer's purchase or order. That's it! The card reader, software, and the scanner that's often used for barcodes—all that stuff is secondary to a POS. You can even think of them as "add-ons" that enhance a customer's point-of sale experience.
The reason I like to describe them as "add-ons" is because a point-of-sale is essentially just the location of a transaction, and transactions can happen in all kinds of ways. Of course, when you think about yourself as a customer, there are certain ways in which we picture these transactions based on point-of-sale setups that we've interacted with in the past, and it's usually these experiences which influence merchants when they start to build their own point-of-sale. As a business owner, you want to facilitate a good "check-out experience" for your customers, and your POS is the heart of that operation.
Out With the Old POS
Maybe you already have a POS setup but are hesitant to move on from what you currently use because it was a significant investment, and for lack of a better term, you feel "stuck" with what you have. If you feel like you're caught between a rock and hard place when it comes to your current POS, look no further than the next paragraph for more info on just how easy it can be to upgrade.
Unlike the traditional legacy systems that took up a lot of counter space and were expensive to install and maintain, Helcim's point-of-sale offering is a cloud-based application. Not only is this sort of system more cost-effective compared with its predecessor, but it's also significantly easier to update. Whenever a mobile POS system like ours needs to be updated, you'll get a notification to download the update at a time that is convenient for you (or you can enable automatic updates) meaning you won't need to worry about spending thousands of dollars to update your POS ever again.
Absolute Essentials for a POS: Credit Card Processing App
Now, while there are certain setups that come to mind when we look at creating our own POS, as we mentioned in the previous paragraph, things have drastically changed in recent years to reduce upgrade and start-up costs.
Modern POS systems are no longer reliant on one sort of computer system, nor is it even essential to own a card reader anymore; with a virtual terminal, you can process payments completely online. All you need is a payment processor with a great app and a computer or mobile device to start processing transactions.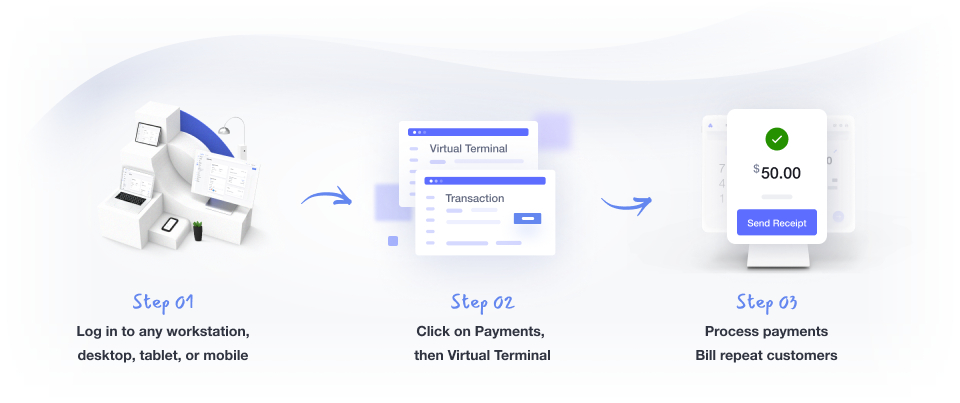 Credit Card Reader: A Familiar POS Setup
A card reader is a great way to streamline payments for your business. you can always rely on your credit card app to take a payment wherever you are, but with a card reader, you not only benefit from lower processing rates, but give your customers the added convenience of paying with tap or chip & pin.
Credit card processors like Helcim offers a sleek, modern card reader that helps elevate your customer's over the counter payment experience. Helcim's card reader is lightweight, portable, and connects via bluetooth or USB to your desktop or mobile phone. It's definitely an upgrade on a clunky old school terminal, and yet it's familiar look will be instantly recognizable to your customers and present them with a comfortable in-person payment option.
There's Always a First Time to Setting Up Your POS
If you want to check out a deluxe POS setup and how to get it up and running, take a look at this video from one of our top Helcim Gurus, Aaron:
State-of-the-Art POS with Helcim
Whether you're just looking to get started with your first ever POS or looking to upgrade from your antiquated, overpriced POS to something that's more advanced, yet simple to use, why not give Helcim a try? For just $20 a month, we give you access to our entire suite of software, and the first month is on us, so you can try Helcim risk free. Still have questions? Give our expert team of Helcim Gurus a call, or sign up today.