The Helcim Card Reader
.
Introducing the one device for all your payment needs. Whether you're accepting payments at your countertop checkout or looking to accept payments on-the-go, the lightweight and easy to transport Helcim Card Reader connects to an array of devices and offers your business the flexibility to accept any type of payment, wherever you are.
In-Person Payments, No Compromises
.
Accept Credit and Debit Cards
Customers can pay using their credit or debit cards from all major card brands.
The Way Your Customers Want to Pay
The Helcim Card Reader is EMV and NFC enabled so your customers can pay the way they want.
US PIN-Debit
You can accept US PIN-Debit transactions from all major networks including Interlink, Maestro, Pulse, Star, NYCE and others. Reduce your interchange fees and give your customers more payment options.
Works Across Devices
.
You get to decide how you use the Helcim App and Card Reader, and which device you use them on. You can use the app on a Windows or Mac workstation, or on your tablet or smartphone, and even a combination of devices - all linked to your data through the cloud. Whether you have one location, multiple locations or are on the go - flexible devices plus unlimited users allows you to customize the experience to your liking.
A Desktop Solution for Mac and Windows

Download the Helcim Payments app onto your Mac or Windows workstations to create a traditional point-of-sale experience. The point-of-sale will open in a browser window and give you easy access to your product and inventory information.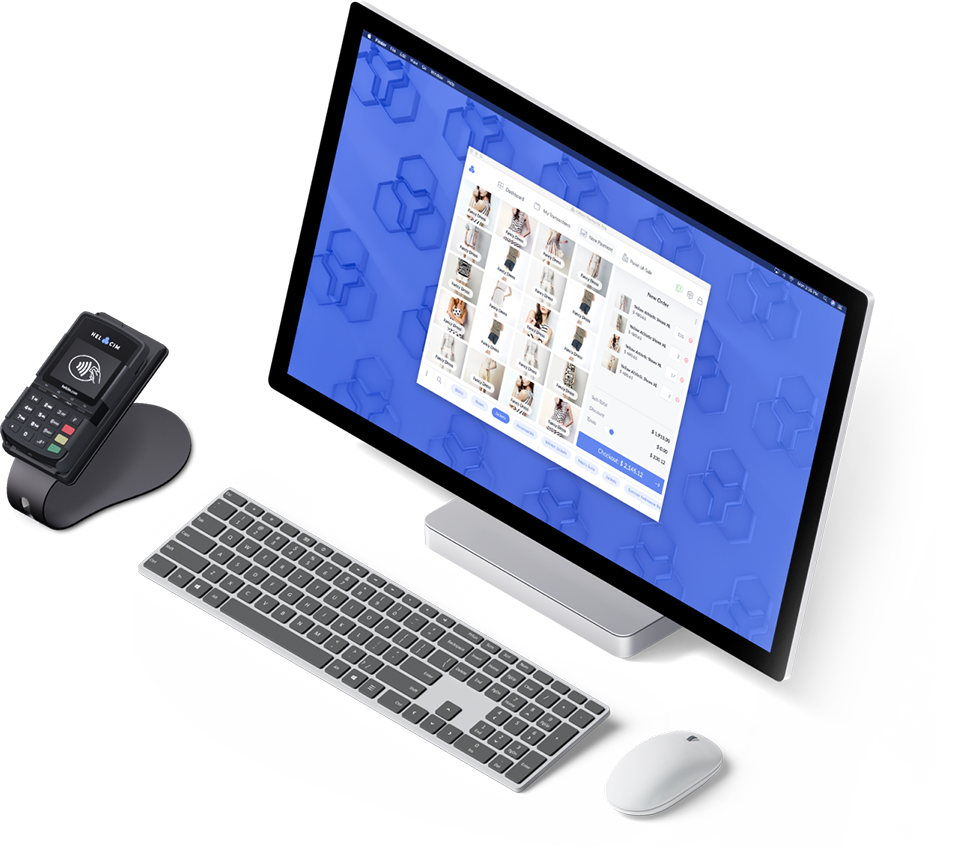 Accessible from Apple and Android Tablets

Download the Helcim Payments app and access your Helcim account from a tablet for a versatile point-of-sale experience. You can mount the tablet in a stand for a traditional countertop checkout experience, or bring it with you to pop up events for quick and easy mobile transactions.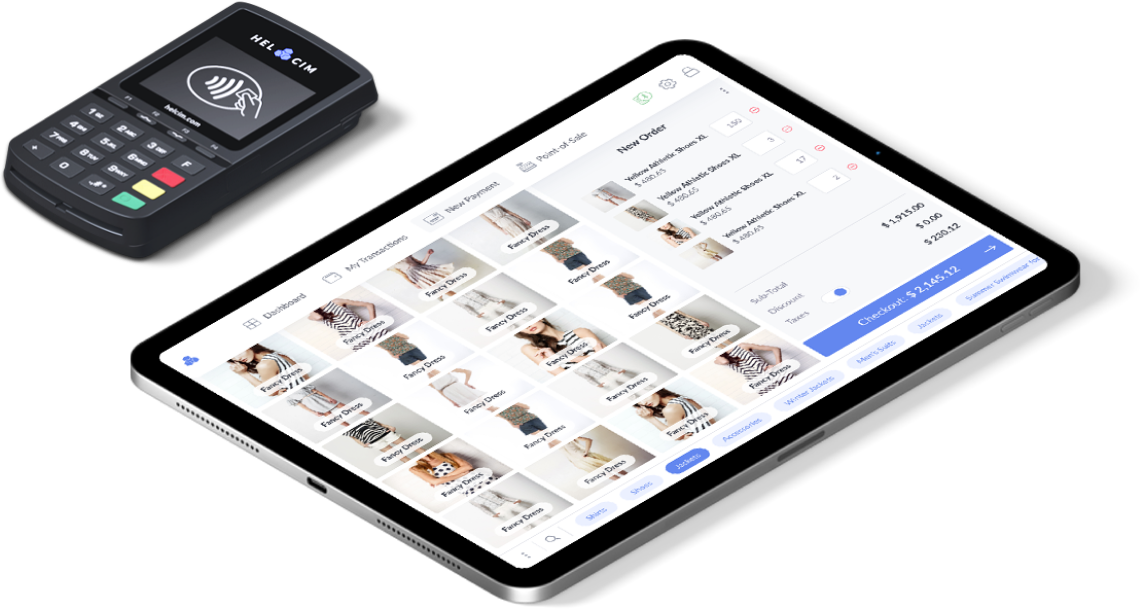 Accept Payments Using Your Smartphone

Serve customers from anywhere by turning your smartphone into a point-of-sale. The Helcim Point-of-Sale provides an uncompromised sales experience so you can continue to sell your products no matter where your business takes you.

Initiate Payments from the Helcim Card Reader
Once paired with your device, you can activate terminal mode and initiate your transactions right from the Helcim Card Reader. Simply pick up the card-reader, enter the sale amount, and let your customer complete the transaction.
Initiate Payments from the Helcim Payments App
Whether you are using a desktop computer at your checkout, or a tablet or smartphone on-the-go, you can initiate transactions, settle batches, and even change device settings right from the Helcim Payments app. The Helcim Card Reader will connect to your device through a USB cord, WiFi, or Bluetooth using your device's existing data plan.
All Transactions Sync with the Cloud
The Helcim Card Reader is easy to set up, and it automatically syncs across all your devices to ensure you always have the most up to date information about your business. You can download the Helcim Payments app on your workstation, tablet, or smartphone to process payments from anywhere. If an employee processes a payment at a tradeshow or event, you'll be able to see the transaction details from your retail location right away.
The Perfect Countertop Solution
.
The Helcim Card Reader with the countertop stand helps you create a modern in-person payment experience that still feels familiar. The reader easily connects to the existing tablet or desktop computer at your front desk - including Mac and PC workstations and laptops. Accept credit and debit card payments, search your transaction history, and easily manage daily batches all through the Helcim Payments app.
Goodbye clunky terminal, hello future.
Better Checkout With the Helcim Point-of-Sale
.
The Helcim Card Reader is the perfect addition to your countertop checkout. The device works with the Helcim Payments app on your computer for a traditional payment experience, or with a tablet. Each time you accept a payment, your transaction and customer data is automatically captured and stored for you by Helcim.
Explore the Helcim Point-of-Sale
Integrated payments and tenders
Customizable product grids
Automatic tax calculations
Inventory tracking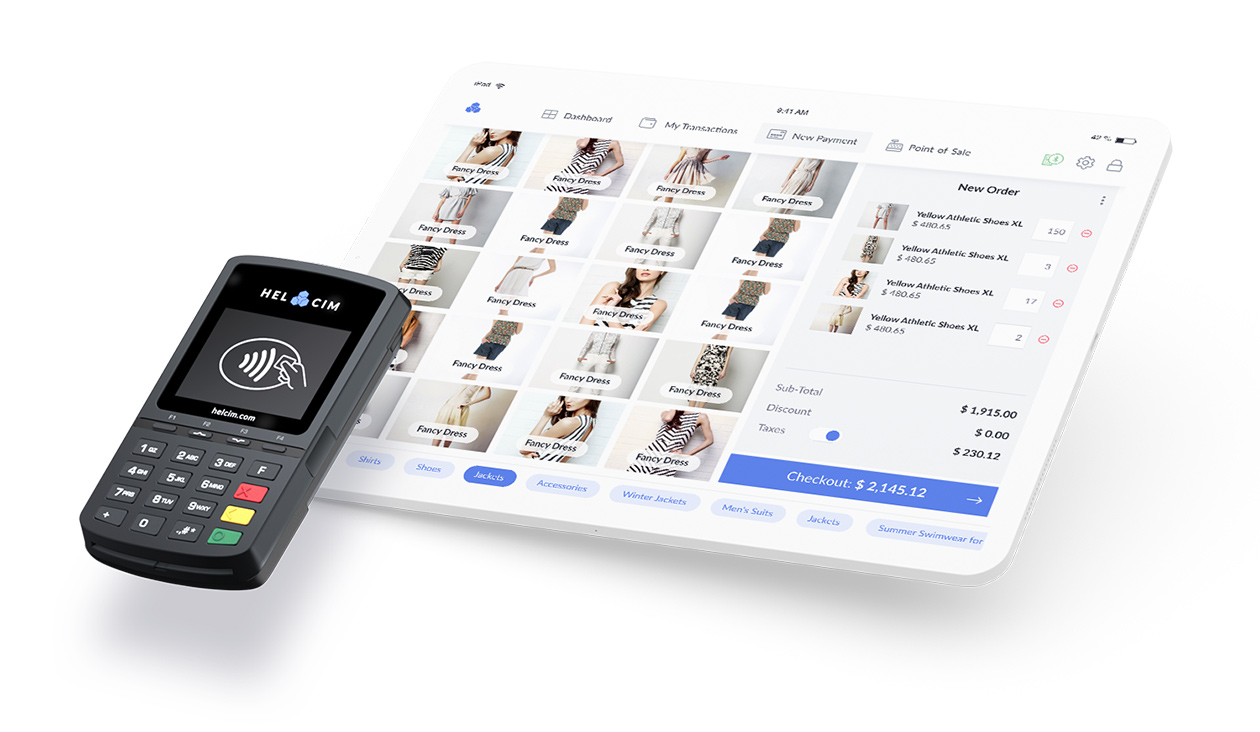 One Low Price, Free Shipping
.
No need to worry about rental agreements or leasing contracts. You get one device for all your payment needs, at one great low price. Order directly from your Helcim dashboard and you'll get the equipment delivered to you within a few business days.
FREE Shipping!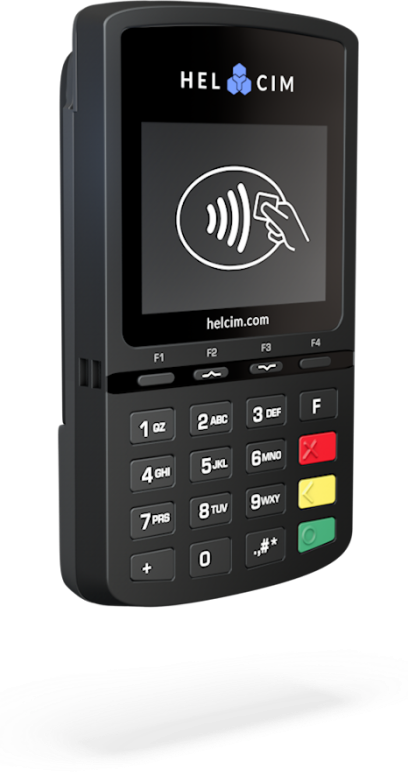 Helcim Card Reader
Sign Up & Order
Hardware Specifications
Hardware Specifications
USB, Bluetooth & WiFi Connectivity
Compatible with the Star Micronics printer for Mobile and Tablet Users
EMV (Chip-Card) Reader
NFC (Tap & Pay) Reader
PIN-Debit Transactions
Magnetic Stripe
Apple and Android Pay
Customer Tip Prompts
Rechargeable Battery
12 Hour Battery Life
Syncs with the Helcim Payments App
Wireless
Portable
Countertop Stand
Sign Up & Order
Better Pricing,
.
Lower Rates
$
First 3 Months Are On Us!
20
/monthly
First 3 Months Are On Us!
We want to help small businesses get back on their feet, so we're waiving our $20 monthly fee for your first 3 months - no questions asked. You get full access to all of our tools, as well as our great low processing rates.
No Contracts
Volume Discounts
Deposits in 1-2 Business Days
No PCI Fees
Average Credit Card Rate
1.92
%

+ 8

¢
Average PIN-Debit Rate
0.91
%

+ 8

¢
Discover Our In-Depth Payment Solutions
.
In-Person Chip, Tap & PIN
Card Vault & Tokenization
Interchange Plus Pricing
International Processing
Virtual Terminal
US PIN Debit Acceptance
Apps for Mobile & Desktop
Built-In PCI-DSS Compliance
Payment Gateway & Dev APIs
1-2 Business Day Deposits
Hosted Payment Tools
Easy Signup & Setup
You Deserve Better Payments
.
Lower Rates. Better Tools. Amazing Service.
Easily Sign Up in Minutes
No Hidden Fees or PCI fees
Interchange Plus Pricing
No Contracts or Commitments
Deposits in 1-2 Business Days
Friendly Service via Telephone or Email