Helcim Payments App
.
Helcim lets you accept payments from anywhere without compromising your customer experience. Simply download the app to your smartphone, tablet or desktop device and you're ready to start taking payments.
Run Your Business From Anywhere
.
Access All Your Account Information
You shouldn't have to compromise on your payment experience just because you're using a mobile device. You can access all of the features in your Helcim account no matter what device you're using. So you can stay informed no matter where you are.
Manage Products and Services
Access Transaction Information
View and Create Invoices
Send Digital Receipts
Review Customer Information
Sync the App With Your Other Devices
Track Your Inventory
Access Reports and Business Insights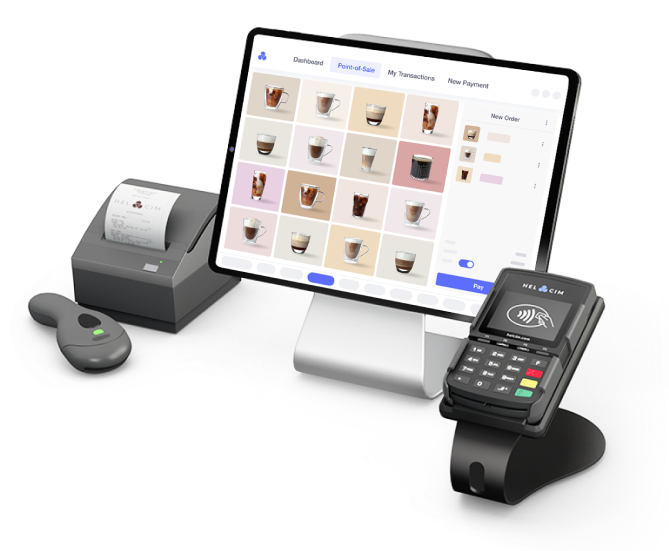 Turn Your Device Into a Point-of-Sale
.
The Helcim Card Reader is the perfect addition to your countertop checkout. The device works with the Helcim Payments app on your computer for a traditional payment experience, or with a tablet. Each time you accept a payment, your transaction and customer data is automatically captured and stored for you by Helcim.
Explore Point-of-Sale Options
Integrated payments and tenders
Customizable product grids
Automatic tax calculations
Inventory tracking
Unlimited Users & Devices
.
We understand that growing your business also means growing your team. That's why we don't charge any per-user or per-device fees. You can download the Helcim Payments app to an unlimited number of devices and include your whole team without having to worry about paying more. Keep your team connected by using your Helcim account to manage user permissions and view what's happening in real-time.

Take Payments In-Person
.
The Helcim Card Reader syncs directly with your smartphone, tablet or workstation via USB, Bluetooth or WiFi, so you don't need an expensive SIM card or separate data plan.
Explore the Helcim Card Reader
You Deserve Better Payments
.
Lower Rates. Better Tools. Amazing Service.
Easily Sign Up in Minutes
No Hidden Fees or PCI fees
Interchange Plus Pricing
No Contracts or Commitments
Deposits in 1-2 Business Days
Friendly Service via Telephone or Email