Helcim Point-of-Sale
.
Transform your workstation, tablet or smartphone into a fast and convenient point-of-sale that automatically tracks your inventory, transaction history, sales trends, and customer information. And of course, better payments are built-in.
Run Your Business, Grow Your Business
.
Get to Know Your Customers

Automatically track your customer's purchase history, keep payment information on file for your regulars, and send digital receipts to minimize paper waste.

Explore the Helcim Customer Manager

Track Your Inventory

Organize your product catalog however you want, add variants, upload images, and track your inventory across your locations. Inventory information syncs across all aspects of your account.

Explore Helcim Product Catalog

Better Reports for Better Decisions

Log in to your Helcim account from anywhere to get valuable insights into your sales trends, best-selling items, and more.

Manage Your Employees

Create an unlimited number of user accounts for your team and set unique user permissions to control what your employees can see and do.
A Complete Point-of-Sale Experience
.
The Helcim Point-of-Sale lets you design your own checkout experience. Fully-integrated with the rest of your Helcim account, you can access all of your product information and serve customers faster.
Products and services stored in your catalog
Included as part of your Helcim account
View invoices from anywhere, on any device
Inventory tracking
Built-in credit & debit card payments
Unlimited invoice creation
Custom fields, including drop-downs
Customer manager for quick entry
Customize design templates and logos
Discount codes
Automatic tax calculations
Automatic email reminders for due invoices
Works Across Devices
.
You get to decide how you use the Helcim App and Card Reader, and which device you use them on. You can use the app on a Windows or Mac workstation, or on your tablet or smartphone, and even a combination of devices - all linked to your data through the cloud. Whether you have one location, multiple locations or are on the go - flexible devices plus unlimited users allows you to customize the experience to your liking.
A Desktop Solution for Mac and Windows

Download the Helcim Payments app onto your Mac or Windows workstations to create a traditional point-of-sale experience. The point-of-sale will open in a browser window and give you easy access to your product and inventory information.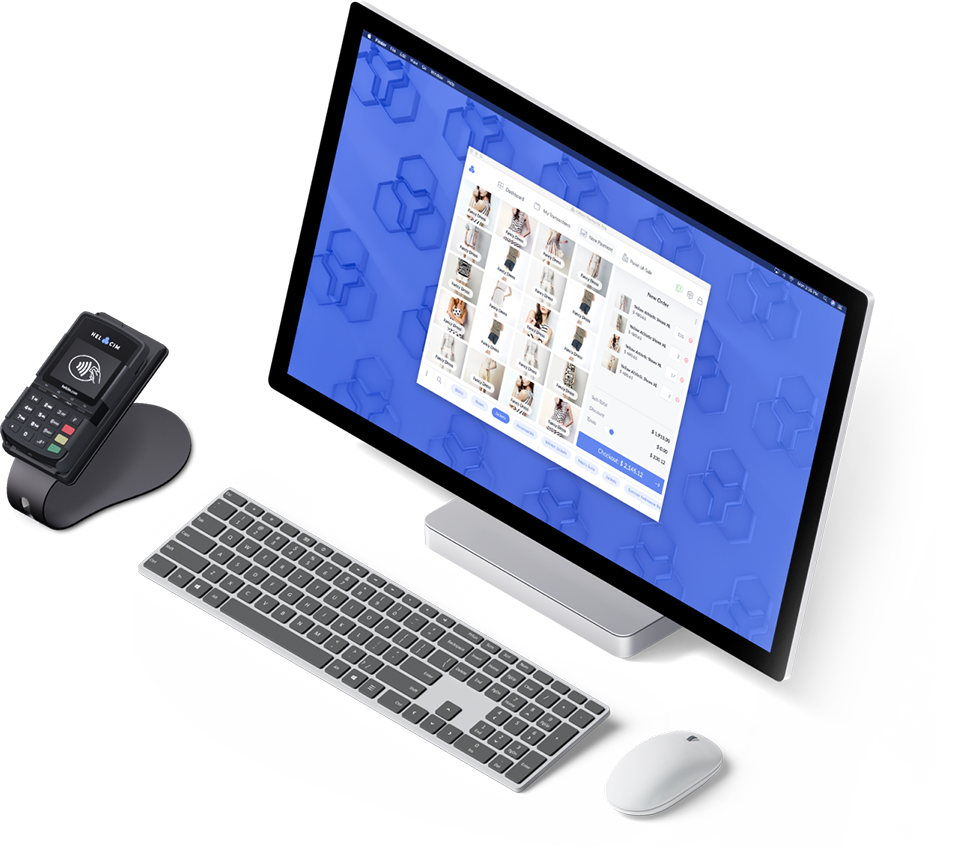 Accessible from Apple and Android Tablets

Download the Helcim Payments app and access your Helcim account from a tablet for a versatile point-of-sale experience. You can mount the tablet in a stand for a traditional countertop checkout experience, or bring it with you to pop up events for quick and easy mobile transactions.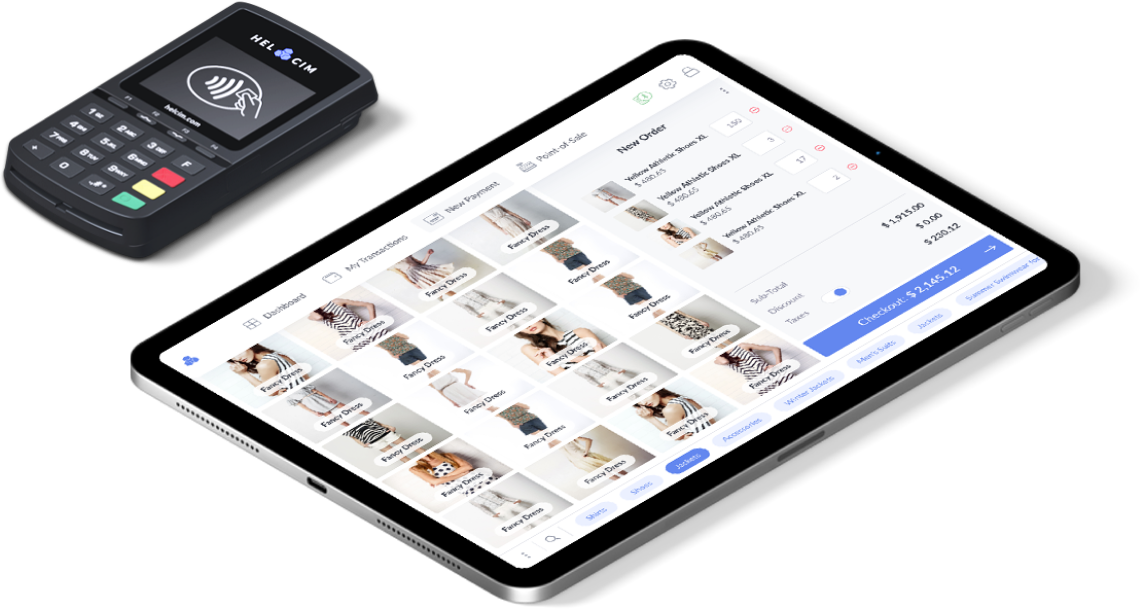 Accept Payments Using Your Smartphone

Serve customers from anywhere by turning your smartphone into a point-of-sale. The Helcim Point-of-Sale provides an uncompromised sales experience so you can continue to sell your products no matter where your business takes you.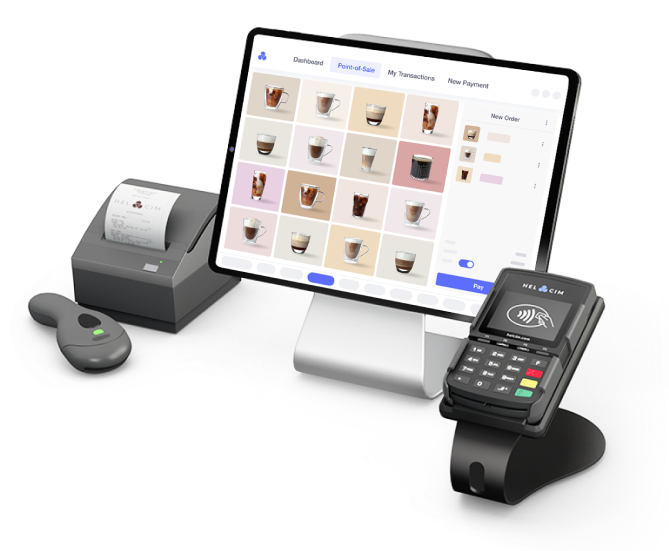 Integrate the Hardware You Need
.
At Helcim, we understand that every business is different. No matter how big or small your business is or where you sell, Helcim lets you set up your ideal checkout experience. Use the versatile Helcim Card Reader, your own devices, and other hardware integrations that all talk to each other effortlessly to create the solution you need.
Better Pricing,
.
Lower Rates
$
First 3 Months Are On Us!
20
/monthly
First 3 Months Are On Us!
We want to help small businesses get back on their feet, so we're waiving our $20 monthly fee for your first 3 months - no questions asked. You get full access to all of our tools, as well as our great low processing rates.
No Contracts
Volume Discounts
Deposits in 1-2 Business Days
No PCI Fees
Average Credit Card Rate
1.92
%

+ 8

¢
Average PIN-Debit Rate
0.91
%

+ 8

¢
Your Helcim Account
No Contracts or Cancellation Fees
Interchange Plus Pricing
Volume Discounts
Deposits in 1-2 Business Days
No Extra Fees or PCI Fees
Unlimited Devices
All Features Built-In
Invoicing, Online Store & More
The Helcim Card Reader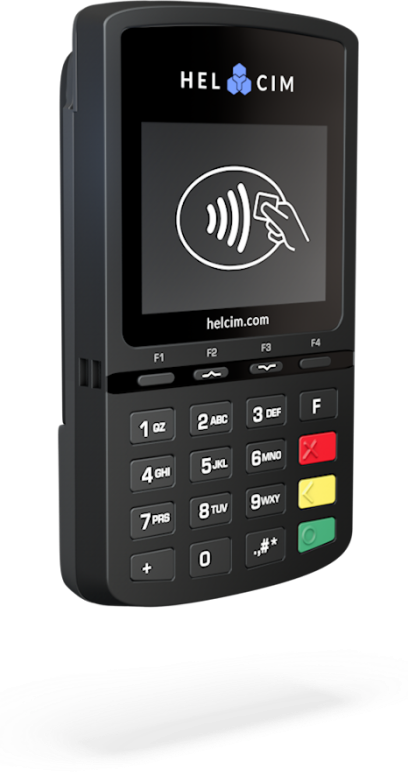 You Deserve Better Payments
.
Lower Rates. Better Tools. Amazing Service.
Easily Sign Up in Minutes
No Hidden Fees or PCI fees
Interchange Plus Pricing
No Contracts or Commitments
Deposits in 1-2 Business Days
Friendly Service via Telephone or Email