For years we have worked closely with our partner bank Elavon to deliver our merchant services. Elavon has been a key partner in delivering PCI, equipment, bank settlements, and fraud monitoring to our merchants.
We have now reached a point where we can deliver these services directly to create an even better payment experience.
Effective June 1, 2020, all new accounts opened with Helcim will be on the new system. Accounts opened prior to June 1, 2020, will be part of Helcim's Legacy system.
What does this mean for you?
If you signed up for Helcim before June 1, 2020, this change will have no impact on your account or your payment processing. You can continue to accept payments, as usual, using your existing equipment and logins. While our website will be changing to reflect the new service, you will not notice any differences or disruptions to your experience.

Is my pricing changing?
No. Your pricing will remain as is, we are not making any changes to the pricing or services available to merchants who are using the Helcim Legacy service.
Why isn't my account changing?
We understand that stability and reliability are key for you to be able to run your business and we do not want to disrupt a core component of your business. We want to ensure our system and processes are ready for a mass migration first, so the migration of Legacy Accounts will begin in January 2021 once we have confirmed the new system is performing as anticipated. At that time, the Helcim Gurus will reach out to confirm if you would like to switch to the new system, and to walk you through the migration process.
Do I still get access to support?
We are committed to continuing to provide the same friendly and helpful customer service that we always have. Our team of Helcim Gurus will continue to assist you and you will still have access to the support documentation online.
Will I continue to receive Helcim Commerce product updates?
Helcim Commerce remains a large part of Helcim's service offering and we will continue to improve the features and implement product fixes on an ongoing basis for all merchants on the platform.
What is this new service?
Accounts that sign up for Helcim as of June 1, 2020, will have their PCI, equipment, account changes, bank settlements, and fraud monitoring managed entirely by Helcim. The chart below compares the Helcim Legacy service with the new Helcim service.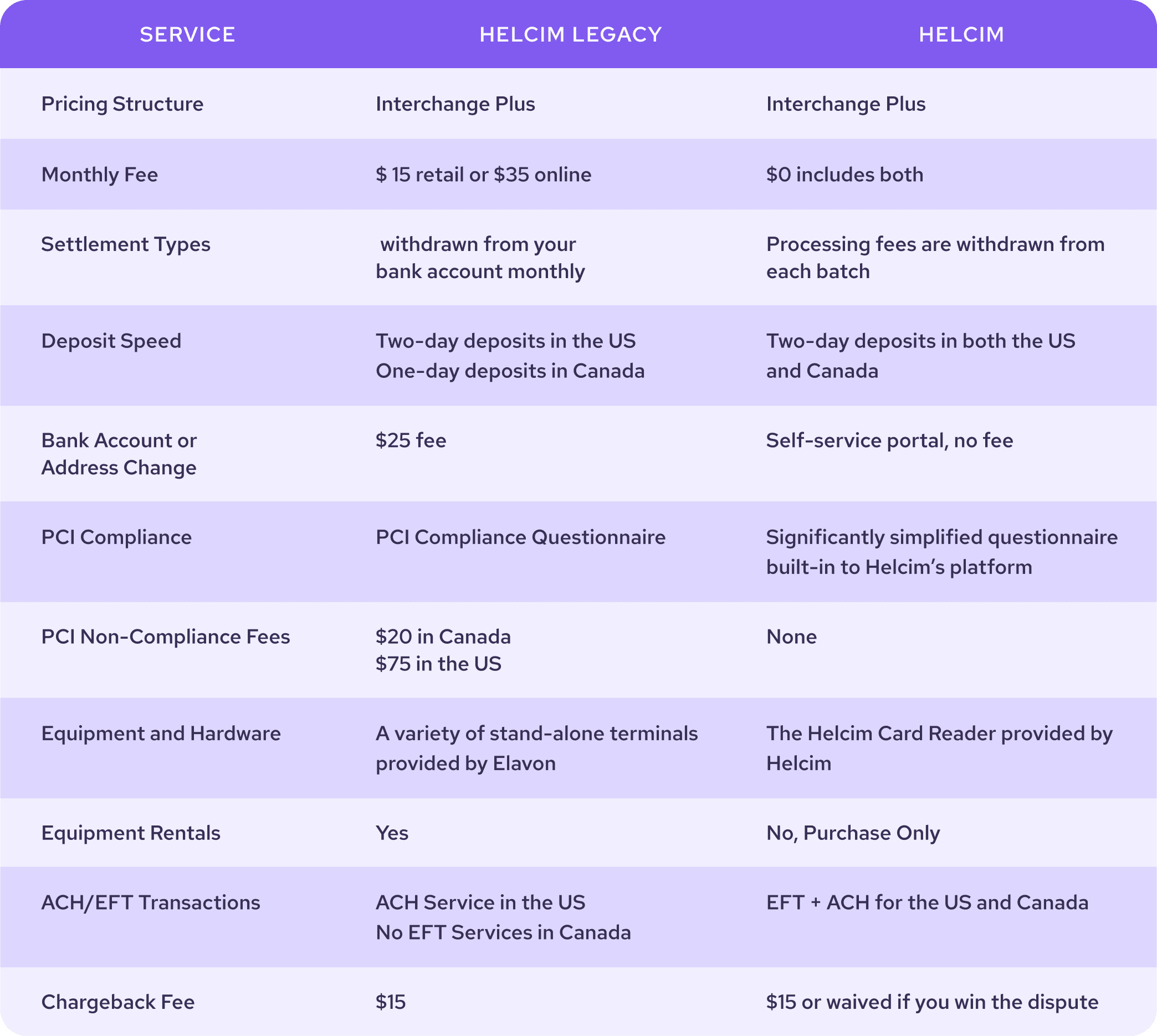 What does built-in PCI mean?
Merchants who sign up for Helcim after June 1, 2020, will be able to complete their PCI requirements from the Helcim Dashboard in just a few minutes. PCI Compliance is an important part of protecting your customer information and your business. We have made it easy for merchants to obtain their PCI Certificate and keep their business secure. We are proud to provide the benefits of being compliant through our new simplified process with no PCI fees or non-compliance fees.
Can I switch to the new service?
We will reach out when a migration plan is in place to move your account from the Helcim Legacy system to the new system. When we roll out our official migration plan, we will prioritize convenience and uniformity of pricing. At that time, you will be able to choose if it is the right time to switch your account over to the new system.
If you have an immediate need to switch, you can reach out to the Helcim Gurus for assistance. Please note: if you are currently using one of our card present solutions, your current terminals will not work on the new system. To accept in-person payments on the new system, the Helcim Card Reader is required.
What happens to my pricing after I switch?
Offering fair and transparent pricing has always been central to Helcim's mission and we are continuing to offer interchange plus pricing with the new service. While the pricing is mostly consistent across the two offerings, there will be some minor changes to account fees and margin rates. Merchants who are using Helcim Legacy will have their current processing rates honored and any monthly packages below $20 will be grandfathered in at their current rate.
I have more questions!
We're always here to help answer your questions. Our friendly Customer Service Team are available by phone or email to help with any questions you have about this change, or with your usual account maintenance.
Email [email protected] or call us at 1-877-643-5246.
Thank You
We want to thank each and every one of our merchants for putting their trust in us and helping to bring us to where we are today. Each member of the Helcim team comes to work every day to help create the best payments service for our merchants and we're excited about this next chapter in our journey together.