In the Fall of 2021, Kevin Mako - Founder of Mako Design & Invent-and Kyle Ellergodt, Helcim's Partnership Specialist-met together to discuss the nature of serving small business owners. MAKO Design + Invent is the original firm providing world-class consumer product development services tailored to startups, small manufacturers, and inventors. They are the leading one-stop-shop for developing your physical product from idea to store shelves.
Kevin helped Kyle understand how Mako Design helps people turn innovative ideas into a viable reality. The landscape of bringing a brand new product to market is treacherous, but with the right tools and guidance, you can get anywhere your invention dreams can take you.
Interview
K: Tell me who you are and what's your role with Mako Design?
M: I'm Kevin Mako, and I'm the founder of Mako Design & Invent. Started back in high school back in 1999, incorporated in 2006 in university and full-time into it since 2007.
K: Okay, so in high school then you had this idea?
M: Yeah it was just an idea back then - just toying with it. When it got serious was halfway through university when I incorporated the business. I was at the Ivy Business School which is Harvard Business School's sister school in Canada. I incorporated this while there and then I studied at Hong Kong University for supply chain management. I did a six month term living there on campus.
When I came back in 2007, I was class president at Ivy, so I had [the] pick-of-the-litter of job opportunities-many of them with signing bonuses, but I turned it all down to take a whirl at this. No investors. No debt. No financing. Started with maybe 6 weeks cash flow. Struggling to build this through my twenties. Now well into my thirties, we've grown it to four offices with a thirty person team from coast to coast!
K: My understanding is there's lots of ways in which you help clients from a technical perspective.
M: What Mako Design does, is world class product development tailored to small businesses, home inventors, and small manufacturers. So a lot of start-ups, a lot of early stage companies, a lot of innovators. A lot of companies that have been around for a long time as well, but they're just small. Sub 100 employees. All for physical consumer hardware products. So gadgets and inventions, stuff you see at Walmart, Best Buy, Staples, or on Amazon, Kickstarter, IndieGoGo, Shopify, etc. that's the sort of stuff we work on.
K: I was listening to a podcast recently, but they said the vast majority of new products often come from home inventors who maybe buy a product, really like something, but see a way that they can improve it. Do you sometimes have folks coming to you saying "I've got this product but I think I can improve it"?
M: There's a couple things that come top of mind there. First of all, most products are a combination, or an iteration, or a modification of something existing. 99+ percent of patents right now are a combination of existing technologies. Very rarely is there an entirely new technology that's brought to us-it's generally using existing technologies or derivations or improvements of technologies to make something.
On the flip side, you mentioned home inventors. There's been a variety of stats over the years, one that hit me many years ago is that 40% of inventions could be traced back to a home inventor. That is only growing at a massive rate. Many things are happening: first of all, imagine Kickstarter or IndieGoGo, [those platforms are] creating entirely new avenues for startups to get to market earlier than production. That's just the tip of the iceberg. But behind that, you even have big corporations; they're investing less money on research and development on their own products and more money on acquisition. They're saying, "let the users figure out what's the next great product, and we'll just buy them when they're small and then scale it to 100x the size."
Most of our customers at Mako, most of our customers that go through into production and are making even just light 6 figure sales-most of them get acquired. And that's because they end up hitting that tipping point where they've created a great product, then they've market validated it-meaning they have real users purchasing it saying "I love this thing" -that is such a right combination then for a big company who's in the space to say you know, "You've done well with this tiny demographic", we can now amplify that because we've got global reach." And it makes a great partnership for both sides. They're getting a great new product that the market already loves, and the inventor or the startup gets scale like they never could have imagined. It's very powerful stuff. And all of that is continuing to grow.
K: Wow fantastic! That is so interesting. Now, global supply chain disruption is something that's happening right now. Every industry seems impacted. Does that influence some of the conversations you're having with clients. For example, "we might not be able to get that fifty unit run of this product as quickly" as say two years ago. Has that impacted you?
M: Well for sure, I mean, there's always impacts to supply chain disruption, but this is nothing new. Many times through history supply chains are moved. In fact, I would argue for small, nimble startups, or even small manufacturers, chaos can lead to opportunity. Whereas big companies take a lot of time to move that ship, you can move quickly and easily. Half of our products have electronics in them, half of them don't. But when we're looking at the electronics side, it's generally quite easy for us to look at a product and say "Ok we designed it around this particular micro chip, we're constantly getting supplier shortage announcements, so we say well that's out, let's switch to this."
And when we're dealing with small volumes, it's relatively easy. If you're looking at buying millions of units and all of a sudden there's a chip shortage-you're stuck, you're sitting there waiting. If you're small and nimble and are working with your design team you can get around that most of the time. We've been able to fairly quickly move through [delays] and find a solution.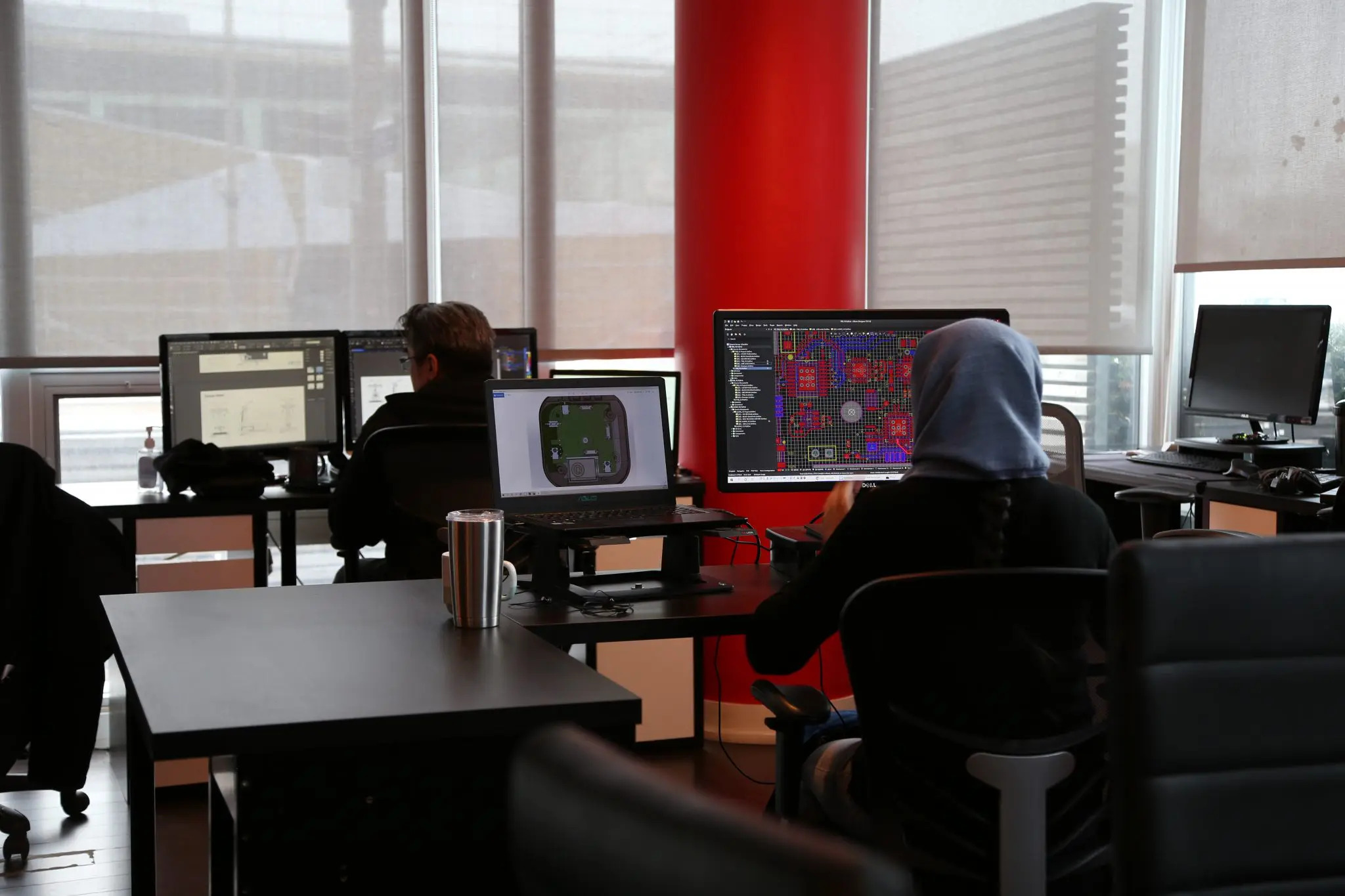 K: What are you excited about right now in your business?
M: Well for me it's just doing more of what we're doing now. I'm at the point where I don't want to change anything. Of course, I'm a perpetual improver-always looking at ways to get better, more efficient and create more value for clients. But the reality is-if you look back twenty years ago when I came up with this idea-people thought I was nuts"¦it was unheard of"¦I knew as I was being advised not to touch this market at all I said that's the opportunity. For me, I was very passionate about entrepreneurship, I was very passionate about innovation, specifically around hardware products.
You asked me the question about passion. It's very clear, we pioneered this space of getting great design tailored to the small folk[s]. I want to make sure that we're a world brand for this. I want to make sure that anybody with a hardware idea or a physical product or an invention knows that there's a place they can go to get this thing developed.
"With hardware you've got one shot. You can't just do an update and fix it. That thing is going to be in 500 user's hands, it's got to be done very well."
K: You've been with Helcim since 2018. Can you tell me why you chose Helcim for your payments?
M: Well there's really two things I was looking for when we switched to Helcim. One, better fees. And two, smooth processes. And I'll tell you, we were looking for somebody that was running payment processing not like an old-school bank, but like a modern FinTech company.
Somebody that was easy to get a hold of, nice UX, UI, easy to train our staff to use, easy for our clients to use. Smooth, clean, efficient, modern processes. And that's where Helcim really made a difference from our prior provider, who we were with for many years. But it was very difficult in many cases. That's where Helcim came in and really helped bring it to a modern standard.
K: What features do you use or like that Helcim has to offer?
M: One of the big features we like with Helcim is multi-country, multi-currency, because we have a global client base. Most of our clients are in the USA and Canada, but we have clients from 30+ countries around the world as well.
It's really helpful when you are international to have a payment processor that is also international and also makes that process easy so we don't have to set up different vendors in different cities and in different countries.
K: How has Helcim helped your business?
M: Helcim has helped our business simply by smoothing out payment processing across multiple offices.
K: What's next for Mako Design?
M: What's next for Mako Design is becoming a bigger and well-known brand. We really want to get out there in North America-to become a household brand-so that anybody with a product idea at least knows where they can start the conversation over what to do with it to commercialize it.
"When it comes to small manufacturers, startups, and home inventors, Mako Design is the spot."
A special thanks to Kevin Mako for taking the time to talk about your business and how Helcim has helped you process payments! Find out more about Mako Design + Invent at www.makodesign.com