From dreams of being a soccer player, an architect, and a lawyer, to becoming role models for their younger family members and honing their creative skills — Let's find out why these three women became software developers working at Helcim and the barriers they experienced as women in the tech industry.
"What did you want to be when you grew up?"
When we first ask the three developers what their professional background is in coming to Helcim, the story has some of the same elements- a standard software development background here or an unconventional masters of electrical engineering there.
But their answers start to shift when we ask them if they have always had an interest and background in software development.
Zoe Lavena, a Software Development Lead at Helcim, shares that she actually had a background in arts. Like many young adults, she was persuaded by her family to enroll in courses in computer science and programming in pursuit of a trade they believed would provide more job security.
She explains, "having arts all around me, I wanted to be an architect in high school."
For Amnah Hussain, a software development intern who just completed her third year at U of C, this is her first job as a software developer. Her interest in programming also peaked later, following a lifelong interest in soccer. For her, software development wasn't on the agenda until later; her time spent playing competitive soccer on the school team throughout middle school and high school.
Niloofar Sharafadinzadeh (Niloo [knee-lou] for short, a software developer at Helcim, was also a late bloomer. Despite a master's in electrical engineering, Niloo explains she never had an interest in either growing up. She always thought she would become a lawyer, which she explains stemmed from what she describes as being a rebel growing up.
Looking back, she says, "I was just stubborn. My parents are doctors, so they tried to push me into medicine. I was like, nope, I'll go another way."
So what changed for these three? Do they regret abandoning those childhood aspirations, and why software development?
"If you could do it over again, what would you choose?"
Even if offered a job as an architect, Zoe says she wouldn't trade it in for software development now.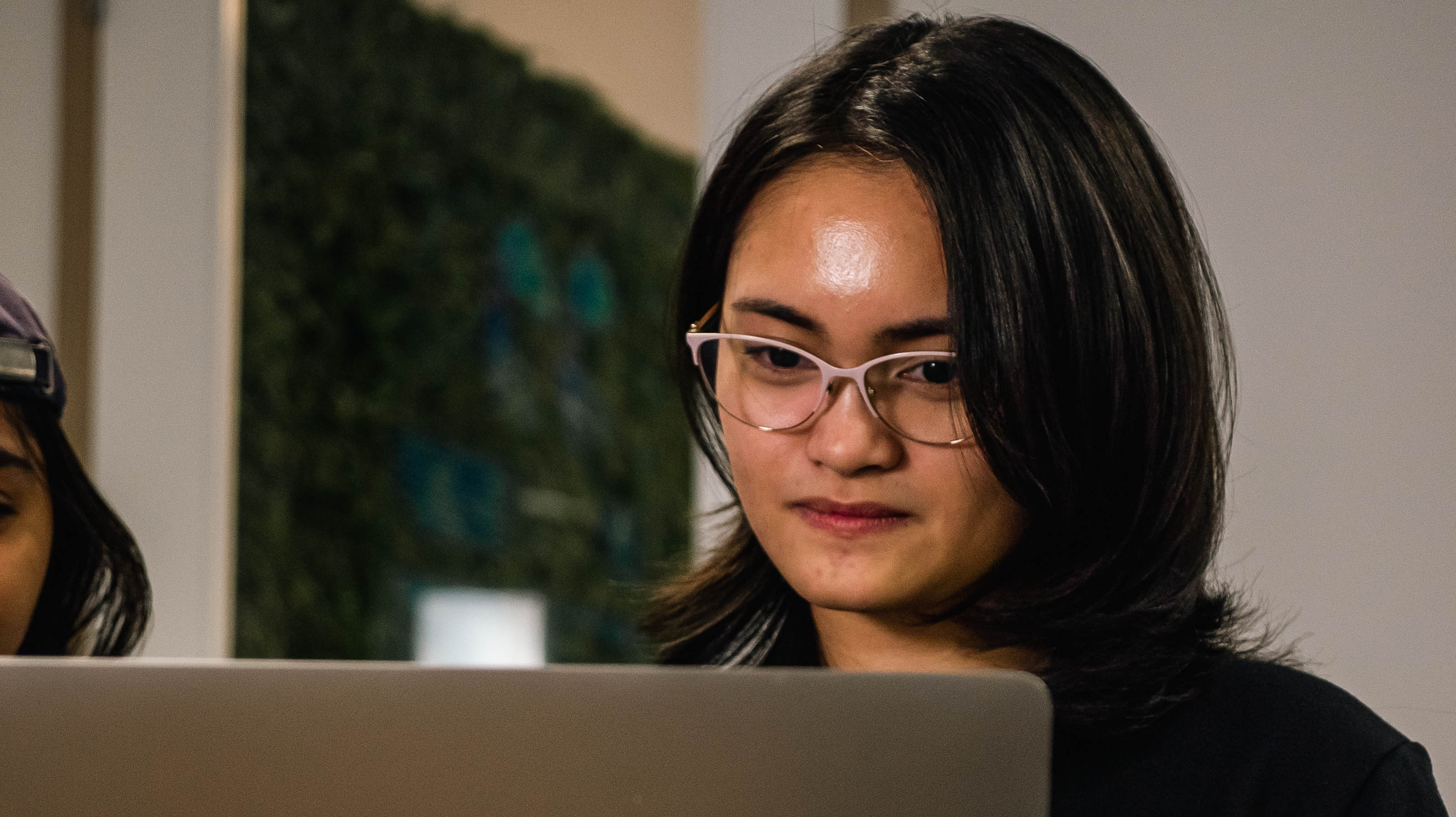 Despite following the path her family preferred, she says she has found a happy integration of the two in an unexpected way.
"An interesting thing about it is that you have that element of architecture in software development. It has design and architecture within the role."
Amnah agrees and is happy with how things turned out. Software development is challenging but fun and creative, something she doesn't feel she would have found through a soccer career.
In fact, the initial spur of attraction came from another lifelong hobby.
"I played a lot of video games when I was younger. So it intrigued me to how they were built— how someone could build something like that," says Amnah.
Following that line of curiosity, she was glad to be able to explore that concept in high school through a computer science option that had become available and pushed her toward her future career.
As for working in law, Niloo says she might have found "the same excitement and that rush," but developer work has unique elements she wouldn't have found as a lawyer. "I like building something from the ground up and seeing it working and people using it."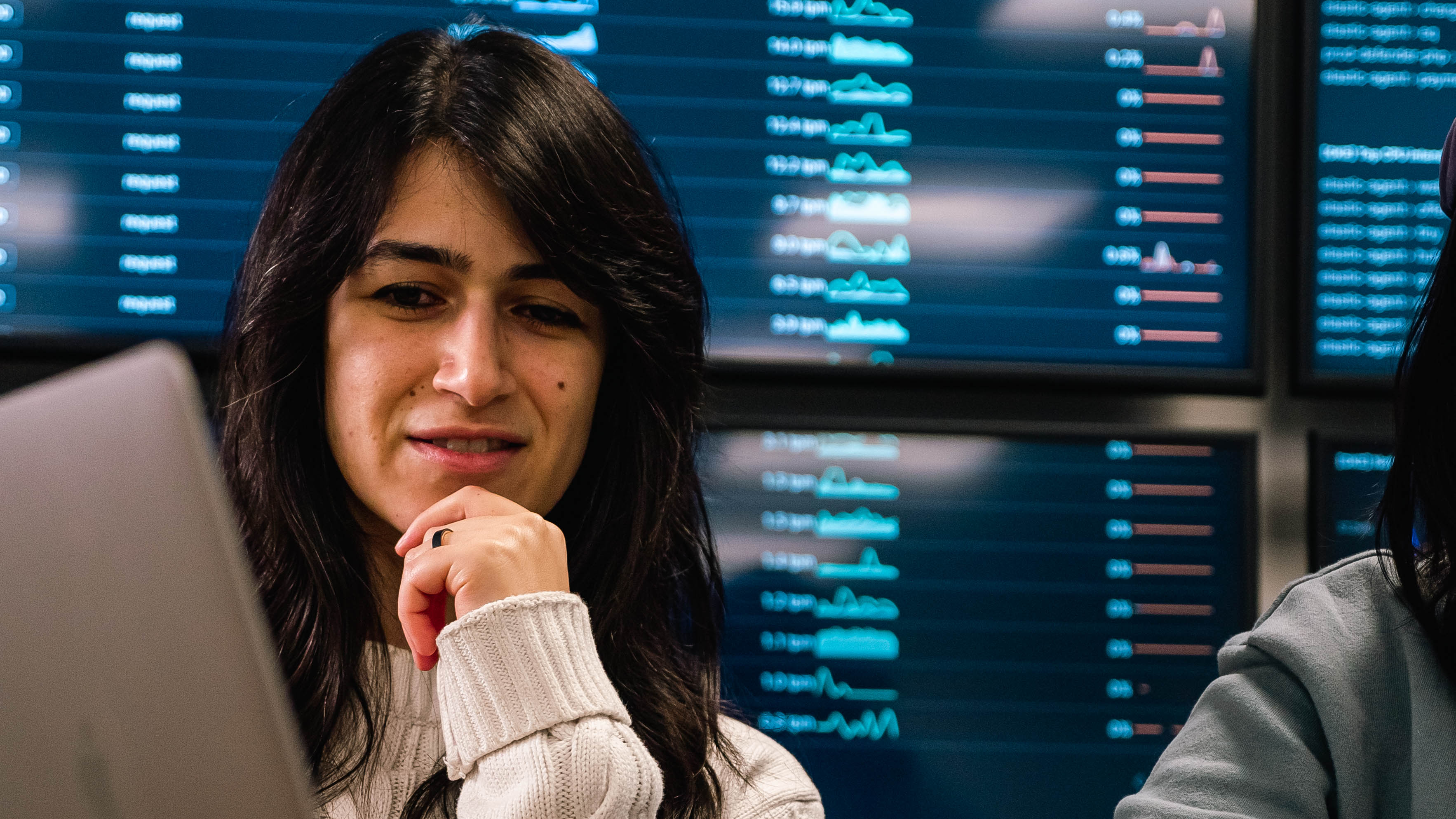 She adds that although her career interests have changed, it doesn't mean her core goals must take a backseat.
"I always wanted to stand up for myself and support other people who are shy or can't voice what they want," explains Niloo.
Then when I went to school I noticed the engineering programs were mostly boys and then, I don't know, I just wanted to prove that we can do it too. I realized I really like math and physics, it's not just to prove a point, but it was that extra motivation.
When she's not fighting for gender equality in the industry through representation, she still aspires to help others. "At the same time, I could still support other people outside my software development job and be a voice for justice."
"What did you think the industry would be like versus what it is?"
In some ways, Niloo explains she carried that rebellious streak with her being a woman in STEM. "It felt like you had to prove yourself, and being the rebel that I was, I knew if they can do it, I can do it."
Amnah explains that heading into her fourth year of school, the disparity between boys and girls in her program is still evident.
And for Zoe, she says it was even more significant in electrical engineering compared to computer, chemistry, or mechanical engineering, for example. "What I noticed in school is you have to work a lot harder as a girl to actually get your point across and to be listened to," says Amnah.
Amnah says she was pleasantly surprised when she started working at Helcim, however. "I didn't expect it because it's like if I faced that in school, I'd probably face that in the industry, but I think working now, I feel like it's different because people are more mature." Amnah goes on to say that she finds her peers less judgemental. "If you do well, then that's all they care about— they listen to your ideas. That's what I've noticed," she explains.
"Are there any barriers for women to start a career in tech?"
The three developers agree that today women and girls have much more access than they did growing up- but considering Amnah is still in school and facing these issues, it is safe to say there are still barriers for women in tech.
Niloo explains it wasn't until after her undergrad that she was exposed to opportunities and different career paths.
And things are getting better, especially for the future generation Zoe explains, "these days there are so many initiatives, so many programs that encourage women or girls even at an early age to learn to program — at least one language."
Amnah adds, "It's good that they're doing all these initiatives. It helps people push themselves to go into it or even explore it, even if they don't like it. It's good to have more people exploring it."
There's this university-run program called Robo Gals that helps younger kids explore embedded systems like robotics and coding. Starting at a young age helps to get that understanding early on and helps you to make choices of which areas to focus on in the future.
Zoe adds, "yes, we also partner with an organization called ChicGeek." Chic Geek supports women in technology through programs and initiatives which foster connections and career building.
But it's really cool that these programs teach girls or any other students at an early stage, so they're exposed to different fields, different paths, and what they like and what they don't like.
"Do you have a tech role model?"
The thing was, I noticed most boys were into engineering programs, and then, I don't know, I just wanted to prove that we can do it too.
I had an older cousin that was the other engineer in our family because most of our families are in healthcare and either dentist, nurses, or doctors. So she is five years older than me, and she was the first person in our family to go into engineering. And then I was like, that's pretty cool of her. I wanted to follow the same and break the stereotypes.
Amnah chimes in with Niloo's story, "the rebel inside of you coming out again." They all laugh.
Amnah, who always had a natural interest in software engineering through video games, says she didn't have one but that she wanted to do something different.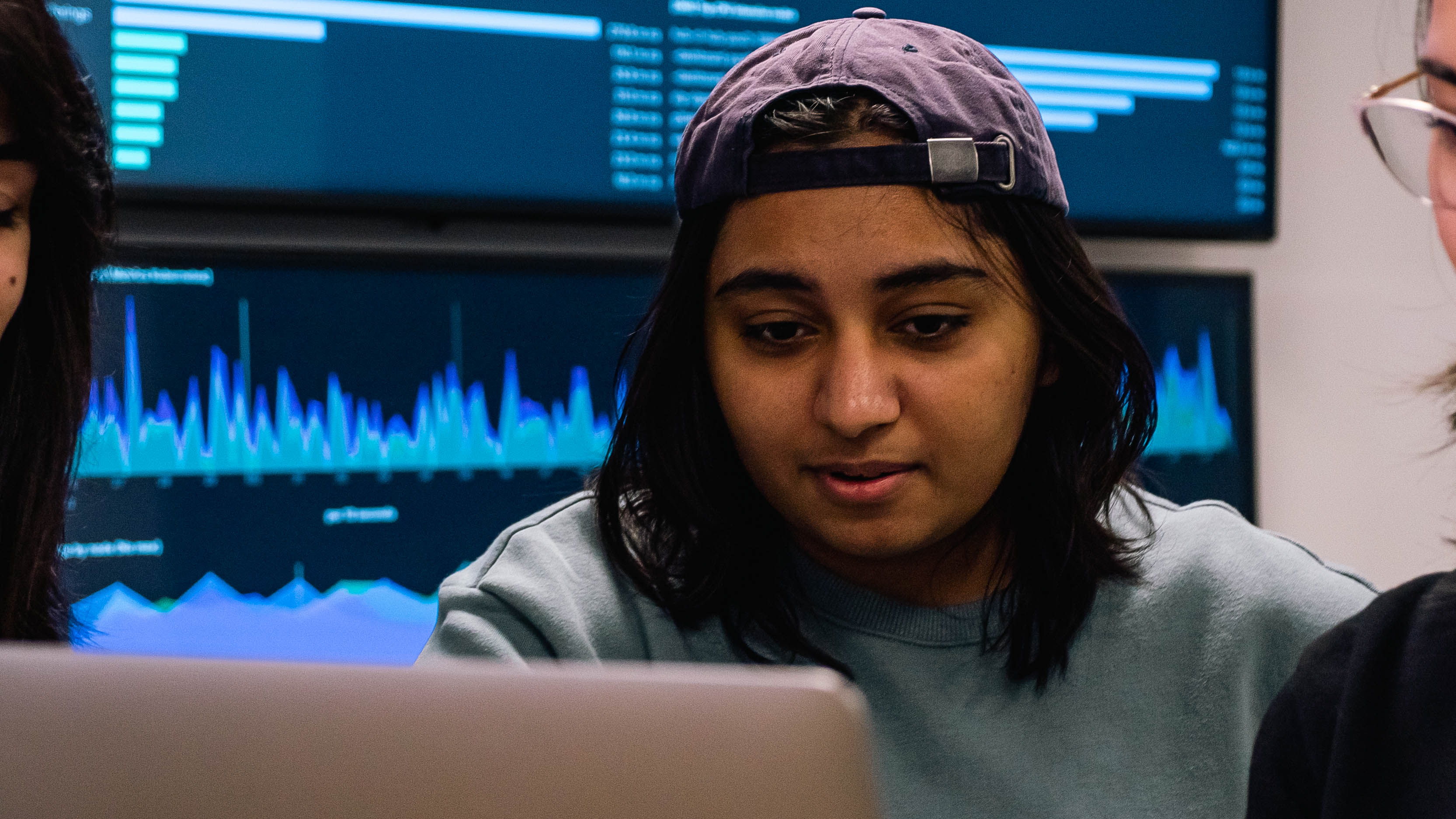 "All my cousins, in terms of the girls, everyone's a doctor or going to be a doctor. I think I'm probably the first software engineer in my family, definitely from the girl's side, to be a software engineer. "
If I could be a role model to any of my younger cousins, that would be nice, " shares Amnah.
Zoe explains that becoming an engineer was in line with the path her family envisioned for her, and most of her family were either engineers or nurses. To her surprise, her mom had already enrolled her without her knowledge in a pharmaceutical technician program at SAIT. The problem? She says, laughing; it was an easy choice to switch to engineering, "I don't like blood. I don't want to do anything about that."
"What attracted you to the tech sector?"
"The innovation presented in this industry is one of the key factors for me," says Niloo.
Coming from oil and gas, she says her previous role quickly became stale after the first few months.
"After that, everything was so repetitive, and then I couldn't see any creativity or innovation. I thought, "this is so boring. I don't wanna do this."
With tech, she says, "every now and then, something new comes out. You're constantly learning about something new."
For Amnah, she says it was simply a natural progression from her program. She notes, however, that the innate variety of the tech industry offers a broad spectrum of applications and roles inside it, which is one of the main reasons it is so attractive to software developers.
"The possibilities are endless with tech. The tech industry in general offers variety. You can go into payments, for example, like what we're doing and anything else. You can be in the background, like the backend, or the front end, for example. And even inside there, like UI developers and UX developers — Or a web developer. There's a lot of things you can explore."
Niloo adds, "yes, there's always more room to grow. There are so many possibilities to grow your career."
"What do you hope the future of technology looks like?"
For Amnah, who grew up in Saudi Arabia, she says that she didn't encounter the same access as kids in North America might.
"There was nothing for me to actually get interested in software engineering from, or even engineering in general. It was just kind of like me exploring on my own, everything by myself.
"It's more pushed here, but I've noticed it's still in progress in third-world countries.
It's at a different place than Canada, with many initiatives that help younger girls or younger kids explore software engineering. The initiatives, even now, I feel still need a good amount of progress."
Amnah adds, "seeing people from all over the world have that same progress would be nice."
Niloo also shares a similar sentiment. "I grew up in Iran. I think maybe some people take everything they have here for granted — the freedom and the education system they have here. It's not the same level or the same quality elsewhere.
However, she's been glad to see the progress since she was in high school. "It's nice to see that level of education and those programs being provided in other countries, like third world countries or developing countries. Growing up, we didn't have all these cool things."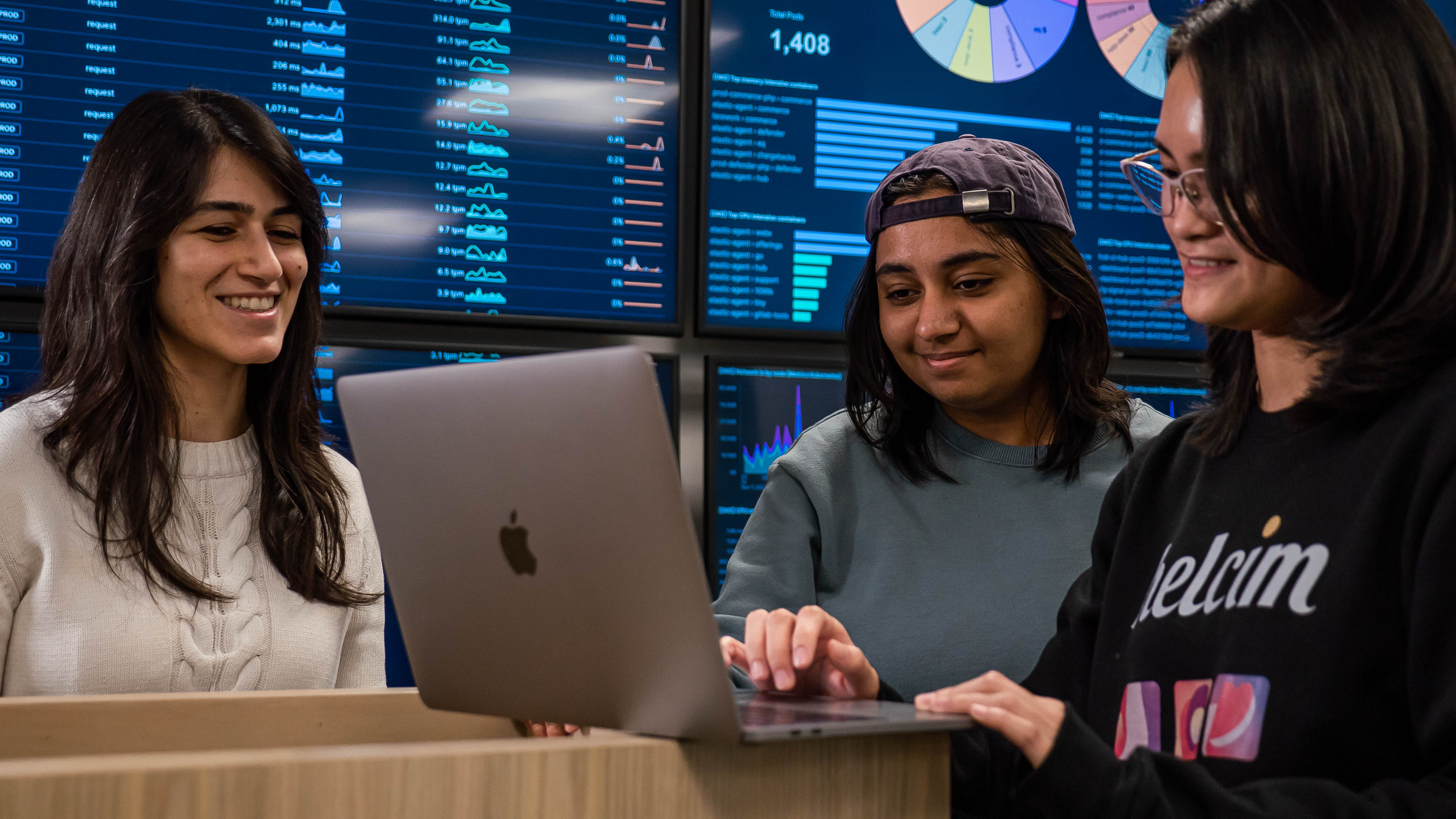 "I know that in Iran, 60% of students in university are women or girls, which is also really nice to see— that, you know, they want to stand up for themselves and be independent."
Zoe says when she lived in the Philippines, it was hard for people to get into programs on merit alone. "If you want to get into something like say for example, engineering or architecture, you really have to be well connected to people — Which is kind of sad. But I haven't been in the Philippines for a while; I hope it's much better than when I was back there."
While things are better than they were ten years ago, they could be better in terms of inclusivity, diversity, and acceptance, explains Niloo. "Things are good where they are now, but there's always room for improvement."
"I don't think it's specific to gender, race, or any minorities or group of people; as long as they have the potential, that's all that matters."
Amnah agrees, adding, "increasing diversity would always help. It just makes the workplace more comfortable as well — knowing there are other people like you around."
"Do you think more women should work in tech?"
"Yes." "Absolutely." "Yes. That was an easy question," says Zoe.
Amnah," I don't think anyone would answer no to that."
Final Thoughts
While contending with family expectations, gender stereotypes, and pressures to find a sustainable career field- these three women found a way to honor their interests and find a meaningful career doing creative and versatile work. Even merging their lifelong interests in unexpected ways.
Here is what we've learned from Zoe, Amnah, and Niloo:
Working in STEM can be fun, challenging, and creative
There is still a lower representation of women in Post-secondary and students have to fight to have their voices heard and ideas respected
At Helcim, these three developers feel seen for their ideas and contributions which subverted industry expectations and is hopeful for other women entering the workforce
There seem to be more opportunities and initiatives to explore and encounter programming and STEM for young girls which is promising for future generations
Things are getting better for women but barriers are still present both abroad and in Canada
Women like Amnah, Zoe, and Niloo are not only becoming role models for the women in their families, but for young girls and women looking to see themselves in the tech sector. They are a role model for anybody looking to find a meaningful career by tackling challenges, being creative problem solvers, and agile team members. Let's continue to break developper stereotypes and recognize people for their hard work, skill, and talent.