What your small business needs to look for in a free payroll tool
At a minimum, businesses need a way to calculate payroll, pay their employees accurately and on time, uphold legal and professional standards, and file required tax forms.
Some of the main problems business owners need to solve include:
Taxes and tax forms
Payroll calculating
Auto deposit or check printing
Employee portals and a certain number of employees permitted
HR solutions
A truly transparent free payroll software for small businesses
These are some of the main criteria, without complicated sign-up hoops, and ideally, free for all this.

What are the benefits of payroll software?
Three parties who benefit:
Your employees
Your organization
Your CPA/ Accounting/ HR team
When it comes to payroll, it is one of those things that can make or break your company's internal professionalism.
Picture John: your employee of the month for the past 76 months. You only have nine others to choose from, but still. John is a good guy, and he counts on his paycheck to pay for his mortgage and three kids.
Imagine trying to tell John, who hasn't been paid in 6 weeks, that he has to once again last-minute scramble together money from his dwindling savings to pay the mortgage on time; Even the most loyal employee might become unmotivated and disgruntled and consider leaving.
Aside from internal professionalism and morale, ensuring your pay stubs and tax forms are going out on time and correctly calculated can help ensure legal compliance.
Finally, although calculating payroll isn't the most challenging endeavor, and you can save by doing your in-house accounting ($75 a year), mistakes can have hefty financial and legal consequences. It is tedious, time-consuming, and time-sensitive. Even for your no-doubt competent CPA, delegating payroll frees them to focus on the plethora of other financial concerns of running a business instead of adding up time entries and overtime every week.
When it comes to payroll, there are three primary considerations:
Cost
Features and capabilities
Ease of use and setup
When it comes to finding the right software to do it all, using multiple software for each task can be expensive, cumbersome with various software for each job, or at least many places to keep track.
Who should use free software?
Even with the apparent benefits of using payroll software, price is the first and most relevant challenge. Paid payroll providers can rack up to an average of about two hundred per head. Online paid software doesn't make a considerable dent in cutting that expense. TimeTrex, a popular option, charges $30/ month for ten employees plus additional bank charges for direct deposit EFT processing costs if you do the work to set up the form through your bank on your own or a flat fee for payroll remitting taxes on your behalf. Even small companies of less than ten can feel the sting as that cost quickly adds up.
While most companies looking to cut their expenses would like to capitalize on these savings, capabilities and user limits for most of these free software providers, mean that businesses greater than X number of employees ( where x is 10-25 according to our research) will exceed the software capabilities of many of these free options.
These payroll providers are not always your best or cheapest option when it comes to paying your employees. We will explore the benefits of some of the leading contenders below. However, they cannot afford to swallow the expense of processing your ACH/ EFT bank payments/deposits while keeping their software free, so most don't offer this capability. Others have to charge a fee to cover this expense.
You'll still have to pay the government, IRS, and EDD the $75, even with free software, but we will discuss how you can find cheaper direct deposit rates (so you don't have to manually print, write and fight with snail mail to send paper checks) in conjunction with the software features your business craves.
How do free software providers offer direct deposit?
Some services offer direct deposit for a flat fee or require you to set up your ACH service with and transmit files directly to your own bank. They will provide an ACH file that you can submit to your bank with employee direct deposit details. You can sometimes be set up for free (make sure to read the terms of the agreement), but then you'll be charged a processing fee by your bank, which is standard. This allows the software to remain accessible by offloading this cost. Bank processing fees will vary from bank to bank and their pricing model. By the way, you don't necessarily have to go through the bank to process ACH/EFT payments; you might be able to find a better rate by shopping around.

Let's take a look at the payroll features of these four freebies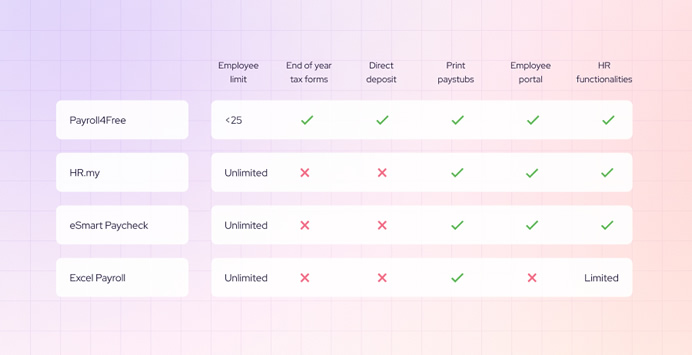 Payroll4Free
Aside from being the only free payroll software contender to offer ACH deposit integration, Payroll4Free also includes HR capabilities such as vacation, paid time off, and sick day tracking. One of the incredible highlights is unlimited live customer support. There is a limit on employees you can enter- about 25, so it is an ideal solution for small businesses. We will say this was the most cumbersome registration process as you will need to fill in a few of the PDF fill-able forms and round up a handful of relevant forms and documents to send them in via email before you can get started. If you don't want to pay their $25 ACH setup fee, you can go through your bank directly and only pay the processing fees on each transaction.
HR.my
Crowdfunded, this SaaS has a simple, clean, and intuitive interface. It allows you to create unlimited employees but has no end-of-year tax forms or direct deposit options. Online reviews praise HR.my for its free payroll software, no bug reports or integration issues, and continuous updates and improvements from the creator Kap-Chew Ang. Reviewers seem to value the HR functionalities as much, if not more, than the payroll tools.

Although free, they do advocate for disabling your ad blocker, donating, or sponsorship through crowdfunding donations with incentives for a $5 monthly sponsorship. This would offer sponsors extra perks like ad-free versions, additional storage (extra 3500 MB File Storage (or 7000 MB for yearly support)), early and exclusive access to new features, and even another HR role capability.
eSmart Paycheck
eSmart Paycheck might be the best free payroll software for small business owners who manage more than one business but want to keep track of everything in one account. This online payroll software is a breeze for registration and has neat payroll calculations for adding up over time, bonus pay, tax calculations, and unemployment insurance. They even include handy resources such as a glossary of payroll terms which you can find here.
They don't offer year-end tax forms free (costs $25 extra), vacation time or PTO tracking, no employee portal, or direct deposits. Here is a picture of their pricing page and which features they offer completely free.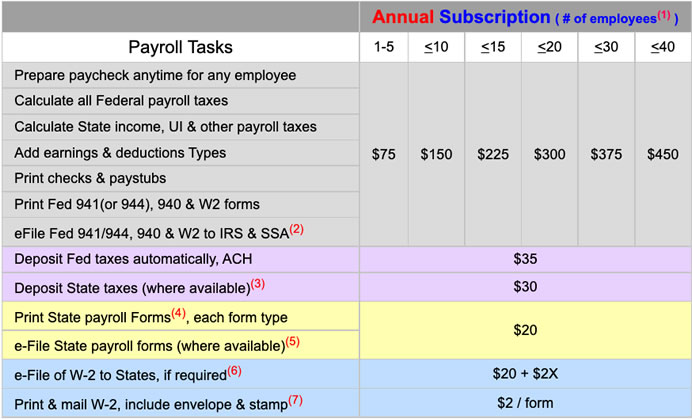 Excel Payroll
Aside from looking like a time capsule to an early 2000's window program , or a spammy pop-up Excel payroll is a decent option (especially for the whopping $5 monthly subscription required for Microsoft Office which many companies already pay for.) On the other hand, many organizations are steering towards Google apps, which are incompatible with the Excel Payroll downloads so that is something to keep in mind.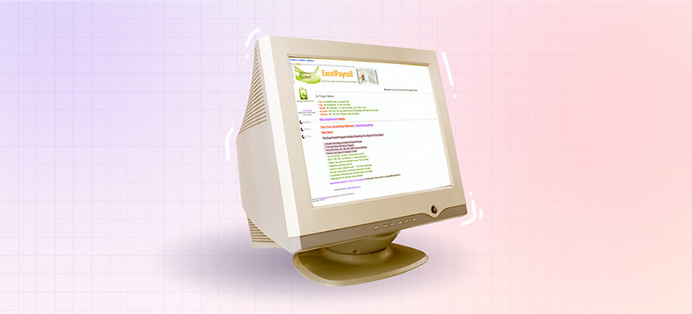 How secure are free payroll software providers?
Don't rely entirely on free payroll software to keep detailed financial records stored or calculate your tax forms or payroll without double-checking.
They do not offer as many guarantees if any. There is no guarantee that they will not start charging for their services or that you will lose access to your information and records. As a business owner, you must still take ownership of your federal state and local laws and regulations and retain financial and payroll records when using most of these software.
In the user agreements, you often waive your right to a class action or trial by jury should any disputes arise.
Plus, if you are unsure of their security protocols, you might be sacrificing cost and convenience for security and peace of mind.
HR.my is an example of a provider that follows SSL standards, with password hashing, data encryption, and daily off-site loading, which may be a safer option although we encourage you to review the terms and conditions before uploading any sensitive information.

Bottom Line
While most of these free payroll options offer the basic payroll features your business needs, it is worth looking into other payroll solutions which may offer more advanced features, customer service, HR functions, and tax filing. Overall, if you're willing to do the work to read up on your options, have fewer employees than 10-30, and are willing to learn how to use a new payroll software your small business might be able to pocket that monthly fee.