Okay, 2020 was a rough year to be in business, but 2021 has been another kick in the pants for a lot of people, and restaurants have had to dig in to overcome a host of challenges. In-house dining turned into curbside pickup, which turned back into in-house dining with restrictions, and now, as we hoped desperately to be approaching a light at the end of the black hole that is this pandemic, restaurants are back to curbside pickup yet again.
Restaurants are Hurting
This colossal shift in how restaurants have had to operate over this last year has resulted in an increased reliance on food delivery services, wherein many cases, restaurant owners are forced to watch their already slim margins get slimmer. Over this last year, the lights went out on hundreds of small businesses that were just getting going, and others who had been working for years to build something meaningful were forced to reimagine their dreams.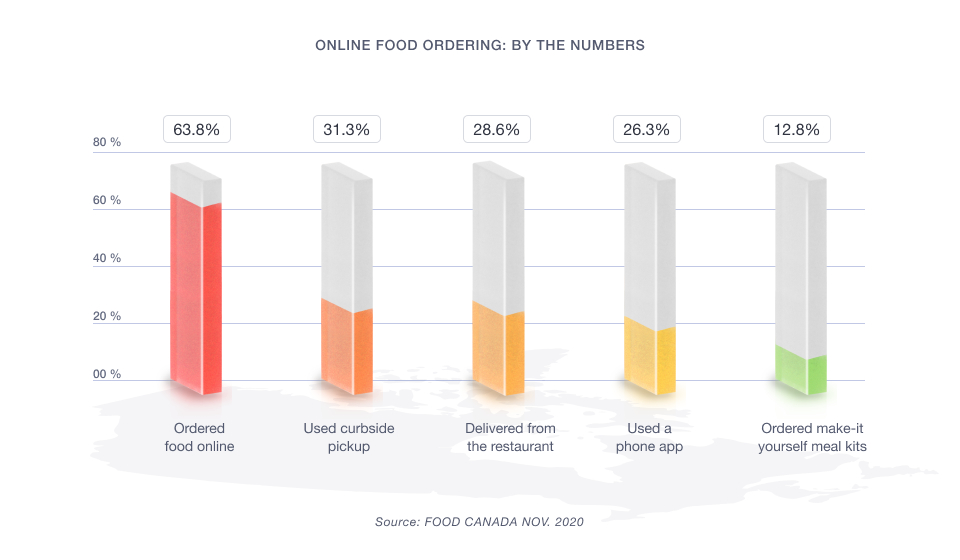 Helcim didn't sit back and watch the last time restaurants had to lock down; instead, we built tools to help them adapt and save money-and we won't be sitting back this time either.
Across North America, lockdowns are affecting everyone differently, but whether it's in our own city of Calgary, somewhere in Ontario, or in the US we're standing by restaurant owners and doing what we can to help.
We're Helcim. We Want to Help
If you haven't heard about us, we're Helcim, a payments company that since 2006 has been on a mission to achieve better for businesses. In 2020, we revolutionized the way we operated to give business owners even more, and we want to share the tools we've developed for people like you to stay open in 2021.
That means for the next month, if you're a restaurant owner that's never used Helcim, we're waiving our monthly fee to give you online food ordering and QR code payments technology at no extra cost.
Move Over Skip: Own Your Online Food Ordering
Now, you can ditch those pesky third-party delivery app fees and handle all of your online food ordering yourself. You see, Helcim hosts your website for you, and our integrated payments platform (which includes some of the lowest rates in the credit card industry) is built-in. Now your loyal customers can order from you directly, instead of having to place an order through a third party, and you don't have to split your profits with anyone. Of course, you can always add Helcim payments as an additional way to take orders and keep using those delivery apps to get your restaurant's name out there too.
We also hope our online food ordering can inspire restaurant owners to repurpose waitstaff; now, this is easier said than done, but is there potential to add delivery drivers to your staff if you can save by taking your online orders in-house? Now that you own the process and the profits, you just might be able to keep more of your people employed at a time when dining indoors just isn't possible.
QR Code Menus & QR Code Payments
With Helcim you can take a QR code sticker, slap it on your window, and give customers instant access to your online store. The best part? They can even pay for their order right from their phone. We saw restaurants using QR codes to display their menus, and wondered if we couldn't help take it a step further, so we did. Now your customers can scan, view, pay, and queue up their order all in a matter of minutes, and they need never set foot inside your restaurant to do it!
Food is Our Culture: National Takeout Day April 15, 2021
If your city is like ours, food is part of the thriving culture of where you live. Food, along with art and sport is one of the primary features of any cityscape, and while we can't play live music or go to dances, we want to show the world that we can still eat!
Next Thursday, April 15 is national takeout day in Canada, where we're trying to beat the record for most takeout orders in a single day. Helcim is calling on everyone in Calgary, and all over the country to support restaurants by ordering from your favorite takeaway. This simple gesture can help show your support for this struggling industry.
Helcim: Your Payments Partner
We know there are a lot of payment processors out there and that you'd probably like to think of them as little as possible. You just need to accept credit cards-but you don't want to get rinsed doing it. That's why we exist. Helcim isn't just your payments processor, we're your payments partner, and we work with you to help build your business. If you have questions about getting started with us, give one of our Helcim Gurus a call today. 9 times out of 10, we're going to be the right fit for your business, but if we're not, we are always more than happy to refer you to the processor that's right for you.
Transparent pricing, no contracts, and no hidden fees. Sign up with Helcim.