Having an Optimized Local SEO Strategy Is Crucial for Small Businesses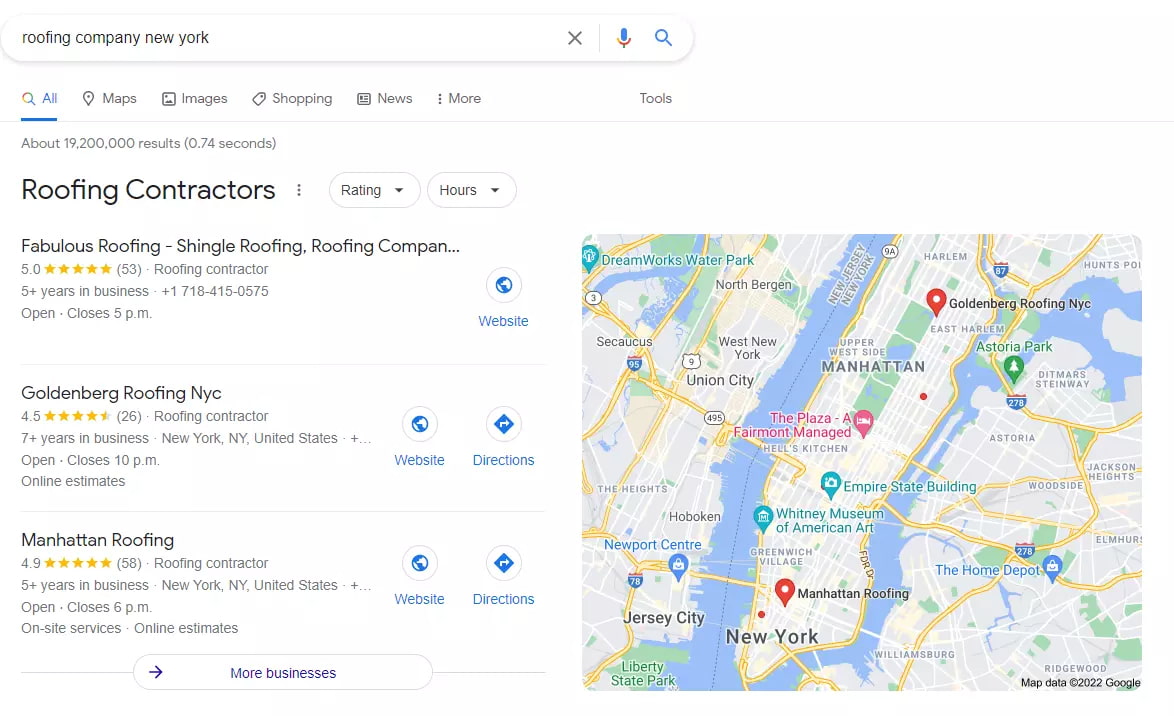 Example of Local Maps Pack for a given keyword.
Don't Miss Out: Be Consistent & Patient
Small Businesses Best Practices For Thriving in Local SEO
1. Content is king
Compelling text & visuals. You have a few dozen seconds to convince visitors to your website why your service/product is worth buying. Visitors usually scan your content, so use short and concise sentences. Don't bore your visitors with "˜Wikipedia' style articles. Make sure you point out the strong sides of your business like free estimates, delivery, great customer support, and how you differentiate from your competitors. Optimize the content with keywords relevant to your business (we see how it's done further below), in order to tell search engines what a page on your website is all about. Note: not using targeted keywords is one of the biggest mistakes companies can make when it comes to SEO!
2. Use Social Proof
Reviews, reviews, reviews! The best way to demonstrate social proof is by displaying some right after the first piece of content on your homepage or landing page. You have someone advocating for you, and you need potential customers to see that! Seeing that information early in the user's website experience instills trust for when they later encounter a call-to-action button (e.g. sign up, get an estimate, buy now) further down the webpage.
3. Contact Information
Visible and immediate. Businesses should have their contact information easily accessible, and maximum one click away. Having a phone number, email, chat support and contact forms visible on a page is a must! Visitors today are impatient and they expect reaching your business to be a piece of cake, not for your contact information to be buried away somewhere on the website.
4. Security & Speed
Hypertext Transfer Protocol Secure (HTTPS). Serve the content in a secure manner. Search engines like Google, are paying more attention to HTTPS enabled websites by rewarding them with rankings, especially businesses running online stores as means to sell their products, and those that process sensitive information like credit/debit cards. A swift and fast loading website is crucial for visitor retention. More than 25% of visitors will leave your website if it takes more than 2-3 seconds to load.
5. Mobile Responsiveness.
Wrap everything up in a superb mobile experience. Search engines use crawler-bots to scan websites and they will index/visit a website in its mobile version to test it. Make sure your business's website offers an optimal experience for mobile devices. Hiring an established web developer will pay off in the long run. As it's said: Design & Functionality go hand in hand.
The Most Important Piece in the Local SEO Game
If you serve locally and don't have a Google my Business (GMB) profile established, opening one today would be the best thing to do for your business's online exposure in your city. All you need is a gmail account, a business title, phone number and a location. If you have those, then read on!
Here's also the official guide video from Google on how to open a business profile on Google.
How to Open a Google My Business Profile:
Step 1: Head over to this link in order to get started: https://business.google.com/create, and press get started. You will be welcomed by this page: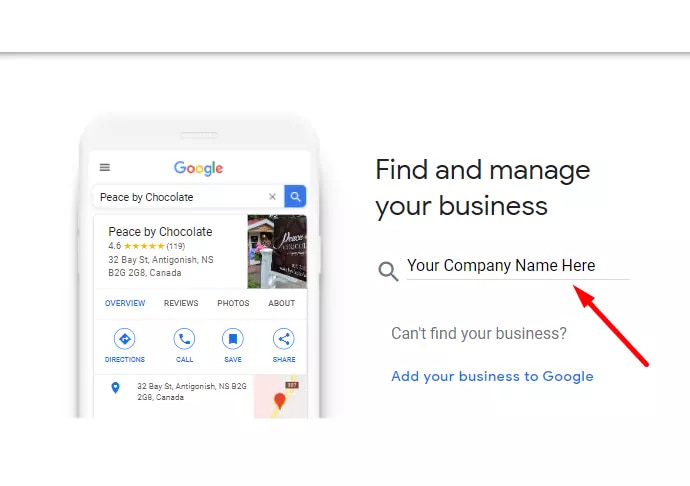 Enter Your official business name and the category which suits the nature of your business. I've gone ahead and created an imaginary business name for a roofing company, and selected the adequate business category.
Step 2: Add the location of your business. This information will enable Google to show the location for your business and users will be able to get directions for your business location.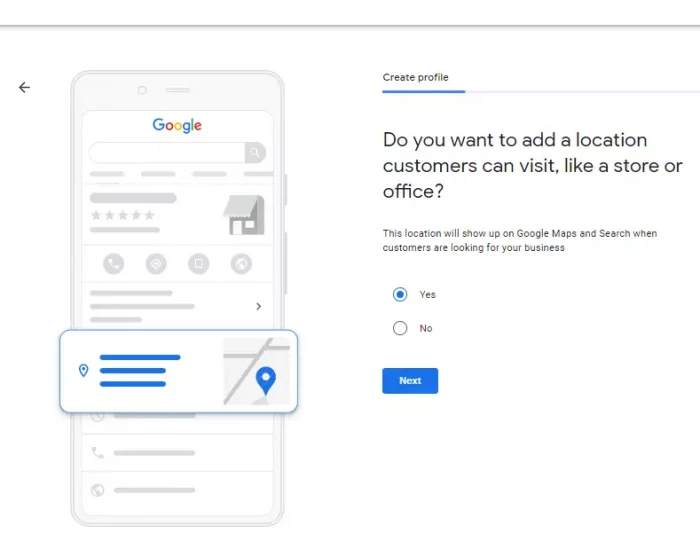 If your business has a location or multiple, press "˜Yes' or else NO and press Next. Note: If Your business is service based only then select NO for this step. You will need to provide your private residential address in order to confirm the listing, but that address won't show as your business address. Google uses this information merely to confirm that your business is legitimate and run by a real person.
Step 3: This step is pretty straightforward. Just add the street address, city, country.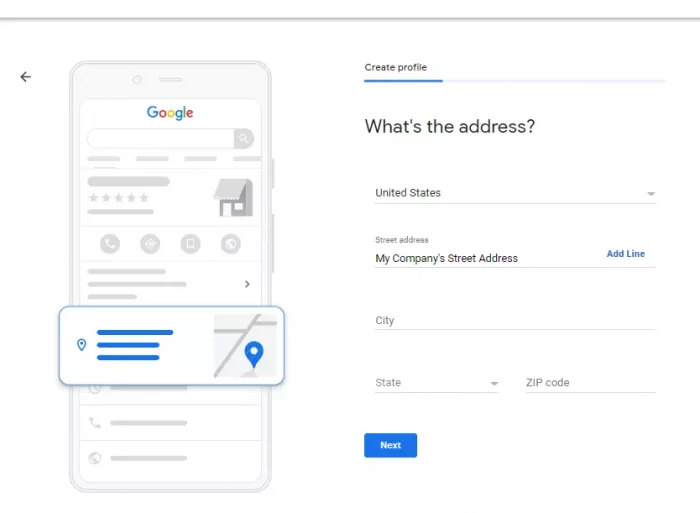 Alternatively, for service based businesses, expect to be directed to a page asking for additional information like which city or postal code areas your business serves. Fill out accordingly and on to the next step.
Step 4: It's another step where GMB wants to make sure you're covering all the location areas a business might operate within, or if there's any other location one might include.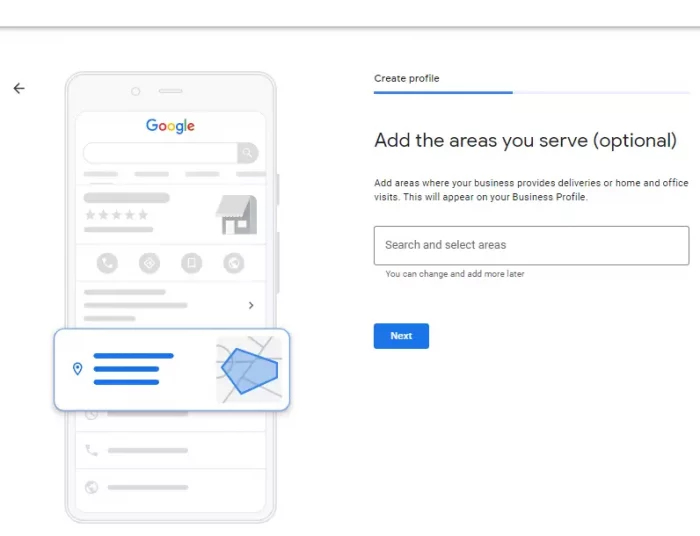 Google Business Profile asking business owners on their areas of service. As you type it generates matching cities/towns or smaller areas, making it easier for You to pick the right area. Step 5: Fill out the text placeholders with the official (not private) business phone number, and website. It's the phone number where your customers will reach you at, and the website they'll click on. Alternatively, Google offers free websites to business owners which don't have one currently available. As per Google, they will generate a website by using the data provided by you, such as relevant business images, an address, phone number, logo, and similar information.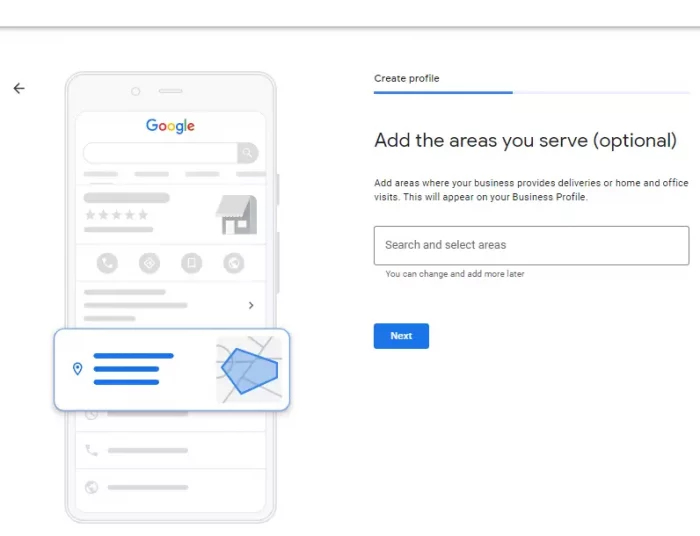 Google Business Profile requesting Your businesses' phone number and website. If You don't have a website just tick the box "˜I don't have a website'. Step 6: Add a person's full name to serve as the contact name for getting the 6 digit confirmation pin code to verify the newly opened profile on Google my Business. The pin usually arrives in 5-10 business days.
Though a 6 digit pin mailed to your businesses address is the most common way to verify a Google Business Profile, in 2022 new ways of verification have been introduced like: recording a video from your store or office and uploading it for manual review by Google Business Profile team. After getting the 6 digit pin, go ahead log into GMB and confirm your profile. Now you're eligible to make edits, update, upload a logo and other wonderful stuff GMB has to offer!
Ranking on Local Maps Pack
There's a lot of proprietary ranking factors Google relies upon, when making the split second decision on which local result to display for a query/keyword. There's a lot of assumptions on what "˜works and what doesn't work' when it comes to ranking a GMB profile on the local map packs or even the traditional index. But that's another topic and in this local guide we will stick with Google's official guide on improving local rankings for your business profile.
Consistent Name, Address and Phone (NAP): Google urges businesses to have consistent information over all of your businesses online properties. Add the founding date, appointment link for customers under "˜Info'. Real world example: if you're business name is "XYZ Company", search engines expect the same identical title to be found at your Social profile pages(Facebook, Twitter etc), official website, and other online profiles it might encounter for your business, like Bing Maps, Yelp, BBB etc.

Keyword rich business description: when writing your business description add some keywords relevant to your business. Here's a quick way to find keywords for including in the business description: Go to: https://neilpatel.com/ubersuggest/. In the search bar, enter a category word for your business, and select a location. Type "˜search' and you'll be taken to another page where you should scroll down to "˜keyword ideas'. Example how keyword research can be done by leveraging free tools like Ubersuggest.
The search will return some interesting keyword ideas performed by searchers, aiding you in optimizing GMB profile description which eventually will play an important role in pushing your local listing up towards the top. If you're not sure which keywords should be in your business description, then a nice benchmark would be to check if your competitors are using that keyword too (given that you offer the same business services).
Upload images & videos: Don't shy away from uploading images taken off your staff, you're self as the owner, the office's interior, product, services, handshaking a client. Businesses uploading images on a frequent basis will get more impressions and hopefully more clicks. Leverage Posts & Products: don't miss out on listing all of your products or just your main products given that you have a large inventory, under the "˜Products' menu selection. Leverage the "˜Posts' option to regularly keep publishing promotions, discounts and other exciting updates for customers. Embed GMB's map into your website: continue to add relevancy and authorship to your online footprint by embedding it into your website. It empowers your website + GMB further beyond by establishing a strong brand bond, and enabling your customers to find you quickly.. Further business listing: go beyond and create profiles for your business on various directories with the identical NAP information for your business. Again, remember to be consistent with this information. Also provide a unique business description for each and every profile, don't copy paste! Read further for important listings to have your business listed for free.
Other Important Local Profiles For Businesses:
Do Your Business a Favour & Let it Grow
When it comes to promoting your small business, having a friendly SEO website & a Google My Business account are probably the most powerful tools to attract local customers. It beats all traditional means of advertising like radio, TV, flyers and other antiquated methods of promotion. And, the best thing about local SEO marketing is that owners of small businesses can do it themselves. And no SEO agency is going to work as hard for your business as you will. Give it a try, be consistent, and Google just may reward you!