Meet Stephanie, the Lead Designer of Alberta based Floral & Field Design Company. Stephanie followed her passion for nature and flowers to launch her own business and create stunning one-of-a-kind creations for her clients. She uses integrated invoicing solutions to streamline her payments so she can focus on her business.
Helcim Merchants I Floral and Field on the Value of Supporting Local from Helcim on Vimeo.
Company:Floral and Field
Industry: Floral Design
Payments Need: Invoicing for Weddings and Events
Previous Payments Provider: Square
The Who
Who are you? Tell us a bit about your business, what do you do?
Hello! My name is Stephanie and I am the Lead Designer for Floral & Field Design Company.
We are a boutique floral design studio and styling company located in Langdon, Alberta. At Floral & Field, our goal is to create artful floral pieces, inspired by wild gardens and our prairie surroundings for weddings and events. As a floral designer, my design style is inspired by nature using loose and organic form brought together by color and composition, creating a raw elegance in all of my designs. You can often find me in my small garden or foraging for unique fresh or dried pieces near my rural home.
The What
What has been one of your biggest challenges since starting your business?I think one of the biggest challenges in starting my business would be getting my name out there. For people to know and learn that Floral & Field exists. It can be intimidating stepping into a very saturated market as the new kid on the block. However, I have had the privilege of connecting and collaborating with some amazing people in the wedding industry. We were able to build friendships and businesses on the theory of collaboration over competition. I truly believe that it takes a community of like-minded women to build each other up and cheer on each other's success!
What were your challenges to getting paid?
I think my challenge for getting paid was the lack of confidence to ask for the payment directly. That is why having access to built-in invoicing software offered through my payment processor was huge. It allowed me to simply provide a professional invoice that I could simply link to and email to my clients. Using an invoicing tool helps to take the awkwardness out of the equation because it feels less like I'm directly asking for payment. Once I send off that email, the payment provider takes care of walking my client through the payment process. This allows me to be removed from the awkward dance around asking for a payment.
What's next for your business?
To simply grow Floral & Field! I mean that both from a business perspective but also from a product perspective. The ability to have a cut flower garden that I could pull and harvest from would be huge. Not only would it reduce waste and help the environment but it would allow me to use unique varieties that I love to incorporate into my designs. It would give me convenient access to fresh products that lets me create special one-of-a-kind bouquets or arrangements for my brides. This also ties into my branding goals for Floral & Field, I want to continue honing my artistic design style to attract clients who appreciate and love my unique approach to floral design.
What are some words of advice you have for other business owners? For those who are just starting their businesses, ""¦Be brave enough to ask for more and disciplined enough to work for more." I love this quote and every time I am brave enough to ask for more, I am blessed with an opportunity that I never thought I would have.
I also strongly recommend connecting with local like-minded people who have the same passion as you. Start building your community and rise together!
The Why
Why did you start this business? Growing up in rural Ontario I have always had a love for flowers. Nothing was more magical than walking through the forest and spotting a wild Tiger Lily growing or spending time with nature and helping in the family garden. Even back then I knew the magic of flowers!
After studying interior design in Oakville, Ontario, and working in the interior design industry for over 10 years, I decided to go back to my roots and share my love of flowers with others. Flowers fuel my creative soul.
Why did you choose Helcim as a payments partner? I chose Helcim as a payment partner because I believe in supporting local businesses. It makes me feel good knowing I'm partnering with a local Alberta based business. I may not be able to accomplish local partnerships with every aspect of my business, but when I can, I do. Even when it comes to my payment processing. We are all connected and if we support each other maybe we can continue to be Alberta Strong!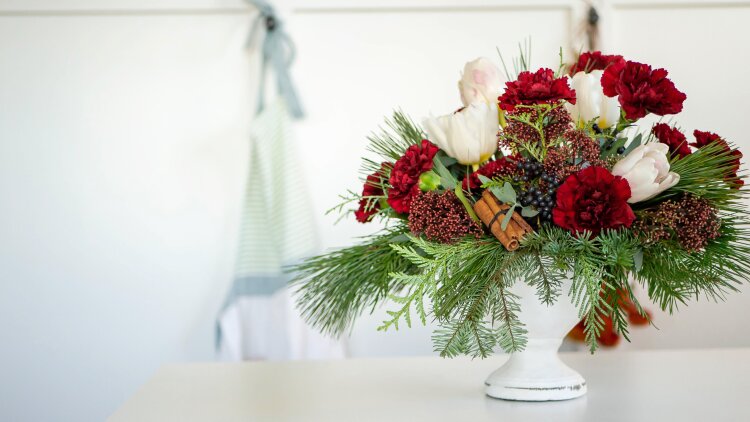 Connect With Floral and Field
You can connect with Floral & Field online here:
On Instagram @floral.and.field, on Facebook at Floral & Field Design Co., and on Stephanie's website here: www.floralandfield.ca.
Floral & Field was also recently featured on the Rocky Mountain Bride Blog here.
Welcome to better payments, Stephanie!