How To Leave Your Credit Card Processor
Breaking a contract without penalty is not always possible and can be a lengthy and tiresome process.
Fortunately, Canadian merchants have some options to get out Getting Out of Your Merchant Account Contract in Canada.
This article is not only a step-by-step guide to help you break out of your merchant contract, but it also goes into further detail on some of the strategies when you're facing a hefty cancellation fee and stubborn contract terms.
What is an early termination fee?
Your credit card or payment processor imposes an early termination fee (ETF) to cover the cost of a merchant leaving or breaking a contract early.
These fees are usually set out in your agreement, and one of the biggest obstacles to breaking a contract penalty-free.
The two most common types of ETFs are flat fees and liquidated damages, the latter of which usually being significantly more expensive. While a flat fee is a specific number you signed in your contract, liquidated damages encompass the cost of equipment and revenue losses anticipated from the remaining time of your agreement.
While some credit card processors like Helcim don't require contracts, nearly all Canadian credit card processors still have three to five-year agreements with early termination fees (ETF) ranging from $250 to over $5,000.
Many processors also have auto-renew contracts, making it tedious to switch processors.
Fortunately, Canadian merchants have some tools available to get out of their contracts early.
One step closer to better payments
Whether for better rates (see interchange-plus vs. flat-rate), no hidden, absurd, or monthly fees, real live support or step-by-step setup and customer service, or no contract, let us help you make the switch.
Read on to learn what to watch for before getting into a contract, how to negotiate your way out, understand your rights and the fine print, and methods to avoid paying those expensive penalties.

Break up with your credit card processor - A step-by-step guide
1. Read the fine print
One of the best tools you as a merchant have to arm yourself with if you're looking to get out of your contract is to take a deep dive into the contract terms.
Familiarize yourself with the termination policy and find out what the penalties or cancellation fees look like and the stipulations surrounding them.
Reading the fine print can give you unique insight into your case and offer ways to break the contract that may be contract-specific.
2. Review essential dates.
Find and calculate the contract end date by finding the "Effective date and the length of your initial term," which may not be overtly stated and may take some digging between terms and pages to find.
Try to determine how much time in advance you are required to give notice and write it in your calendar.
We will dive into specifics more later, but take note of any equipment leases or specific stipulations for notice requirements and make a note of these to include or clarify upon later.
3. Don't break up over email (call them!)
There are a few distinct benefits of giving your payment processing provider a call. No one wants to be broken up with via letter; Giving your credit card processor a call provides both you and them a chance to clarify and even resolve things.
If you still don't want to work things out, a phone call can work in your favor by providing:
- A human element - An opportunity to negotiate - An opportunity to clarify terms and conditions (including ETF's) **- A documented conversation***
*Ask for a name and staff number along with a date and time and reference number of the call to refer to later and back up your claims if things ever end up the legal route. (Pro tip: ask them to send any promises or files in writing while you're still on the phone)
Worth the call.
We get it. The old call and wait on hold routine is draining, especially if one of the reasons for leaving in the first place is terrible customer service. However, speaking to a real person can make all the difference in pitching your case.
While the legalities of a contract may be white and black, your account manager might have a little sway in the final call and may afford you some leeway where the terms and conditions cannot.
4. Make it official- give your notice like a pro
When giving official notice, make sure you cross your t's and dot your i's. This is where thoroughly reading and understanding your merchant agreement contract comes into play to ensure that you include all required specific information and fulfill all notice requirements.
For example, a common hassle for Canadian merchants canceling their contract is failure to return the equipment before the notice period. One of the reasons we recommend never to lease equipment is that they sometimes require separate cancellations. Failure to return the equipment or cancel it in time could result in not only equipment charges but a renewed lease or monthly bill until the notice requirements for cancellation are fulfilled. So including notice of equipment lease cancellation is an example of giving information in a way that will be honoured according to your contract terms.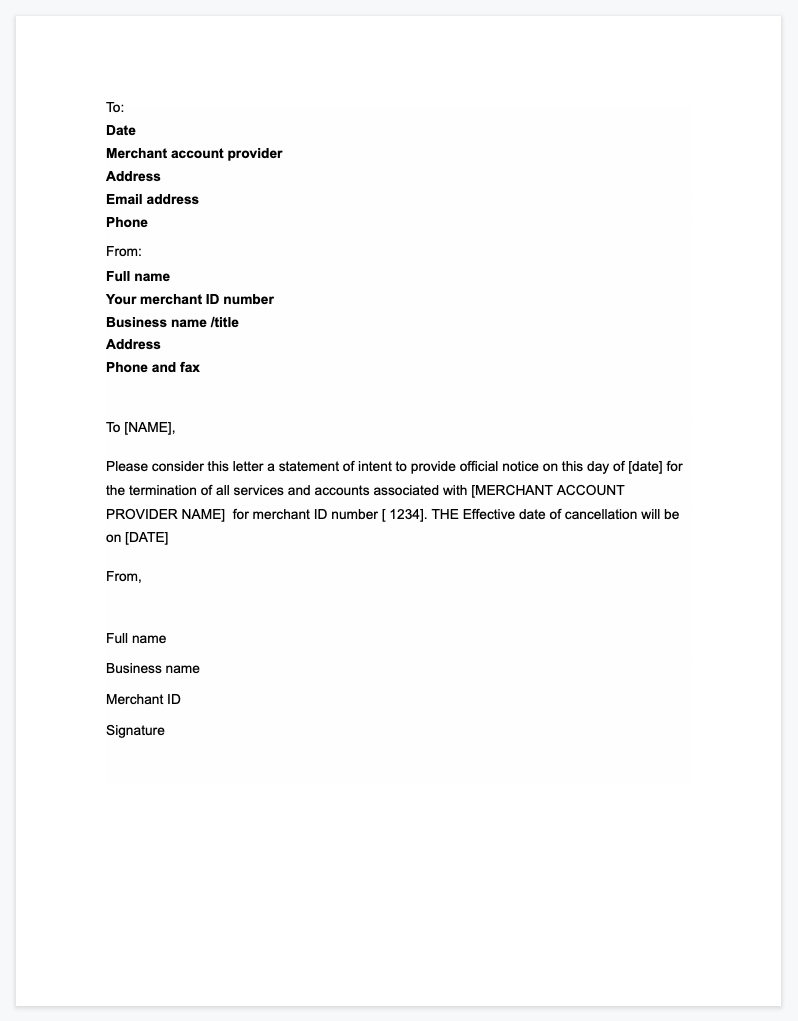 5. Follow up
So you've done your due diligence in research and mailed in/ emailed your notice. Don't assume all is laissez-faire from here. Ensure you're not being continually charged after the notice period or charged for extra fees. This is where having things in writing and keeping a paper trail is vital to make sure you have statements to back up timelines and agreements.
Extra tips to get out part ways with your merchant provider
Pay attention to your recent statements
There are a few loopholes to getting out of contracts scot-free, and all it may require is looking through your statements for a few common breaches. Look for incongruity in fees such as increased rates; Processors must give at least 90-days notice for any rate increases or new card fees. Your payment processor will usually display this notice on your statement.
When a fee increase is announced, the merchant can cancel their account without penalty, up to 90-days before and after the rate change according to the Code of Conduct for the Credit and Debit Card Industry in Canada.
Card brands such as Visa and Mastercard often bring in new credit card types (such as the Visa Infinite Privilege card introduced in April 2014). The Code of Conduct will recognize new cards and treat them as a new fee which provides you another opportunity to get out.
Note: Limitations for auto-renew agreements
The latest Code of Conduct addresses Auto-Renew Agreements. Merchants can at any point decline to renew their agreement by sending in their notice to do so (no more contingent 30 days before the termination date). Auto-renew contracts have also been limited to six months, so that if merchants forget to give their notice, they cannot be slapped with another year-long contract.
Note: Reduction in Applicable Interchange Rates
Visa and MasterCard both introduced lower interchange rates in April 2015. Under the updated Code of Conduct, merchants can immediately cancel their existing agreement if the reduced interchange cost is not fully passed back to the merchant. Since most Canadian merchants are in a tiered (qualified / non-qualified) price structure, price reductions often do not fully reflect the lower interchange costs. Helcim ensures the savings is being passed on to our merchants through our interchange plus pricing, which only charges a fluctuating interchange rate and a small flat rate margin per transaction, allowing merchants to save on lower interchange rate transactions where other pricing models charge the same flat rate.
Leveraging your Relationship with Your Bank
Most merchants were referred by their credit card processor through their banks. Most processors are either bank-owned or have a profit-sharing agreement with the bank. For example, Moneris is jointly owned by RBC and BMO and most merchants using Moneris will be banking with those entities.
Don't be afraid to contact your bank rep and use your existing banking relationship as leverage "" request that they waive the early termination fee or lose your banking business altogether. It's surprising how effective this method can be! Banks see credit card processing as a value-added service that helps them increased profits but in the end, they often value your banking business more.
Red flags to watch out for before jumping into a new contract
You're out! Now don't get too excited and jump right into a new contract. The last thing you want to do is fall for a sweet pitch only to be bombarded with hidden fees.
Please read our blog on what to look for when choosing a new payment processor.
Watch out for equipment lease agreements
Unfortunately, equipment lease agreements often fall outside of the Code of Conduct. They are most often tied to a non-cancelable personal guarantee. It can be tough to end a lease agreement. Instead, contact the leasing company (usually a third-party) and inquire about lease buy-out options. Most leased terminals are also unlocked and can often be reprogrammed by your new processor.
It's vital to understand the terms
While it is essential to review the terms and conditions before signing a contract, it's only helpful to understand what those terms mean. Here are a few of the most common words worth noting:
Equipment buyout fees or early lease termination fees
No such thing as a free lunch.
Don't be tricked by another payment processor into switching payment companies for cheap pitches or allow another payment processor to pay the cancellation fee from your current processor! When you want to change processors, allowing the new processor to pay the cancellation fee from the old processor may sound like a good idea. However, there truly is no free lunch! Suppose a processor is willing to pay your cancellation fee. In that case, that processor will usually end up recouping the cost in the form of setup fees, application fees, high processing rates, lease agreements, and other hidden fees. Don't go blindly from one payment processor to another.
Get it all in writing
Save yourself another headache later by getting it all in writing- and knowing what to ask for. Instead of settling for potential cancellation fees later, negotiate with your merchant payment processor to remove them before you sign or avoid signing a contract altogether.
If they make any special promises, such as waiving fees or throwing in extra services, bundles, and equipment at a lower, or no additional, cost, then make sure to get that written in the contract to avoid a tsunami of fees when your contract ends.
As a merchant what other options do I have if I can't get out of a contract?
Understand your rights: legalities of canceling merchant accounts
We've broken down a few of the significant points of legal interest when it comes to leaving your merchant account contract. Here is the scoop on some of your legal options if you need a way out.
The Canadian Code of Conduct
The Code of Conduct, which into effect in August 2010 was designed to dampen some of the credit card industry practices. Every few years, it is updated to help further consumers and merchants based on changes in the industry. It is essential to review your merchant rights under Canada's Code of Conduct for the Credit and Debit Card Industry.
Filing a complaint with The Code of Conduct
When calling your processor to cancel, support reps frequently will be unaware of the Code of Conduct or try to convince you that it does not apply. Be sure to have your call escalated to a manager. This is our first recommendation for the fastest and most immediate results. Suppose this does not work and you feel that your processor violates the code. In that case, you can file a complaint through the Financial Consumer Agency of Canada.
Telephone: 1-866-461-3222
Email: [email protected]
Write to: Financial Consumer Agency of Canada
6th Floor, Enterprise Building
427 Laurier Ave. West
Ottawa, ON K1R 1B9

FAQ's
What if I refuse to pay an early termination fee?
ETF's are not always enforceable, depending on your situation and contract. Liquidated damages, for example may not be enforceable in court if the amount is deemed to be a penalty rather than the actual cost of the "˜damages' or losses in revenue for the processor. However, in most cases, especially for flat fees, if the contract and terms are valid, they are legally binding. Meaning your processor can take the fee out of your merchant account or send it to a collection agency to pursue the cost. There are legal options to pursue recompensation for the fee if you believe it was wrongfully imposed.
What happens if I just close my checking account?
Don't jump ship and close your banking account
If you've allowed your provider to use ACH payments to make deposits into your banking account, then you may be aware they can also retrieve funds from the same account without warning. Although it can be tempting to close this (usually checking) account to avoid further charges, this can also set you up to take a hit on your credit score, collections, and further charges, fees and interest.
What should I do if the payment processor refuses to talk to me and/ or provide services or information?
There are a few options available if your payment processor has ghosted you:
-Report them to The Code of Conduct (detailed above)
-Leave a bad review
-Seek legal advice if you think you have a case