Last Updated on January 27, 2023 by Ryleigh Stangness
When it comes to credit card processing fees, there are two pricing structures that really stand out: Interchange Plus vs flat rate processing. But is one better than the other? How do you know which is the right fit for your business? Read on to find out.
What is Flat Rate pricing and how does it work?
Flat rate pricing is a popular credit card processing price structure that offers merchants a single flat fee (usually between 2-3% of every purchase) to process a transaction. With flat rate pricing, the type of credit card your customer uses won't impact your cost to process the transaction. Flat rate pricing makes it easy to understand what your processing fee will be on every credit card transaction, because it's always the same. However, while simple, business owners can be lured in to paying higher credit card processing fees than they need to.
Credit Card Processing Fees and pricing models
What many merchants don't realize is that the fee they are charged for processing a transaction is made up of three components that when added together culminate in your total fee. These are:
1) Interchange Fee - The fee charged by issuing banks to process the transaction. (Interchange fees are ultimately what pays for the rewards programs associated with consumer credit cards as well as technology and infrastructure.)
2) Card Brand Fee - A small fee that the card brand (Visa, Mastercard, Amex, Discover) takes for each transaction.
3) Payment Processor Margin - The fee the payment processor takes for providing you with the ability to take payments.
The interchange and card brand fees are outside of the control of your payment processor but make up the bottom line for your payment processor and are a direct precursor of processing rates you'll get for Interchange Plus processors.
Collectively, these fees make up payment processing costs, which are what you pay to accept credit card payments.
You can learn more about the credit card processing cycle, the key parties involved, and the factors which determine the interchange fee in this article here.

Does Flat Rate Pricing Cost More vs. interchange?
Flat rate processing could be costing you more, depending on what type of transactions and cards you accept.
Check out this diagram to see how interchange plus compares with flat rate: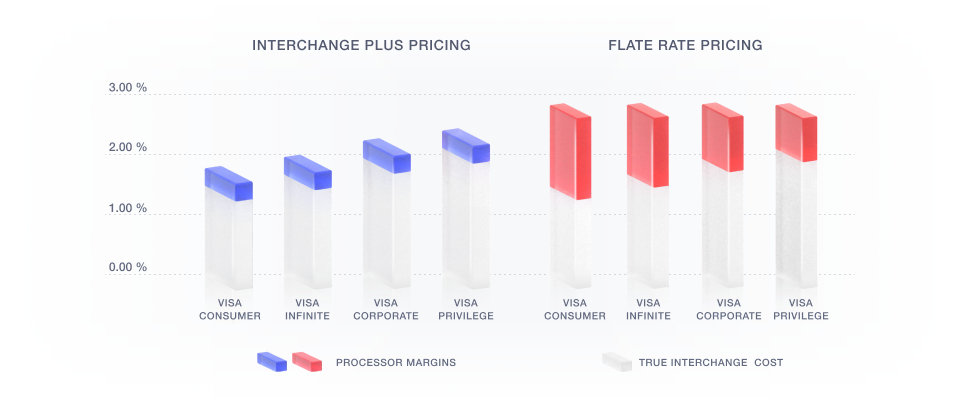 In a flat pricing model, for example, you pay 2.9% on all your transactions, even if the actual interchange rate varies with the different transactions. Depending on your business and the volume you are processing each month, this may mean that your business is paying more than it needs to for payment processing.
Many payment processors rely on confusion and misinformation to keep their merchants in the dark when it comes to understanding how credit card processing fees work. When a payment processor charges a merchant based on the flat pricing structure they are determining a flat rate based on all three of the fees mentioned in the section above. This is the fixed rate that you will be charged on all your transactions.
Essentially, the flat rate pricing model isn't giving merchants the ability to take advantage of low interchange rates, so it could be costing you more money. In fact, typically, the only way interchange plus pricing doesn't cost merchants less than flat rate is if a merchant's average transaction size is really low (for instance, in the case of a coffee shop).
What is Interchange Plus pricing and how does it work?
With the interchange plus pricing structure, the interchange fee fluctuates based on what sort of card you are processing, but the margin fee will remain at a fixed percentage for each transaction. This means, whenever you process a transaction that is eligible for a lower interchange fee you will be saving money (compared with where the transaction took place under a flat rate structure). Now of course, the adverse is also true; being that when you process a card with a higher interchange fee, you may pay more than you would have under a flat fee arrangement.
However, the majority of cards processed everyday are those which qualify at a low interchange rate which gives merchants a break on these lower transaction fees.
Interchange Fee Flexibility: Why it Matters
The key to saving money on credit card processing is understanding [interchange fees](interchange fee. As we explained earlier, it is is a deduction that the card-issuing bank takes for handling a credit transaction. Depending on what your business is and the type of payment you are processing, this transaction fee can fluctuate.
Why Merchants Are Choosing Interchange Plus Over Flat Rate
Here's why Interchange Plus pricing structures are so attractive to so many merchants: the majority of cards processed everyday are those which qualify at a low interchange rate.
This is because the average customer doesn't carry an Amex Black or Visa Infinite Privilege card, but a standard, low annual fee credit card with a low interchange rate.
Finally, payment processors who use interchange plus take a consistent margin when compared with flat fee providers. With flat rate pricing remember, your rate never changes, but because the interchange rate does, so the flat rate processor's margin is always fluctuating up and down. This arrangement is advantageous to those providers, but not so much for the merchants that use them. Interchange plus providers set their margin to be consistent across interchange rates which also allows you to see exactly how much you're paying for interchange at each transaction and how much you're paying on top.
Final Thoughts on interchange plus vs. flat rate pricing models
Overall, interchange plus pricing is the better option for most businesses as it allows merchants to take advantage of fluctuating interchange rates and keeps the payment processor's margin as low as possible. Unless you're not processing a significant amount of payments monthly, or unless your average transaction size is really small, interchange plus pricing is probably the best bet for your business.