We're thrilled to be announcing the release of our 2nd generation card reader, which we're "creatively" calling, again, the Helcim Card Reader. As part of this announcement, we want to give a behind the scenes look at our journey to getting this new payment hardware product to market.
We released our first generation card reader on June 1, 2020. Our vision was to offer a single card-reader that could be versatile across a wide range of merchant usages. The "one" card reader that would work well at a front desk of a professional office or clinic, as well as on the go paired with a tablet or smartphone. We've sold thousands of units, and thanks to the feedback from our amazing merchants, we started working on the next generation.
We identified five core items that needed to be improved over the first generation:
Improved connectivity and operating speed
Better keys (improved tactile response)
Longer battery life
Included countertop stand
Lower price point
With this list in mind, the first step was to source a new piece of hardware.
The card reader hardware
When it comes to credit and debit card terminals and card readers, there are a limited set of manufacturers that build the needed hardware that can be used in the North American and European markets. That's because card-networks like Visa, Mastercard, American Express, Interac Debit and others have strict certification requirements to ensure that the security of their networks are upheld. There are complex requirements around encryption keys and their storage, kernel certifications, both for contact (chip) and contactless (tap), there are PIN-entry and PIN-pad certifications, as well as card-brand specific requirements. This means that getting a new family of devices to market often takes the involvement of numerous parties, and years to design, test and certify.
Like most payments companies, we work with these third-party electronic manufacturers and try to determine the most fitting hardware available that can satisfy our merchants' needs. Knowing that we needed an improved experience from our first generation reader, we extensively tested over a dozen units from a new set of manufacturers until we finally found "the one". We then worked with our new manufacturer to align on pricing and supply chain logistics to ensure that there was a secure path to a multi-year partnership.
Having completed this crucial procurement step by November, we then assigned multiple teams to multiple projects so that they could work in parallel in hopes of getting our new product to market within a 12 month timeframe.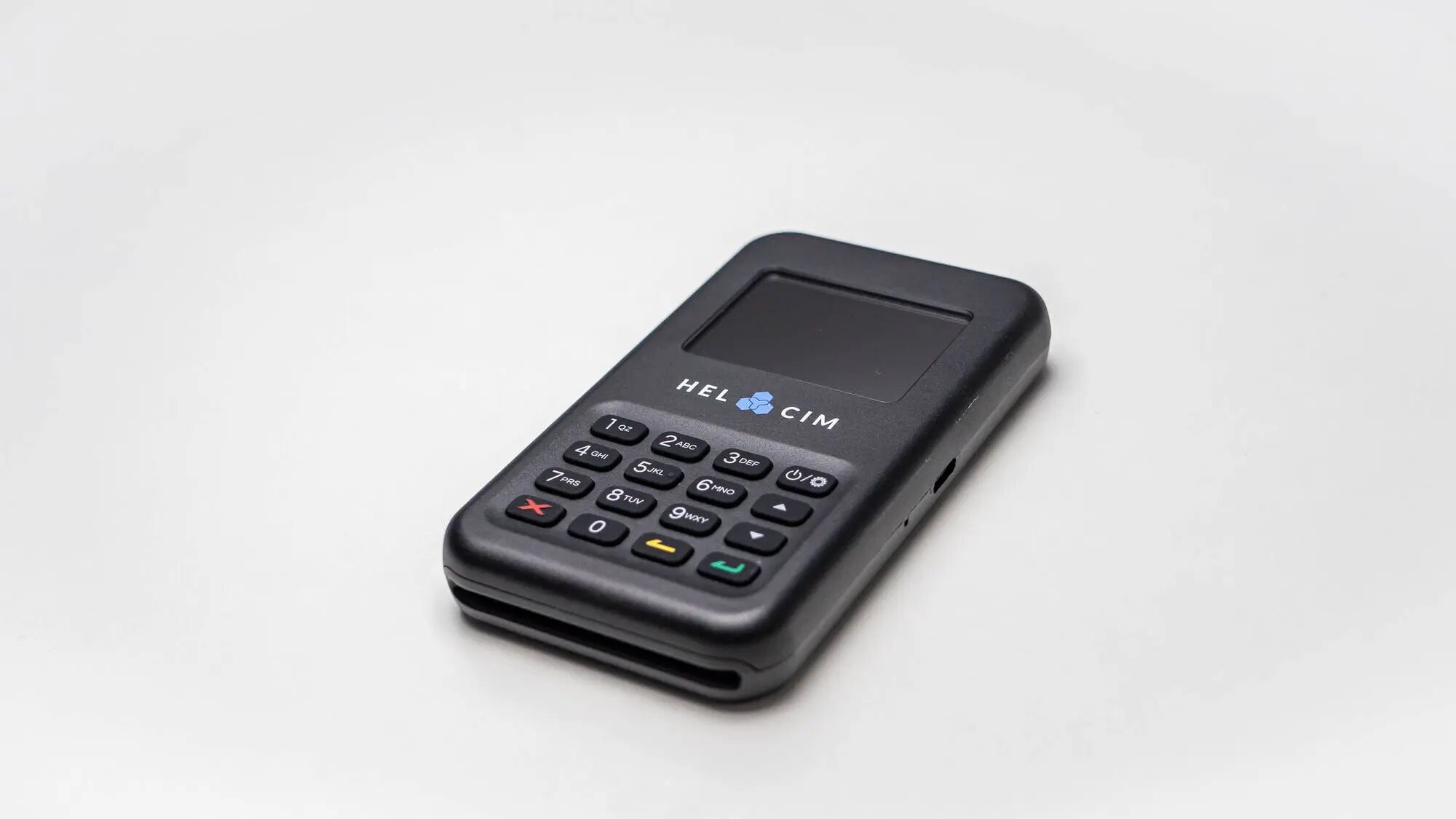 Picture: The new card reader hardware
EMV certifications
While manufacturers have typically already certified the physical components of their hardware devices, as a payments company we need to undergo a certification process ourselves with any new card reader that we bring to market. This is known as an EMV L3 certification. This involves specialized (and expensive) hardware designed to test your implementation of the card-reader and how it reacts and flows to hundreds of various card scenarios and edge-cases. Think: "What happens if an international customer with a Discover debit card tries to do a tap-and-pay transaction over the $150 limit but no PIN is stored in the card's chip." Fun stuff like that "" oh the hypotheticals!
The EMV L3 certification on our first card reader had taken well over 2 years, and having learned a ton from our first round with our Gen 1 reader, we were determined to accomplish this in a quarter of the time the second go around. Thankfully, we've learned how to navigate these certifications with more efficiency, and have built a wonderful team of individuals and internal expertise.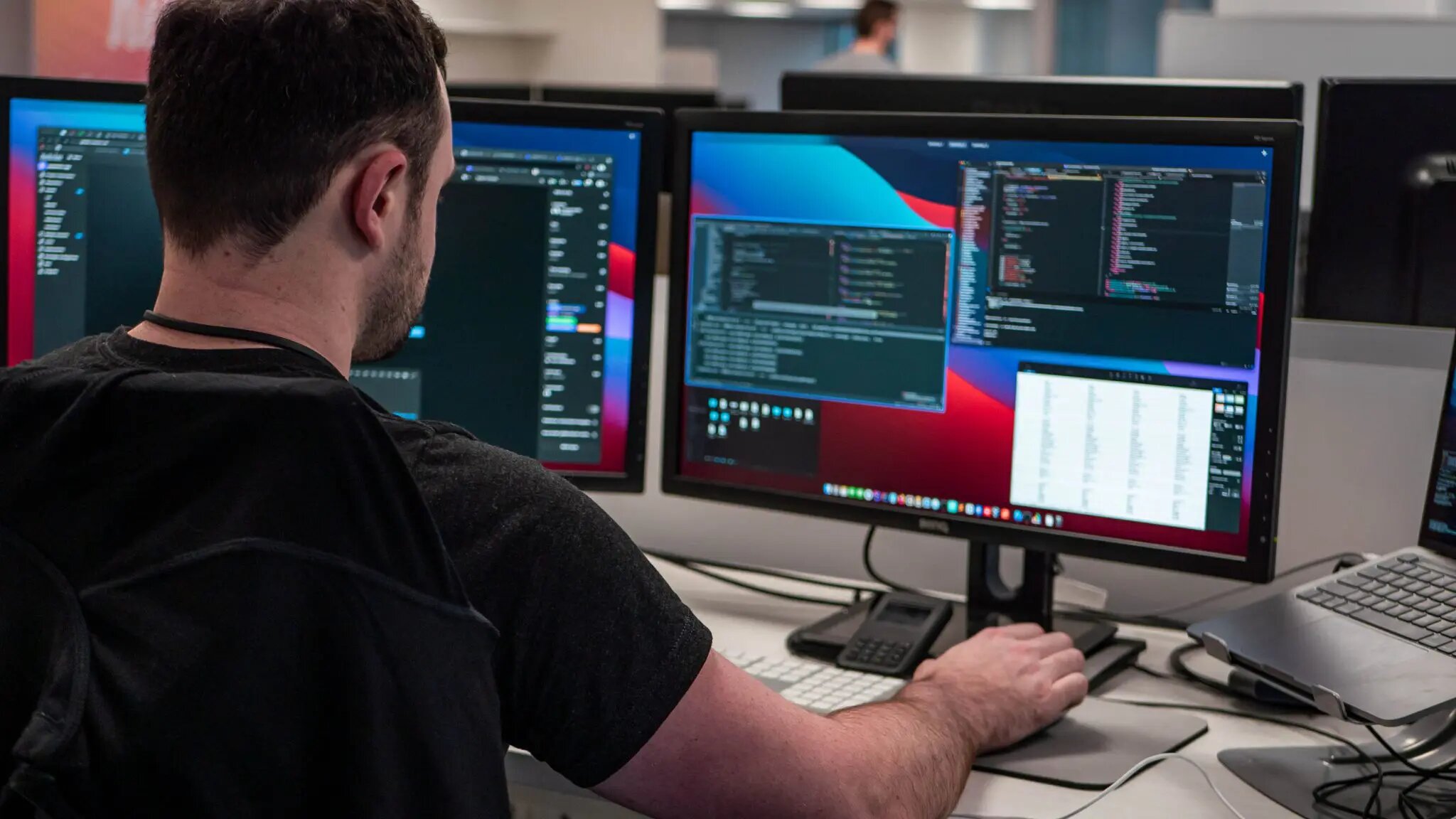 Even with those lessons and experience in place, whenever you mix software and hardware "" things get tricky. To add to our complexity, we also offer our Helcim app across four separate operating systems; Windows, MacOS, iOS and Android, as well as two connection modes; USB and Bluetooth. By comparison, most of our competitors offer their software on a much more limited set of supported devices and OSes (i.e. you have to go buy something running iOS). For months, our team learned how the hardware behaved on various scenarios, and built a ton of code to navigate thousands of scenarios and edge-cases, all with one goal: create a seamless in-person experience for our merchants regardless of what computer, operating system and connection they are using.
Once our certifications were completed and our code reached a certain stability, we then started working with key merchants willing to participate in a beta with our new hardware. No matter how much testing you do, even with all of the edge cases and scenarios the certification process throws at you "" the real world of in-person transactions always finds a way to reveal a new scenario you had yet to imagine. People are very creative when it comes to technology, and they always seem to manage to hit buttons and do things in ways you would never think of "" hence the need for betas.
The stand
One key lesson we learned from our first generation card-reader is the importance of having a great countertop stand. We had previously outsourced the manufacturer of our card-reader stand and it had proven too expensive for many merchants, yet we realized it was crucial in creating a great experience at checkout. That's because many of our merchants processing in-person payments do so at the front desk of their clinic, professional office, restaurant or retail store, and having a card-reader loosely set on the counter wasn't ideal.
So we decided to design and manufacture our own stand with a clear goal: it had to create a great checkout experience for both the merchant and their customers, yet be affordable so that it could be included with every card-reader purchase.
As luck would have it, one of our recent hires in our design team had studied industrial design. We bought a 3D printer, and dove into months of sketches and prototyping.
OtterBox partnership
We had also set ourselves another challenge for our new card-reader and stand: it needed to seamlessly go from the countertop, to mobile. Merchants want to do business where their customers are. Sometimes that's at the front-desk, sometimes that's on the showroom floor, and sometimes that's thousands of miles away from their office.
We came up with a creative solution. The card-reader sled (the container that wraps around the card-reader itself) would be connected to a base stand by default, but could easily connect to a tablet or smartphone case without the need for another specialized attachment.
When it comes to tablet and smartphone cases that are made to the demands of busy businesses, OtterBox and their uniVERSE case series became the obvious choice. Already popular amongst our merchants, they already had hundreds of case options for the most popular devices on the market. A shout out to Greg and Levi and their team at OtterBox for approaching our partnership the way that any startup hopes "" starting with a "yes", and figuring out a way together to make it happen.
The end result is everything we hoped for out-of-the box - our card-reader seamlessly goes from countertop to on-the-go transactions, and attaches itself to the cases that our merchants already love.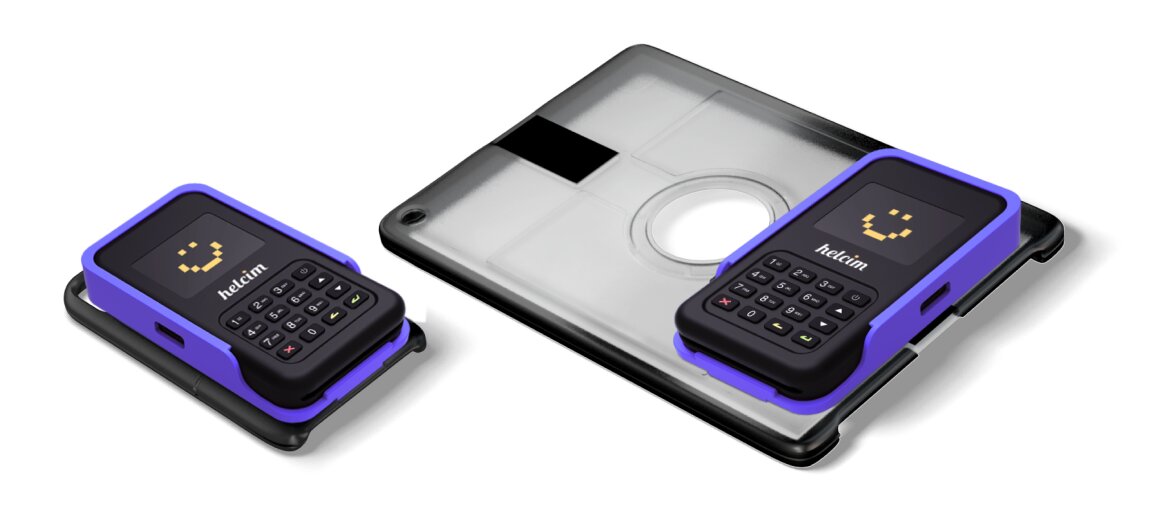 Pictures: Design sketches and 3D-printed prototypes "" it took many iterations to get to the right place.
Plastic injection molding
Printing prototypes with a 3D printer is an amazing process for getting to the right solution quickly, but less ideal when the goal is to sell thousands of units to merchants everywhere. That's where plastic injection molding comes in - our first time venturing into it as a company.
We debated whether to work with a Chinese or local company, and ultimately landed on local as whenever feasible we want to support local as part of our supply chain. This decision ended up paying dividends, not having realized the levels of complexity that goes into something as seemingly simple as a stand. We've had a lot of success working with people and companies all over the world, but having to navigate geographic, language and timezone barriers while prototyping a product where microns and infinitely small variances matter would have likely added a significant amount of time and cost to the project.
While the variable cost of each unit is low (with the price of plastic being insignificant), there is a huge upfront cost of designing and manufacturing the steel mold and it's mechanism. We learned everything from the variations in materials, to the intricacies of how the pieces are ejected from the molds and the limitation of lips, edges and angles in making it all work.
These 1,000kg molds may look ornate, but to many of us on the team, they are solid steel trophies representative of a cumulation of long hours, trial and error:
A shout out to Sam and Brett at Alta Injection Molding for their patience and help in getting us to the finish line. Our first batch of Helcim stands come in our eye-catching bluish-purple, with more color options on the way.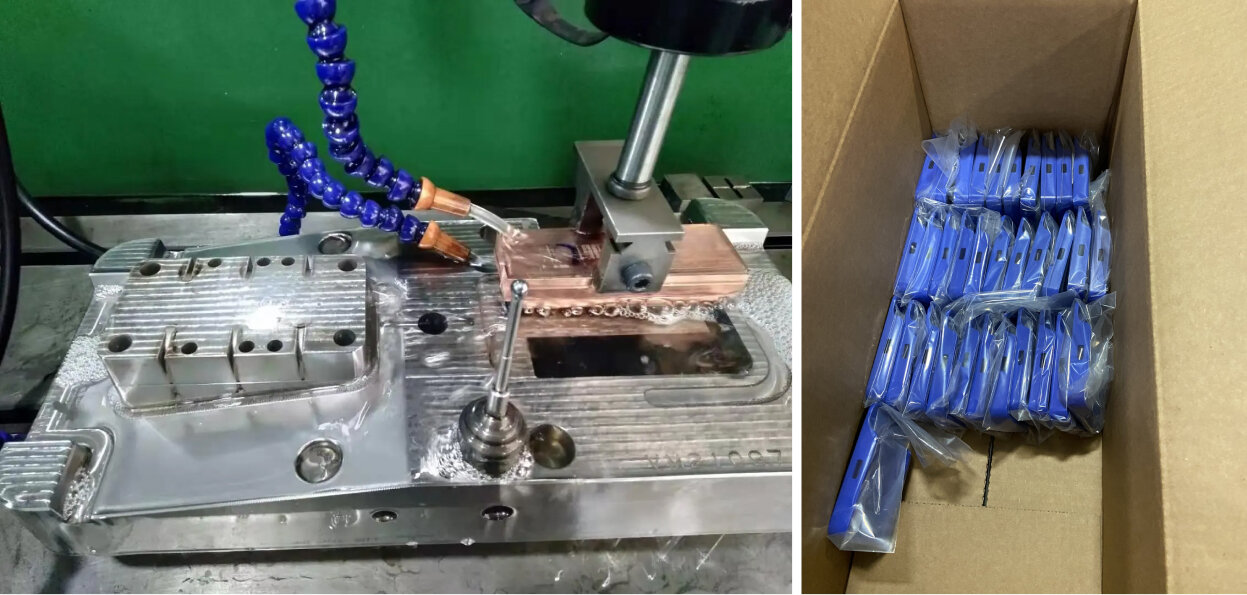 The box
Everybody loves a good unboxing, and we understand the importance of this first physical touch-point in our merchant's experience with our payment service. So we set out to design and create a box that met that high expectation.
From an environmental standpoint, it was important to us that the box in its entirety be recyclable (FYI - so is stand/sled, using recyclable plastics). Most people throw away the boxes quickly, but oftentimes the inserts that keep contents secure are made from plastic trays or styrofoam. Instead, we wanted those inserts to also be made of paper, so we worked with a number of manufacturers to get to the solution that kept our vision of recyclable packaging intact.
A side note: As you can see from some of the pictures, our first manufacturing batches were completed prior to our rebrand this summer. Therefore some early merchants should expect to receive some "Helcim Classic" boxes and card readers before our next batch of "New Helcim". Perhaps a collectible item?
The final product
Welcome to the Helcim Card Reader, second gen: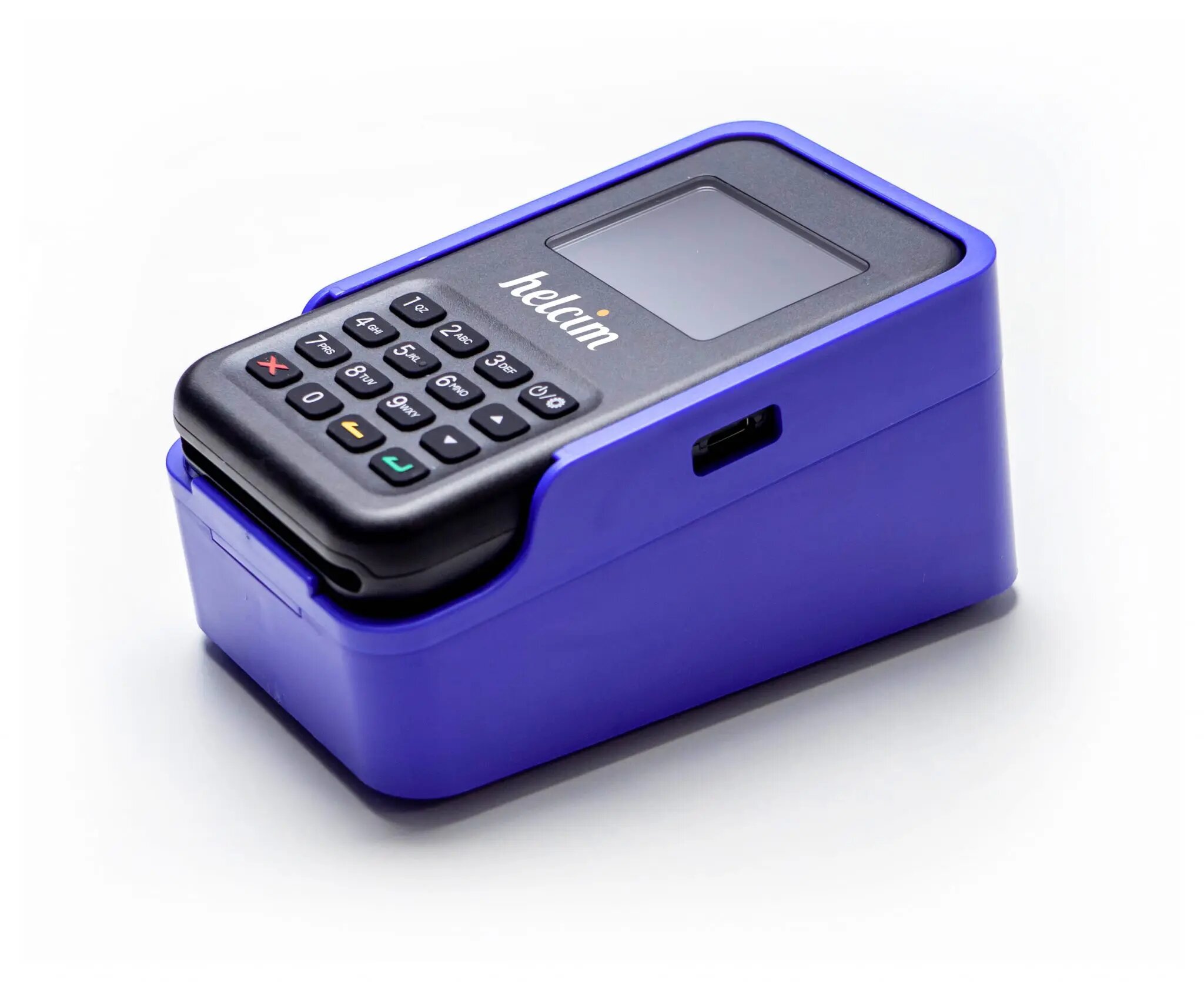 One of our core values at Helcim is We Are Builders, and an excerpt from our culture book describes it as the following:
"We build things ourselves and we build them well. We use technology and our creativity to overcome challenges that would seem beyond the capability of a company our size. We improve what is already there, invent our way out of problems and we never stop dreaming of better."
The journey of getting our second generation card reader to market exemplifies this value that we hold dear. It is an effort that crosses so many of our teams at Helcim, and we couldn't be more proud of what we're delivering to our merchants. Ultimately, our mission is to be the world's most loved payments company, and as another step along our road in delivering constant improvement, a better experience and more value "" we believe that our merchants are simply going to love this card-reader.
-Nic