Just like you get an invoice for your vet visit, a furnace repair, or your amazon order, you might be trying to decipher something similar for your payment processing.
Are you the type that needs to know what every charge or item on an invoice is?
Maybe you've noticed bigger charges lately. Or, just maybe, you've stumbled on one of our articles about payment horror stories, and it's got you thinking, "is my payment processor overcharging me?
Whether you're concerned or just being diligent— every merchant can benefit from learning more about how their payment processor is charging them.
Plus, we can show you a few key terms, what to look for, and where to catch hidden fees, so you don't get swindled on your bill!
What your merchant statement needs to include
A merchant statement is simply a receipt for your merchant account and your monthly payment processing transaction fees. Unfortunately, it has often become a trojan horse for smuggling hidden and additional fees under the radar for some time.
On a fundamental (and legal) level, here's what your merchant statement needs to include:
Merchant account summary
Total # of items charged by card type
Total amount processed
Total fees and a breakdown of each fee item
Processing fees
Fee amount
Settlement invoice with dates and amounts
Any chargebacks, adjustments, and reversals fees
It should be straightforward, right?
It is when it comes to Helcim. You can find a full sample merchant statement of oursl posted online for you to see here.
Right from the dashboard, you can see a clean and concise summary of your statement. We only charge you a processing fee, the interchange cost, and the card brand network cost- all clearly listed by section on your statement.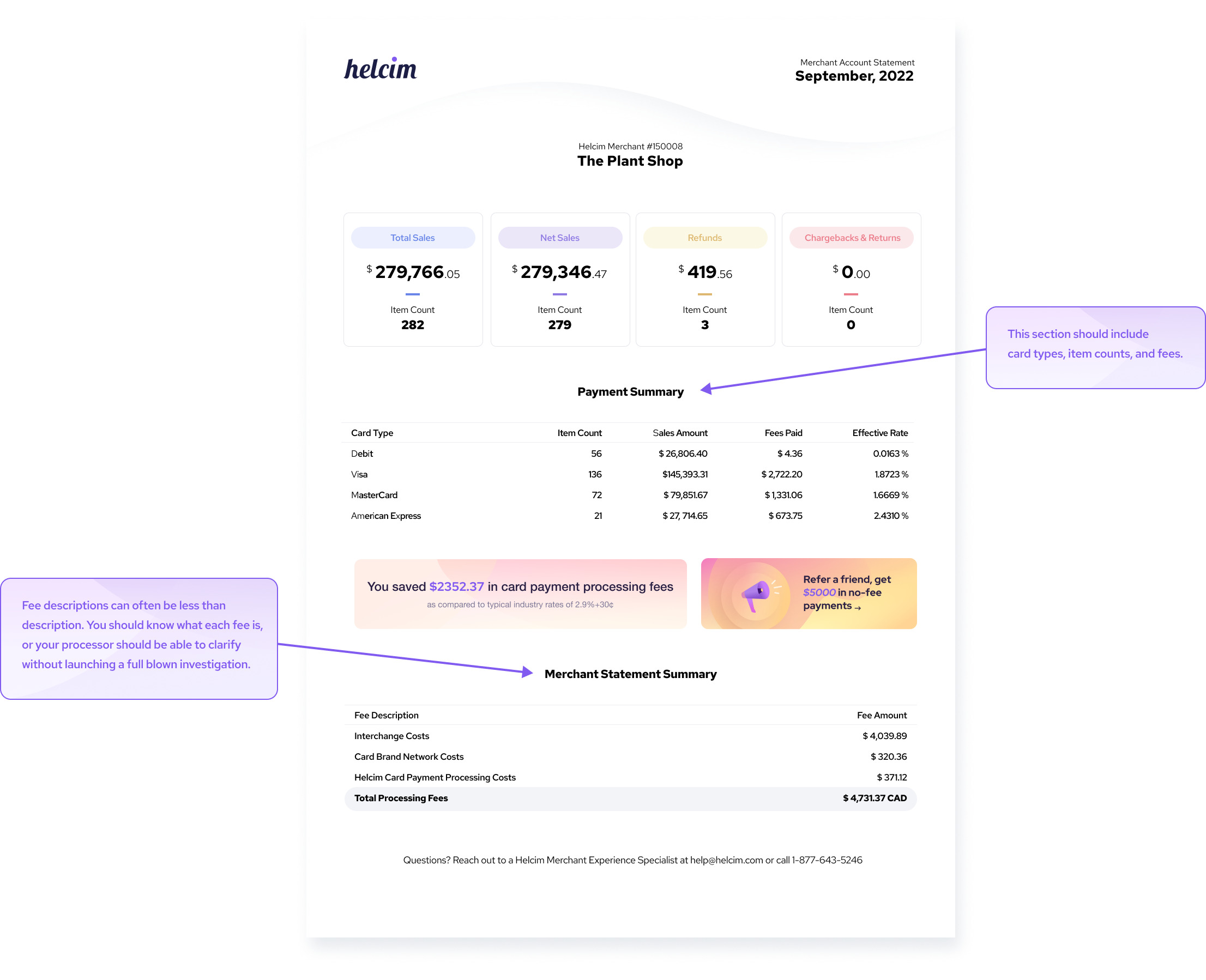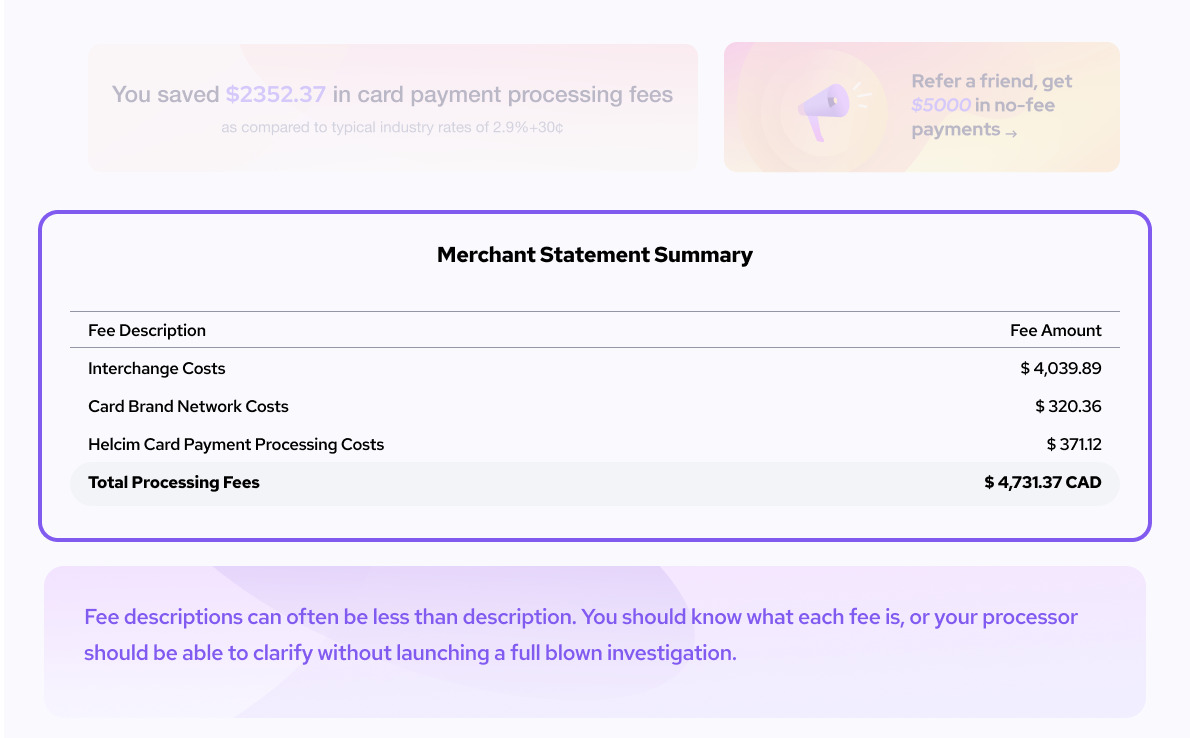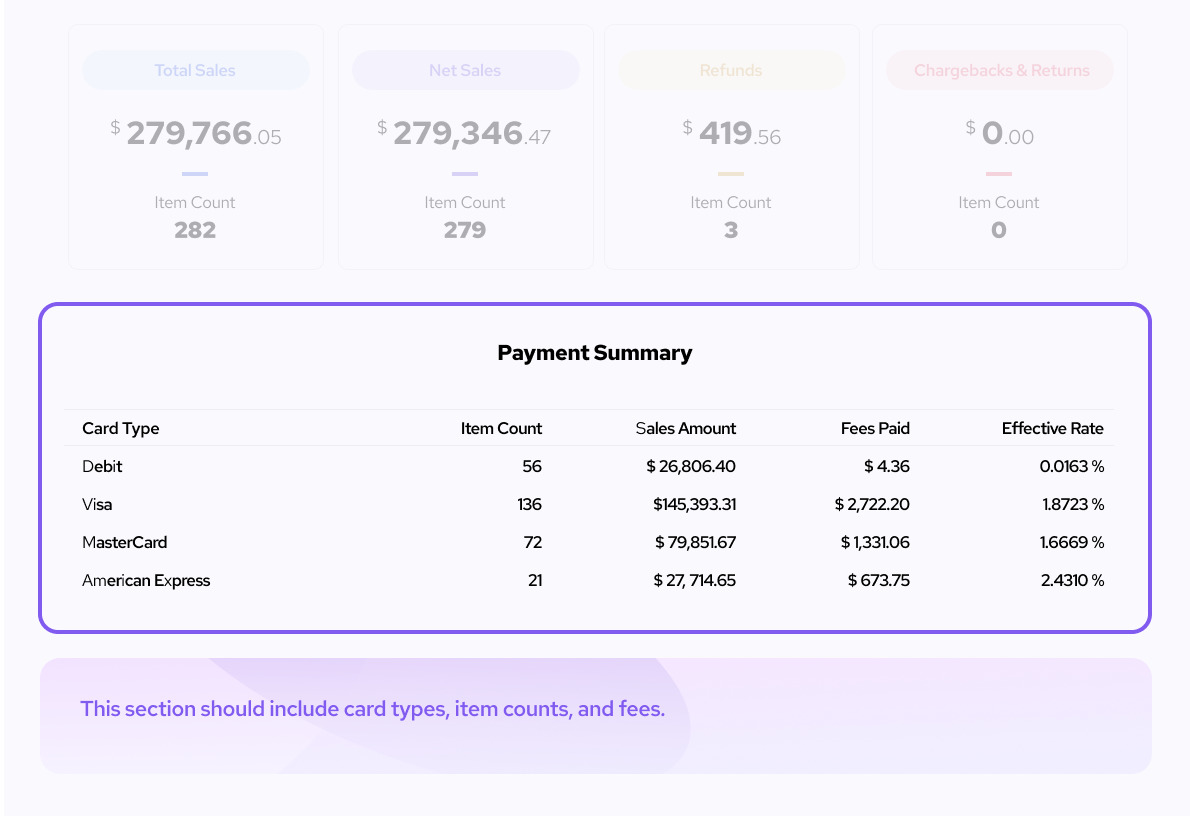 Unfortunately, many processors intentionally cloud the readability and clarity of these statements. At the end of the day, they are counting on you to be confused, to be overwhelmed, and to become apathetic about your monthly statements.
Breakdown of merchant processing statements
Not all merchant statements are equal.
Some are smooth, easy on the eyes, and inviting. In comparison, others look like jumbled code written by an over-caffeinated spider monkey. Reading a merchant processing statement can be confusing, even for employees of payment processors. We've seen bills for other providers with a list of fees we haven't even heard of- fees for the sake of fees.
The worst part?
Many processors won't give you a description or straight answer and make you call in to get any clarity. Imagine you wait on hold for hours just to know what you're paying for. To top it all off, you can't be assured their customer service team will be completely forthright or helpful either. While you might still have to go to phone war with your processor, we've done most of the digging so you don't have to and can head into battle armed.
What does "—" mean? Deciphering all those random fees
Fee names are not always what they seem.
If you can't really read it, you might not look too hard, right? That's the logic your payment processor might be counting on. And it's easy to see why it works, especially if the entire document reads like algebra.
Some fee names are cut off or abbreviated; others are broad or ambiguous. Often a Google search leads you down a rabbit hole of information, and you feel more defeated than when you started. If you haven't read our article on common hidden fees, you can find most of them there or read below for some of the niche names you might not have heard of.

What is that fee?
Now let's rule out these fee names and their dubious meanings:
Merchant discount rate
What it really is: Processing Fees
This is the processing fee rate- P.S. There is no discount here.
It's just the cost your processor charges you for them to accept payments (usually between 1-3%.)
Some processors will call this your effective merchant discount rate (EMDR). If it is not listed, or you want to know how much you are paying in processing fees, first take your total transaction fees, and divide that by the total sales volume.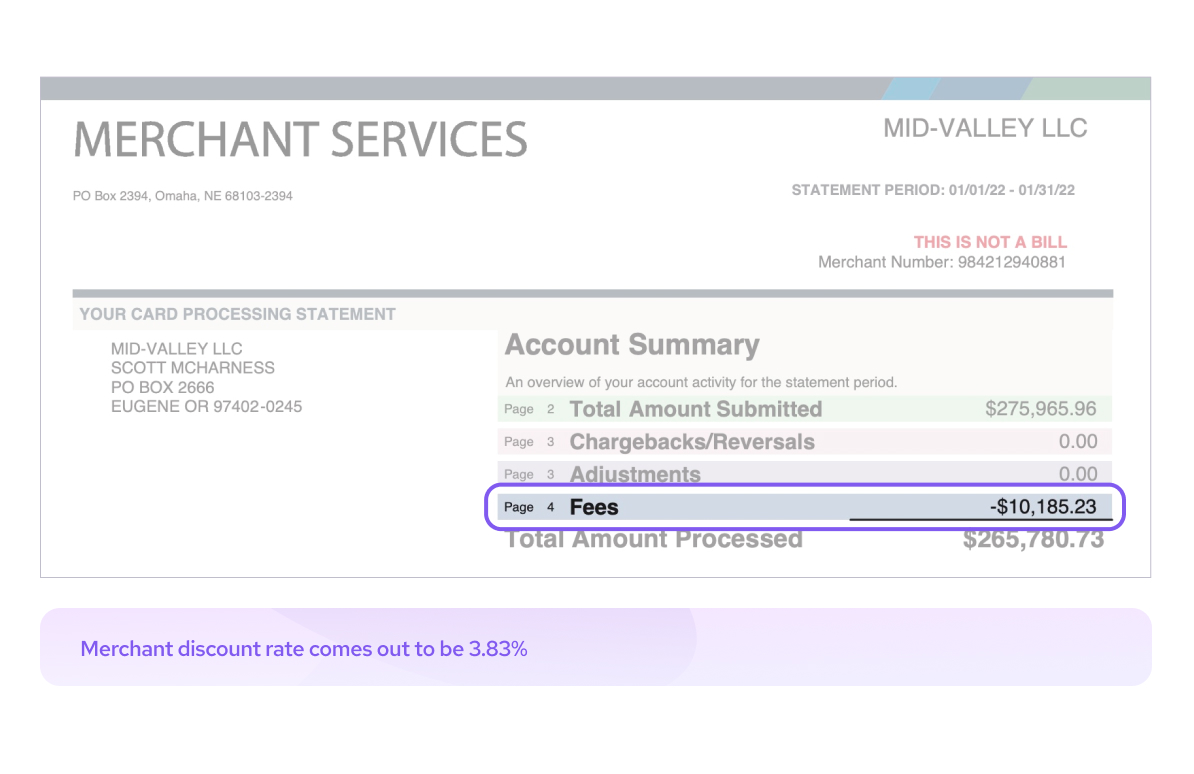 In this case, take the "total amount processed" and divide by total fees (and any others you may find hidden.) For reference, the average U.S. is 2.3% but something like 3.83%, although high, might be less drastic if you are processing all online transactions.
You could be charged daily per transaction when you settle your transactions or monthly when your trades are deposited into your merchant account, usually along with your other monthly fees.
Note these charges, and add them to your total fees to get a full idea of the fees you're paying every month total, especially if they're sprinkled throughout the month._
Annual maintenance fee
This sneaky fee can really blindside you and take you a hefty chunk of change (usually at around $900!)
Many processors won't mention this fee upfront and will send reminders that it is upcoming or disclose it on your statement. Other processors will sell the idea that they don't have a monthly fee while they more than cover it in their annual fee, which they don't advertise as loudly.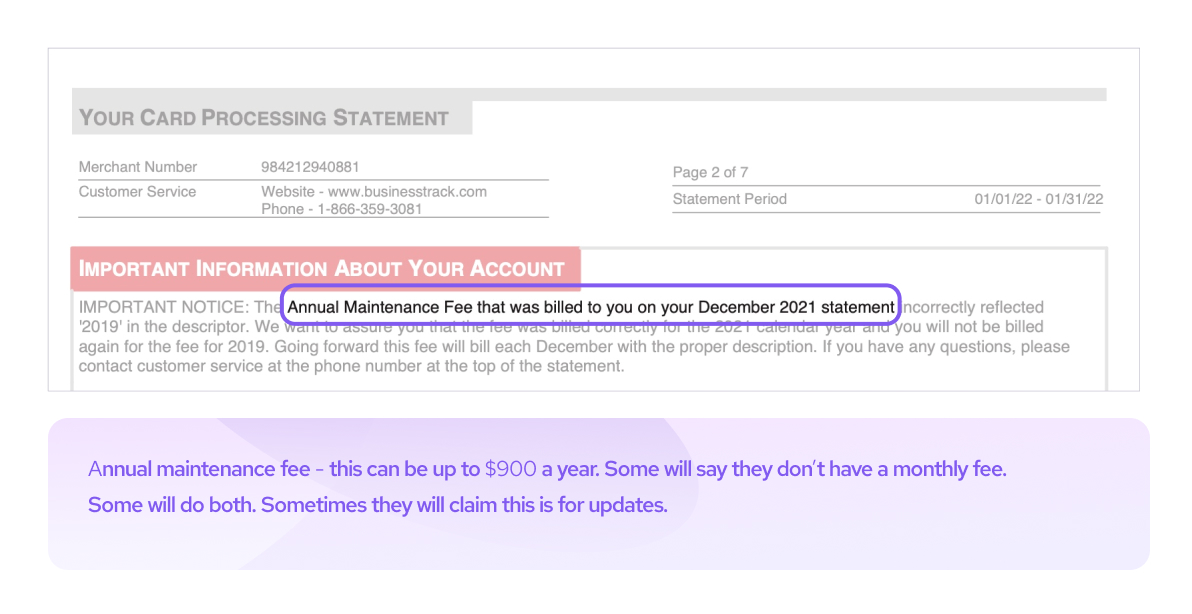 Another way processors implement these fees is by claiming this is a tech update fee to bring you a better service. Ask your processor about any annual or update fees beforehand, and be sure to get it in writing and read your contract thoroughly.
Device Rental Fee
Depending on your processor, you may have to purchase or rent specific and expensive POS equipment.
Not only is there an upfront or monthly cost associated with this, but there are often costly cancellation fees.
Note: Sometimes this fee is not labeled "device rental" or mention rental in the name at all. It might be only include the processor's name and have an associated charge. It should still be listed under a fee or other section though.
Read our blog on why you should avoid leasing equipment.
Account Update Fee
This is usually an extra fee for updating your basic information, such as a change of address or account details.
Chargeback Fee
This is a fairly common and straightforward fee, but one you should be aware of. Your MSP or payment processor will post this fee if a customer files a chargeback. It's worth knowing how much your processor charges when you're looking to sign on — just make sure it's a reasonable amount (usually $15-$30). There are many reasons a customer might file a chargeback, so there are a few ways to fight it if you need to.
PCI Compliance Fee
A fee that some payment processors charge you in the interest of making sure your credit card transactions are secure and your business is up to payment industry security standards. The catch? Payment processors have to be (and should be), regardless.
Our opinion: They shouldn't be outsourcing this one-time annual cost to you and getting their monthly return on every merchant account.
Batch Header / Batch Settlement/ Batch Capture / Daily Close-out Fee
A lot of names for the same thing: A fee charged by payment processors to "close" or settle your transactions for the day.
When you settle transactions, it means you send the data from your terminal to your payment processor where your funds are deposited into your account. This is a necessary function that every business has to do at the end of every business day in order to balance their receipts and get their money back from their payment processor so charging a fee for this seems like another unneccesary markup in our opinion.
Admin fee
A made-up fee for basic functions like customer service, account adjustments, or basic processor operations that shouldn't cost extra.
Ticket
Just another word for the transaction amount.
Pro tips for catching hidden fees
Here are a few bonus tips you can use to find hidden fees on your processing statement:
Compare month-to-month statements to pick out any outliers
Look at examples from competitors
Use processor's fee guides (with a grain of salt)
Check out the "authorization" or "other fees" sections- these are hotspots
P.S. if you're being charged unnecessary fees , consider looking into how to leave your merchant contract for a payment provider who doesn't take you for every penny on hidden fees.

The Cole's Notes
So, how do you know which fees are legit the next time you go to read your statement?
Here's how:
You know which information your statement needs to include (we went over this earlier.)
You know the hotspots where hidden fees can be listed (other, additional, and total fee sections.)
You know which components to look for if your processor uses interchange / wholesale and markup cost pricing.
You've read this guide and have bookmarked our encyclopedia of fee names from this article.
If you find your statement is still too pricey, consider the 5 steps listed in this article on how to cut your processing costs.
FAQ
How often do I need to check my statements?
As much as you would love to rake over your statements every month, it's not altogether practical- or necessary. Worth doing one major deep dive to understand the verbiage and what you are being charged for. Then, try looking at a few month-over-month to see if anything changes or a few different payment processors to pick out any fees or names that differ from yours. Even finding time to comb over your statements once in a while can catch some of those slippery errors that can happen to even the best payment companies from time to time. Plus, once you've gone through it a few times, you'll know what to look for so it won't be a heavy lift every time.
What do I do if I don't know what a specific fee is?
If you don't recognize a fee, there are a few things you can do. You can check your payment company pricing page, where ideally, any and all fees would be listed like ours. Interchange fees should be clearly listed on the statement, but you can also find all of the U.S. and Canada Interchange rates listed on our site. You could also reference your processor's fee guide if they have one in a pinch, give it the old Google search, or, you should be able to contact your payment processor via phone or email (let's hope their customer service reps are more straightforward than their statements.)
How do I get my merchant statement?
At Helcim, you can simply log in to your account and navigate through the dashboard. You should be able to access your monthly statements from your processor via a dashboard, email, or, if you're unsure, then at least by request.