Run Your Business, Grow Your Business
.
Everything You Need to Get Paid
.
No need to worry about rental agreements or leasing contracts. You get one device for all your payment needs, at one great low price.
A Complete Point-of-Sale Experience
.
The Helcim Point-of-Sale lets you design your own checkout experience. Fully-integrated with the rest of your Helcim account, you can access all of your product information and serve customers faster.
You get to decide how you use the Helcim App and Card Reader, and which device you use them on. You can use the app on a Windows or Mac workstation, or on your tablet or smartphone, and even a combination of devices – all linked to your data through the cloud. Whether you have one location, multiple locations or are on the go – flexible devices plus unlimited users allows you to customize the experience to your liking.
A Desktop Solution for Mac and Windows
Download the Helcim Payments app onto your Mac or Windows workstations to create a traditional point-of-sale experience. The point-of-sale will open in a browser window and give you easy access to your product and inventory information.
Accessible from Apple and Android Tablets
Download the Helcim Payments app and access your Helcim account from a tablet for a versatile point-of-sale experience. You can mount the tablet in a stand for a traditional countertop checkout experience, or bring it with you to pop up events for quick and easy mobile transactions.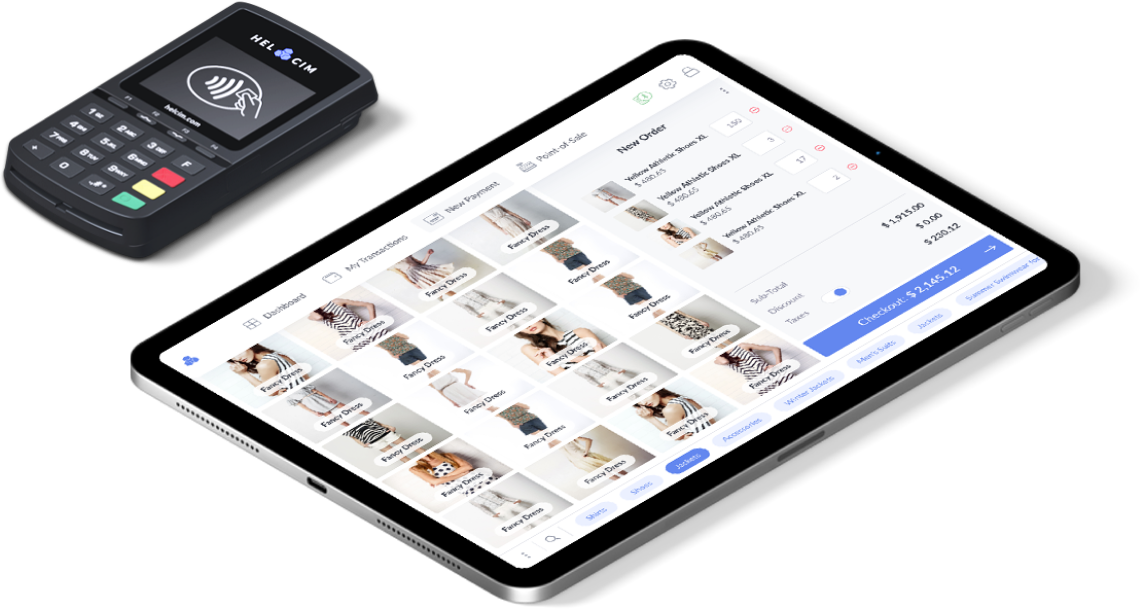 Accept Payments Using Your Smartphone
Serve customers from anywhere by turning your smartphone into a point-of-sale. The Helcim Point-of-Sale provides an uncompromised sales experience so you can continue to sell your products no matter where your business takes you.

Integrate the Hardware You Need
.
At Helcim, we understand that every business is different. No matter how big or small your business is or where you sell, Helcim lets you set up your ideal checkout experience. Use the versatile Helcim Card Reader, your own devices, and other hardware integrations that all talk to each other effortlessly to create the solution you need.
It's time to
feel good
about your
payments
.
It's time to
feel good
about your
payments
.
It's time to
feel good
about your
payments
.
Sign up instantly with no
paperwork or commitments