Every April and October the card network brands and acquiring banks release new interchange rates and updates detailing new interchange rates and fees or changes to existing ones. These changes can apply to certain industries, card brands, card types, or transaction types. In this article, we sum up what you need to know if you accept credit and debit card payments at your business.
Which interchange fees are changing this October?
Businesses that process payments through an interchange Plus pricing model will be interested to see the changes coming this October. Notably, American Express (AMEX) is making changes to its interchange programs and rates, which will mean lower interchange rates and more savings for businesses within specific categories. Specifically, they've added new industry categories —swapping select categories from the emerging market category to the education interchange category. The second change from AMEX is a reduction in the education rates within that category.
October 2022 – New Visa Flexible Rate B2B Virtual Program Products October 2022 – New changes to Visa B2B Virtual Payments Program October 2022 – New Visa Non-Domestic Currency Settlement Fee October 2022 – Mastercard Revised Excessive Authorization Attempts Transaction Processing Excellence (TPE) Program October 2022 – New pricing for AMEX OptBlue Credit and Debit Program October 2022 – New OptBlue Program Continuation Fee October 2022 – Introduction of Commercial B2B Interchange and Adjustment Voucher Programs October 2022 – New Flexible Rate B2B Virtual Program Products in U.S. Territories
What is an interchange fee? Context to rate changes
To give you a better understanding of how these rate changes may affect you and your payment processing rates, let's first define what an interchange fee is.
The interchange fee is a set cost determined by the banks and the card brands that they have decided to charge payment processors to then charge business owners to be able to accept credit and debit card payments whether online, keyed-in, or in-person.
You can learn more about the interchange fee in our blog here.
Payment processors take on the risk of credit and debit card processing for things like fraud and chargebacks as well as communicating with the card brands such as AMEX (through their OptBlue program) to make accepting payments easier, consolidating them into a merchant statement, and depositing your funds into your merchant account.
So while the interchange rates are not set by your payments processor, they will determine the cost of the transaction to them.
The cost of the transaction to you, the business, will depend on your processor and the pricing model they use to charge you to accept payments.
For example, with flat rate pricing, the interchange rate won't usually impact your costs- except that rising interchange fees could result in an overall increase if your processor chooses to increase their flat rate cost. However, unless they send you a notice for a rate increase your rate will stay the same. P.S. That also means that when the interchange rate or fee is low for a particular transaction type or method, that your processor isn't sharing those savings with you.
Interchange rates usually matter more to merchants who are processing with an Interchange Plus pricing model, meaning the cost of each transaction will be based on the interchange rate + a small set margin. When the rates go up so do theirs which is why it's important to be informed on interchange updates. That also means — you guessed it— that these changes can also mean new lower rates for certain transaction types and lower costs for existing ones. And that means more savings back into your pocket.
American Express OptBlue
For AMEX OptBlue, the following fees and program changes are now in effect:
→ 1. OptBlue Credit and Debit Pricing and Program Updates
→ 2. OptBlue Program Continuation Fee
1. OptBlue Credit and Debit Pricing and Program Updates
AMEX added new industry categories, resulting in overall lower interchange rates for the following industries:
Charities
Insurance
Rentals
Utilities
Gambling
Existing education and government industry rates have also been reduced for AMEX, for the following industries: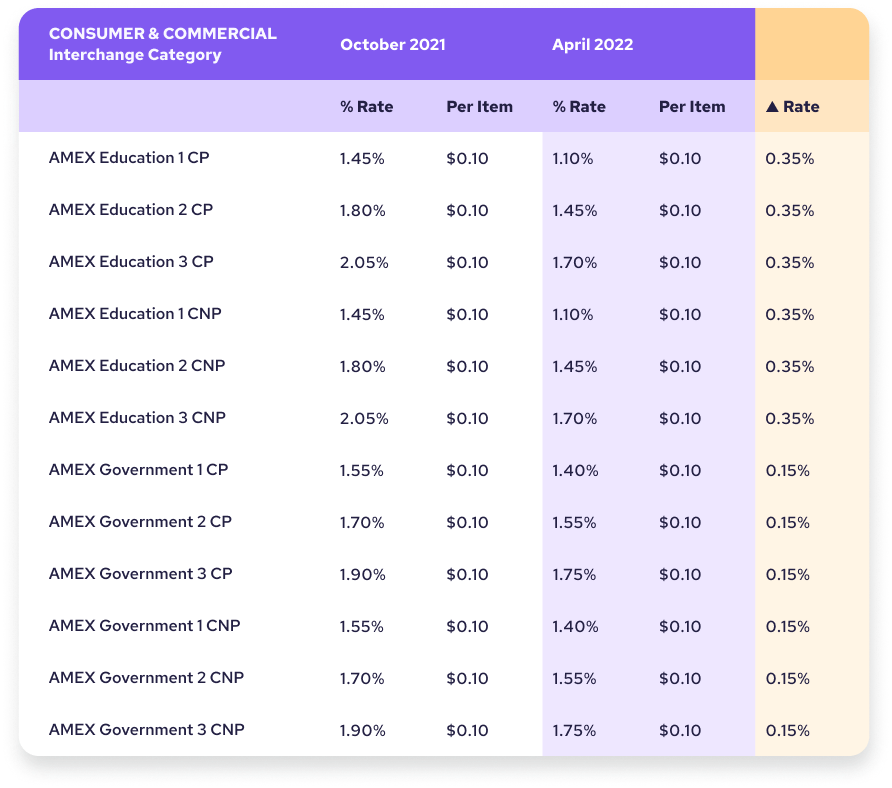 Lastly, AMEX has updated their Industry Categories. Merchants using interchange plus pricing with the following MCC codes will benefit from lower interchange rates: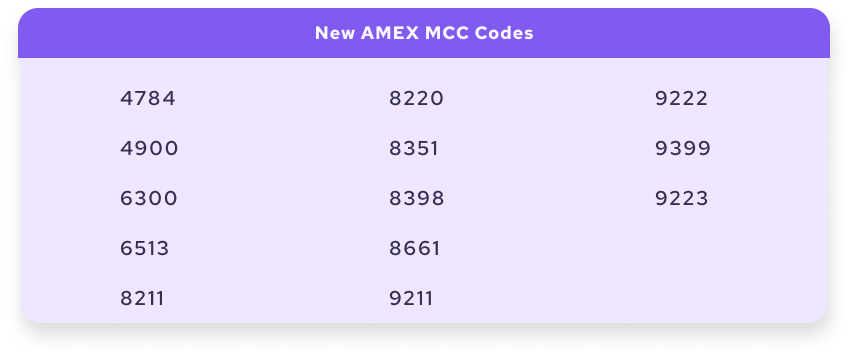 The full list of updated AMEX OptBlue rates are also available here.
2. AMEX OptBlue Program Continuation Fee
This fee is being introduced for merchants who fall within MCC industries with a maximum processing volume limit of $1 million who go over $3 million in processing.

Visa® Interchange Rates (2022)
For Visa® interchange rates in the U.S, the following changes are now in effect:
Two new rates are available:
→ 1. October 2022 – New Flexible Rate B2B Virtual Program Products including 6 new interchange rate categories
→ 2. October 2022 – B2B Virtual Payments Program Changes including 13 new interchange rate categories
Visa has also updated the following fee:
→ 3. October 2022 – New Non-Domestic Currency Settlement Fee UPDATED
1. New Industries qualify for B2B Virtual payment program
These changes relate to the travel industry, where Visa is now including more merchant category codes (MCC), where merchant categories are specific industries and business types, to qualify for these lower rates.
Industries and businesses within these categories will include:
Specific transportation categories, notably ferries, limos and cabs
Dining, take-out, fast food locations and restaurants
Alcohol establishments
Golfing
Flower shops
Theaters and ticket agencies (not including the movies)
Specific government services
2. New Rates for the Flexible Rate B2B Virtual Program
Visa is introducing new products to their existing B2B virtual program. This will impact merchants who accept transactions from these card types. As seen in the product changes from Visa, these rates are specific to the travel segment for B2B transactions.
There are 13 interchange rate categories for these new card products seen in the table below.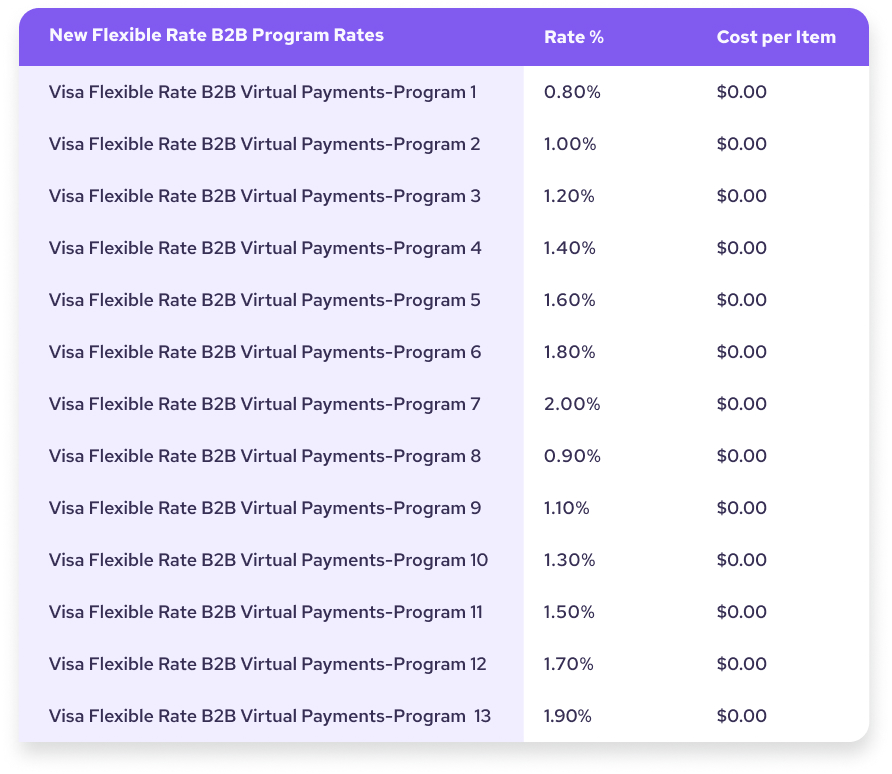 3. New Non-Domestic Currency Settlement Fee
This fee was pre-existing, but the name has since changed. This fee is a 0.10% charge for transactions which are purchased and settled in a different currency than the merchant's local one. For example, if a card was issued outside of the U.S and then used for a purchase in the U.S, a 0.10% charge would be applied.

Mastercard®
→ October 2022 – Revised Excessive Authorization Attempts Transaction Processing Excellence (TPE) Program
Less tolerance for declined transactions
Mastercard is capping the amount of attempts a merchant can try from 20 to 10, which comes into effect in October for the U.S. as part of the Excessive Authorization Attempts TPE Program. This fee is currently sitting at ten cents (about $0.05 less per excessive transaction) until January when the cost will increase to $0.15 per transaction.
Canada will follow suit in November.
Below, we've listed some important takeaways and tips to avoid higher processing fees on this new rate.
Tips to prepare for new Mastercard interchange rates
Clean out your customer database and outstanding invoices
With increased fees for multiple attempts, one of the best ways to avoid unnecessary charges for businesses with subscription or monthly clients like gyms is to clean up outdated and expired payment details. One way to avoid expired details is by using ACH or EFT bank payments, which tends to have lower rates anyways, because this using their banking number not their credit card which can expire or be canceled. Consider also removing clients who keep returning insufficient fund codes when you bill them for outstanding invoices- or just know it will cost you extra and add it to the running tab.
Protect yourself against fraud
This isn't just for expired payment information though, as it is also a targeted effort against fraud- specifically businesses who are trying to run fraudulent transactions who will likely be shut down anyways, but also businesses who are susceptible to card attacks. While this sounds unjust, as it's not the business' fault if they become the victim of a fraudulent card testing attack, one of the types of credit card fraud that harms businesses most, where a business may be targeted to run hundreds of stolen card credentials through to see which ones will work, it is a reminder for small and medium businesses to buff up their fraud protection. So while you might see rates go up for these types of transactions, ultimately it is a bit of a kick in the rear to protect yourself from being vulnerable to these types of attacks- and there are ways to mitigate these.
If you're looking for tips for protecting your business when processing card-not-present transactions, consider working with a processor who already has a built-in fraud protection system at no extra cost like Helcim. Merchants are already protected with Helcim fraud defender which helps us to identify fishy behavior right away and shut down compromised virtual terminals.
The stakes aren't outrageous, say before if your business were to get hit with a card testing attack it would likely only cost you $10 (aside from any chargebacks) whereas now the decline charges quickly climbs to around $50 for the same amount.
Another way businesses can arm themselves against these types of attacks is to implement an Address Verification System (AVS) which helps to match up card details with cardholder credentials to prevent fraudsters from being able to use stolen cards, and save you a headache from declined fees or chargebacks.
Discover®
→ New: U.S. Commercial B2B rates for credit and refund transactions
→ U.S. Consumer Public Services Maximum Interchange
New: U.S. Commercial B2B rates for credit and refund transactions

These rates will apply to specific card products which are identified by these credit card ranges (IIN/BIN range under each fee name in the table above). These can be found on specific credit card products and consist of the first 8 digits of a cardholder's card number with the last digits being associated with their personal cardholder ID.
Put simply, if it is a credit card within that range it is that type of commercial product and these rates will apply. Hence, these rates will apply if you happen to accept this type of card product.
U.S. Consumer Public Services Maximum Interchange
New for Public Service merchants accepting Discover non-regulated/exempt debit & prepaid credit transactions over $200.
This is for merchants who qualify under public sector Merchant category codes.
Previously there used to be only one public service interchange category for non-regulated debit and prepaid debit products. Discovery has since added this rate specifically for transactions over $200. It is generally lower than the previous rate ( 0.9% & $0.20) which will still apply to transactions under $200, and will result in greater savings for public service merchants.
Make the most of interchange rate and program changes
When the interchange rates change, your business could qualify for new merchant codes and programs with lower rates, or lower rates in existing categories. Staying up to date on these changes as an existing Helcim merchant let's you get the inside scoop on savings - so you can keep more of your hard-earned money. Plus, we pass on the savings from lower rates with Interchange Plus pricing. Not processing with Interchange Plus yet? Click here to learn more about how it can save your business money.