Prompted by the announcement of Visa and Mastercard's new interchange rates for April 2022, we've put together a quick guide on what you can expect to see this Spring - what's changing, what's new, and what we have flagged as of interest to our merchants.
Here's an overview of a few of the most notable changes:
New Tokenized Card Rates
New Visa Small Merchant Rates
New Small Ticket Rates
Increases- What's going up in interchange rates
What these changes mean for Helcim merchants
Why do businesses care about changing interchange rates?
Simple.
Changes to Interchange rates affect merchants who process payments through an interchange pricing model. The rate will either increase or decrease, which will affect the processing costs of transactions. These changes are relatively stable, as they only happen twice a year, usually in October and April.
Even merchants who process payments with a flat rate model could be affected, as seller fees like those of Etsy's are raised this April, which could be related to a higher interchange fee. When processors raise their fees, there is usually a notice period that allows merchants to get out of their merchant accounts.
Lowering interchange rates can even be a reason for merchants to switch since the interchange rate could be lower than the flat rate or subscription fees they are paying elsewhere.
How much is the interchange fee changing?
Enough to mean significant savings in some areas, especially for small businesses or merchants who use recurring billing with tools such as a secure card vault and virtual terminal payments. Keep reading to see which fees are changing and how they compare to the old rates.
Let's take a look at the specifics of what's changing and what's new for interchange rates and fees in April 2022.
New Visa small business fees up to 10% decrease
Recognizing the impact of interchange increases on small businesses, you will notice Visa has strategically cut interchange rates by 10% for businesses processing less than a quarter-million annually (which encompasses about 90% of U.S merchants), according to Reuters. This means that most businesses will be able to benefit from these interchange rates if their processor offers interchange-plus pricing.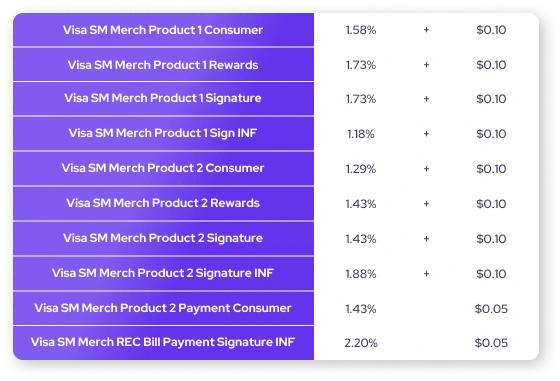 This will apply to both in-person and online payments and is referenced as the V SM MERCH fees, which are considered a special program for merchants processing less than $250K in Visa volume.
This chart shows how much merchants can save with the new Small business rates (V SM MERCH CONSUMER 1) on transaction amounts of $500- $100,000 compared to the standard PRODUCT 1 CNP CONSUMER fee, for example.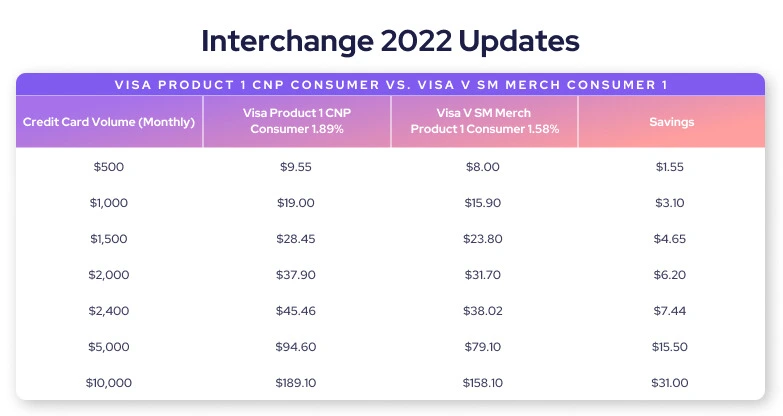 There have been a few other strategic fees introduced that can help merchants cut costs when accepting payments- We will cover those next.
Keyed vs. tokenized- New Visa rates reflect modern security tech
One of the more notable changes for merchants is the addition of a token category to card-not-present transactions. This will allow merchants to save on their transaction rates when they use a recurring billing tool or card vault that will tokenize customer card information.
This is reflective of current payment technology and the advancement of fraud security. The risk of fraud is higher when keying in payment for the first time since it has not yet been verified and approved by the issuing banks.
To process a tokenized payment using encrypted data from a secure card vault where the card has been successfully used before by the same business is a pleasant transaction for issuing banks. This will equate to a lower risk of chargebacks, fraud or disputes, and ultimately costs- so they have lowered the fees for this transaction type.
Merchants can easily store customer payment information and benefit from this token rate by keeping payment information using merchant tools such as the Helcim card vault after the first transaction, which is also convenient rather than re-entering payment information every time they process a transaction for repeat customers.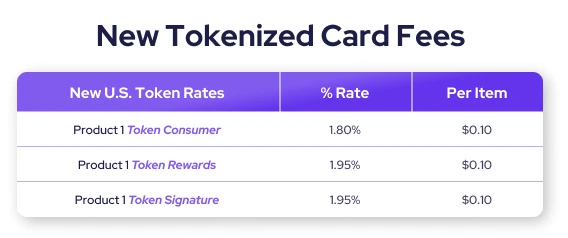 These new fees for Visa, will include Product 1 Token Consumer rates, Rewards, Signature transactions and a few new token fees for restaurants as well.
Small Ticket Fees- A Small win for small transaction businesses
Businesses such as coffee shops can celebrate a noticeable decrease in Mastercard US rates for the MC SMALL TICKET per item fee - the interchange rate has a slight increase (ex. 1.58% - 1.65%) but the per item fee has mostly gone from $0.10 to $0.02. For businesses who frequently process a high volume of small ticket transactions they may see a decrease in their processing costs as long as they are with an interchange plus payment provider.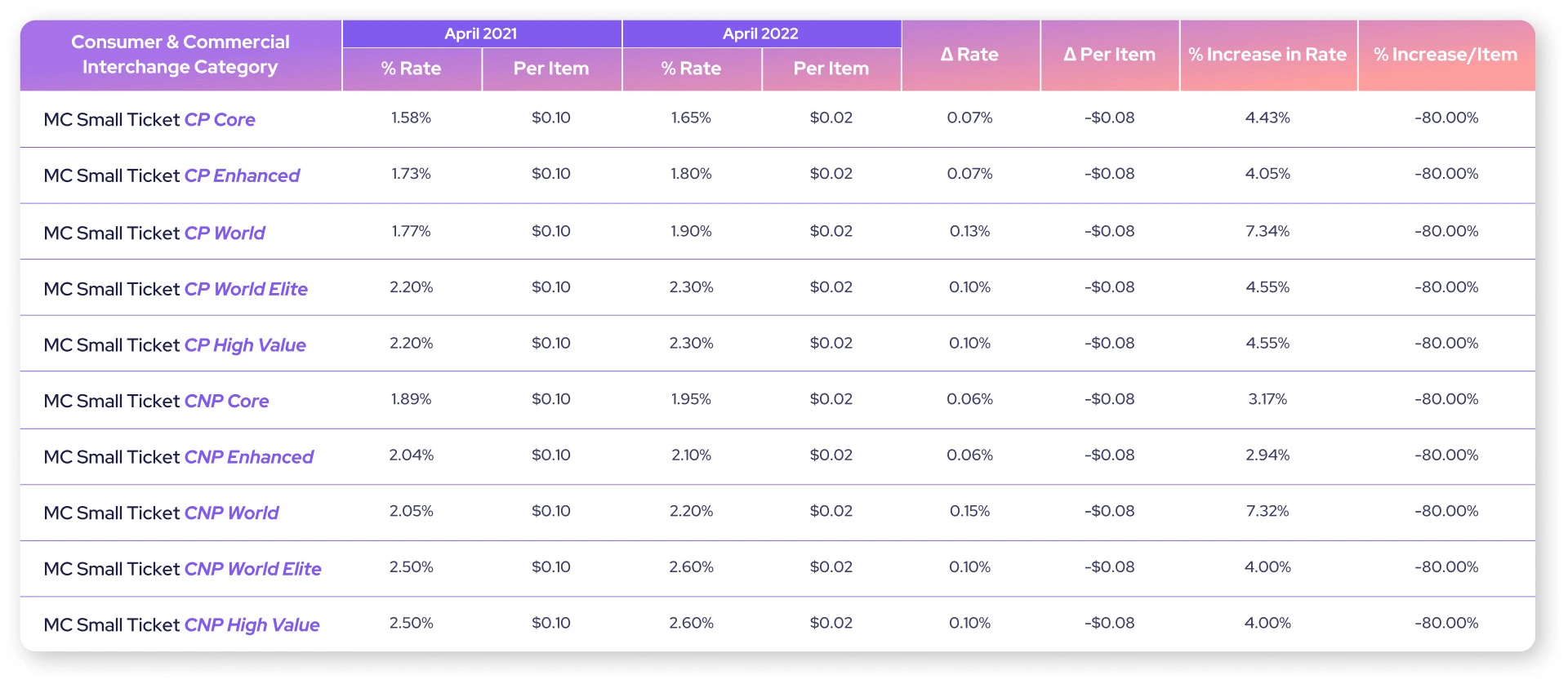 This will apply to small ticket Mastercard interchange categories for card present and card not present transactions of less than $5. For merchants using a payment processor with an interchange pricing model, this means while the interchange fee has gone up slightly, they can still save 8 cents on every $5 or less transaction (Let's say you sell 250 cups of coffee a day at $5 "" that's $20 extra a day, $140 a week, $560 a month!)
Which current interchange rates are going up?
Aside from the new fees mentioned above, specific interchange rates are increasing this April. The new rates, especially recurring, will help curb some of these increases, although, from a glimpse, most of Visa's fees aren't increasing more than 5%, while Mastercard has only increased by 2% on average.
Visa
The most notable changes include the Visa Product 1 CNP consumer and consumer rewards and signature and signature prefer cards which saw a 5% hike.
The VISA CPS KEYED ENTERED, which will apply online, over the phone, and virtual payments, also saw a 5% increase- although this might be mitigated with lower recurring fees.
Overall, most of the increased fees are primarily applicable to niche industries or card types and won't significantly impact most merchants.
Mastercard
While Small Ticket interchange fees are decreasing, a few others have balanced the scales averaging a 2% increase in the consumer & commercial interchange category.
These include specific fees to industries such as daycare, travel, transport supermarkets, and car rentals.
Like Visa, fees for manually entered virtual, over the phone, or online transactions like the M/C KEY ENTERED have increased.
Specifically, real estate interchange rates have decreased -and been eliminated in some cases) such as in the unregulated debit and unregulated prepaid debit categories in favor of a per/item flat cost.
For example, the MC MERIT I - PP REAL ESTATE MAX fee is now 0% + $5.00.
What do changes in interchange rates mean for Helcim merchants?
In short: While other flat-rate processor fees will likely remain the same, Helcim merchants will benefit from the fluctuation in Interchange and capitalize on the savings where the lower processing rates are applicable.
No matter how much the interchange rate for each card (usually lower), flat-rate payment processors will charge that flat fee and retain that comfortable profit margin. Interchange goes down, the rate stays the same, and the profit margin gets a little cushier.
However, Interchange plus pricing is transparent since the profit margin stays the same and is disclosed to the merchant, with the lower interchange rates being passed on.
If you are new to processing or looking to leave your merchant account, take a look at this post which compares flat rate vs. interchange pricing models in detail.