Phone calls. Are they a thing of the past? These days, some people ignore calls just to send you a text immediately afterward asking why you had the nerve to call them in the first place! Okay, maybe it's not that bad, but, in general, phone calls are less common than they were 10 years ago. However, when it comes to communicating with a business, most consumers would say the phone call still rules the day. When you're looking to get paid on time, the ability to take payments over the phone can offer flexibility and convenience to both your clients and your business.
Can You Take Credit Cards on the Phone?
Thankfully, the answer is yes! And it's easier than you might think. The first thing you need to do is make sure that your merchant service provider (MSP) offers you access to tools that can help you accept credit cards from customers who call in with their information. Specifically, you need a virtual terminal that will process a payment for you online once you manually key in your customer's card info.
Pro tip: Most credit card processors worth their salt offer a virtual terminal when you sign up with them but make sure to understand if there are any extra costs associated with this functionality.
What Type of Businesses Can Process Credit Cards Over the Phone?
Anyone can accept credit cards over the phone, but there are some businesses who may find this ability particularly helpful. If you're a professional service with clients who don't necessarily purchase a "product" from you that they can take home on day one, then you are likely providing them with a service that needs to be billed for later. Services are interesting because clients can pay up front, pay in installments, or they might pay after the service has been delivered, but in any case, the ideal way for them to pay might be from the comfort of their home. This is where taking credit cards over the phone really comes in handy.
Real World Example:
Think of an accountant, located in a rural area, who's just finished a tax return for a client who emailed over their information a couple of weeks ago. Rather than having the client drive all the way into the office to pay, a simple phone call can sort out what the accountant is owed for her services and she can process the payment while the customer is standing by on the line. It only takes a minute to do, and both the client and the accountant get time back in their day.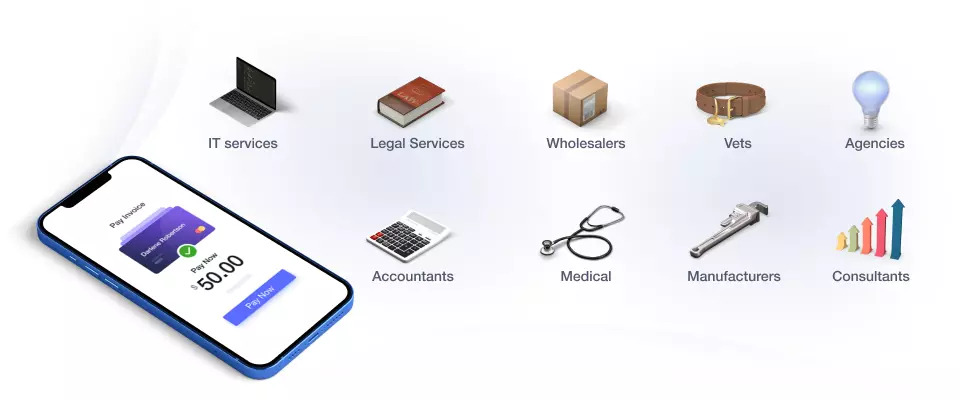 Businesses for whom, over the phone payments are an practical solution.
Is It Safe to Accept Payments by Phone?
It can be safe to take credit cards over the phone as long as you follow the right protocols. The most important thing when it comes to taking credit cards over the phone line is ensuring your business is PCI compliant. PCI is short for PCI DSS and stands for Payment Card Industry Data Security Standard. PCI regulates how merchants deal with sensitive credit card information and helps ensure you're following best practices to protect both your business and your customers' personal information.
So how do you make sure you're being PCI compliant? A lot of MSPs will have their merchants pay fees on top of their monthly account fee to cover off potential liabilities, but the best solution is to use a payment processor who helps you achieve PCI compliance.
Are Businesses Allowed to Keep Customer Credit Card Information?
How many times have you given your credit card number, along with your CVV, to a business over the phone to complete a payment? How confident can you really be that they're not just jotting it down on a notepad by their checkout and leaving it there for other employees and potentially other customers to see? One of the largest PCI compliance issues that is unfortunately common practice among merchants is writing down customer credit card information. Whether you are using a physical piece of paper or a spreadsheet, this is a real no-no and not only compromises your customers' safety but also puts your business at risk of a data breach.
However, just because it's not best practice to take note of a customer's card info yourself, doesn't mean you can't keep it in a secure file for future use for things like recurring payment plans or billing repeat customers. Leaning on a secure credit card vault supplied by your merchant service provider is an excellent, PCI compliant way to store customer credit cards. If your customers are repeat clients, they only have to phone in once to give you their card info, and you can bill them thereafter using what you have on file. This is not only an added convenience for both you and your customer, but an added security as well because their sensitive card info never actually touches your system.
How to Key-in a Transaction Over the Phone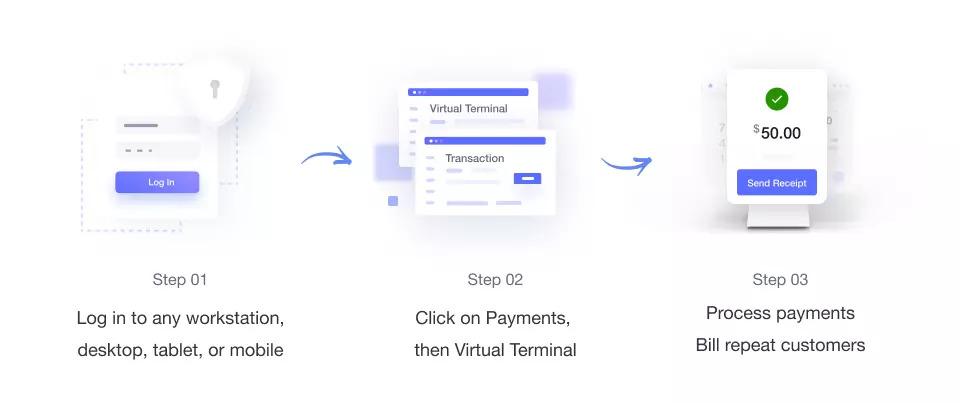 Simple 3 step process to charge customers their card by using a phone. For more on how to process a payment on your mobile Point-of-Sale app, check out this article we wrote on the subject. For processing when you've got a customer in your ear, read on.
Once you've got a virtual terminal at your fingertips, your computer "" or any device with an internet connection "" can be your go-to payments centre. All you need to do is load up the tool, and start punching in the numbers! Let's say you have just finished up some work for a client and they call you asking if they can pay without having to stop by your office. All you need to do is have the client read their credit card information to you, and you can enter their card details for a "˜keyed-in transaction'.
You can also key-in transactions in a traditional terminal, but if you're processing all of your payments over the phone, a virtual terminal makes it easy for you to accept credit cards without having to invest in additional equipment (it also lets you send email receipts to your customers on the spot).
How Much Does Over the Phone Processing Cost?
Accepting credit cards over the phone will actually cost you slightly more than if you were to accept that card in person, so the convenience does come at a cost. Basically, it all comes down to the risk level. Allow us to explain:
An online or keyed-in transaction (keyed-in meaning when the merchant manually enters the credit card details of the customer) is riskier than an in-person transaction because it is harder to detect when a potentially fraudulent transaction is taking place. This is also called a card-not-present transaction, and there is always more risk involved when the card is not actually present for the transaction.
This is because as far as the credit card companies are concerned, when the card is not present there is a higher risk of somebody using stolen credit card information. As a result of this added risk, Visa and Mastercard charge slightly higher interchange fees for keyed transactions, which in turn get passed on to you via your processor. Even flat-rate processors will have a higher rate for keyed transactions as opposed to card-present transactions.
On the flip side though, if you use a virtual terminal as your primary method of accepting payments, you are going to save money when it comes to the purchasing and maintenance of physical terminals.
Accepting Credit Cards Can Make Your Life Easier
Being able to process credit cards over the phone is a huge asset to businesses, especially those who are more service-oriented or do not have a brick and mortar location. Not only is it convenient for your customers, but it is a simple and effective way for your business to get paid instantly. Plus, having access to your credit card app or your virtual terminal is a great fallback if you ever have an issue with a card reader or need to take your payments on the go.
Final Thoughts
Utilizing a virtual terminal tool and secure credit card storage lets you take credit cards over the phone. It's safe, it's convenient, and it can help keep your customers happy, all while making it easier for you to get paid. Maybe you should keep that old landline after all!