Score! You set up your tax account with your banking information, and your tax refund was deposited into your bank account weeks sooner than waiting for a check!
It was so convenient that you're wondering how to set up that process to accept payments electronically for your business. You might even wonder if it is a better alternative to taking credit cards and how they compare.
When it comes to payments, businesses have a few different options. Both ACH and credit card transactions have advantages and disadvantages, so it is worth weighing your options carefully before making a decision.
What is an automated clearing house (ACH) payment?
ACH payments are "push" and "pull" charges initiated by the individual or entity sending the money. This system uses the same process your company does to "pull" payroll from one account and "push" it to your employees' bank account. To sum it up, ACH is simply a system of bank-to-bank electronic payments which you can learn more about here.
Many companies use ACH B2B transfers for one-time and recurring bill payments but you can also accept ACH transfers from other businesses and individuals as an alternative to taking credit cards for purchases.

Operational differences between ACH and credit cards for your business
Both ACH and credit cards let your company accept payments, and there are benefits to doing both. The question is - which one is better, or should you use both?
The answer, right up front, is that both are right for different business models and transactions.
Aside from customer preferences, when it comes to business operations, the three critical determining factors you should consider are:
Are you a B2B or a B2C business
Payment guarantees
Processing times
Fees
Who is your primary customer?
For one thing, businesses will choose ACH over credit cards for BTB transactions, where they might not be able to take advantage of rewards programs and cash-back options like many consumer cards.
Finally, you may have a credit card for business expenses to make retail purchases, but accepting credit cards B2B for more significant amounts is less common than a check or money transfer. Not only is it uncommon, but it is much more expensive, especially for higher transaction amounts.
Payment guarantees
Credit cards provide guaranteed funds. The network verifies that the cardholder has the credit and approves the transaction, so the funds are guaranteed. ACH does not ensure funds. An ACH transaction could be rejected for Non-Sufficient Funds (NSF) or because the sender closed their account, more like a check, without the paper.
Processing times
Credit cards are fast and easy. Credit card payments are processed between 24 hours and three days, but usually, you receive the payment immediately. This makes them ideal for paying same-day bills online and over the phone. This speed of payment can significantly impact cash flow. ACH processing times could take more than 3 working days to be deposited into your bank account, but usually 2-5 after the first deposit is approved and made.
A unique benefit of accepting credit card payments is that it is simple. ACH payments take longer to be approved through the ACH network, which can take up to 3 business days, making them workable for recurring payments but can end up being a roadblock for tighter timelines and first-time customers.
Setting up ACH payments requires obtaining and entering bank details such as routing numbers and approval from the customer's bank and is less practical overall for in-person or one-time purchases.
Fees
Credit cards typically charge 2.5% or more on the transaction's value, plus additional processing fees. ACH fees vary depending on the processors. Some processors charge a flat rate, usually between $0.25 and $0.75 for each transaction. Others charge a flat percentage, usually between 0.5% to 1.0%, for each transaction. You could also be charged an additional monthly fee, so watch out for hidden fees. But ultimately, ACH transactions have the lowest costs of any payment system. The higher your sales volume, the faster your savings from ACH transactions add up.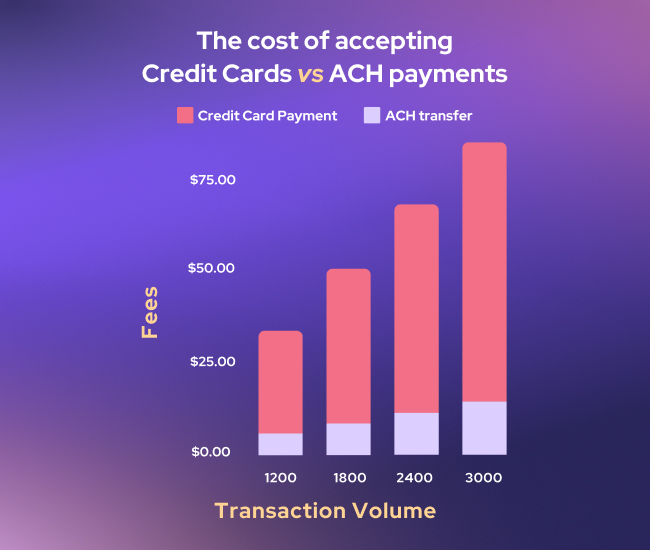 What are the benefits of ACH transfers and credit card payments?
It surprises many business owners who are considering ACH payments, but ACH shares many of the same benefits of credit cards, albeit a few operational differences.
Let's compare ACH vs. Credit against these four factors:
1. Convenience for customers
One of the primary benefits of accepting credit cards and ACH payments is that they are convenient for customers.
Credit cards allow customers to obtain rewards for their purchases, increase spending limits, and pay nearly instantly for in-person transactions.
Automatic clearing house payments, on the other hand, are convenient for different reasons. Many vendors or customers prefer the convenience of payments being pulled from their account instead of paying their credit card off, don't want to pay credit card interest, or don't qualify for a credit card.
One defining difference, however, is customers can use credit cards to make purchases online or over the phone, which is much more tedious for ACH payments as it requires a bit more than a CVV, expiry date, and a card number.
2. Increased customer sales
Accepting credit card payments and ACH can help increase sales and streamline revenue. Customers who would otherwise not make a purchase may do so if they can pay with a credit card. Additionally, businesses that accept credit cards tend to see an increase in average transaction sizes. Customers are more likely to spend more when they use a credit card because they can loan money from the bank. They are incentivized with rewards and cash-back options.
For customers who prefer not to use credit cards or cannot qualify for one, ACH payments are a workaround that allows them to access business services like gym memberships and monthly subscription services. They can even set up their monthly bills to come out of their account automatically the same way they would with credit cards which helps businesses to get paid faster and routinely since there are fewer forgotten payments.
3. Build customer loyalty
A shared benefit of accepting credit card payments and ACH is that it can help to build customer loyalty. Businesses that accept credit cards can offer loyalty programs that give customers rewards for making purchases with their credit card, which incentive them to return.
ACH payments may not seem as attractive to customers for reward options, but they are an excellent method to lock in long-term customers since ACH bank details won't expire like cards. That means you don't have to chase customers to re-commit and give you their new card payment details.
4. Reduce fraud
Finally, accepting credit card and ACH payments can help businesses reduce fraud and protect their customers.
Customers who pay with credit cards over cash and debit transactions have more fraud and purchase protection and can file chargebacks on credit card purchases. However, ACH payments have the lowest fraud rate of all payment types according to a 2018 U.S. Federal Reserve study and are governed by security rules and operations through NACHA, which protects both merchants and customers.
ACH vs credit cards — Let's review.
Yes, you still need to accept credit cards, but they have a time and a place. In the meantime, offering your customers as many of their preferred payment options as possible is not a bad thing. They get flexibility while your business can take advantage of medium-specific benefits. When it makes sense, you can set up ACH payments to streamline recurring payments at a lower cost for a slightly longer processing time. If time is not your primary concern, ACH is a viable alternative for processing payments, paying vendors or bills, setting up automatic payments, deposits, and even payroll.