What is an invoice?
An invoice provides customers with a statement of the amount owed for a list of the goods or services they purchased. It includes a breakdown of the cost for the individual products or services and a description of both the seller and purchaser involved in the sale.
Types of Invoices
Types of invoices include:
Estimates
Quotes
Orders
Purchase Orders (wholesalers)
Invoice receipts
Statements (professional services like repairs or business)
Registrations
Credits
Estimate- One of the most common invoices, this is given to a potential customer before work begins to give them an idea of the total cost.
Quote- A binding price agreements between a business and a customer that detail the exact cost of goods or services.
Order and purchase orders- These are similar in that they both detail what a customer is ordering from a business, but wholesalers typically use purchase orders.
Invoice receipt Proof that payment has been received.
Statement This is used to track invoicing over time, often for professional business services like repairs or consulting.
Credit A credit is issued when there's been an overpayment or returned merchandise.
Registration This type of invoice is usually needed for proof of payment and enrollment in events or courses.
If you're curious, read more about the difference between invoices vs. receipts and other documents.
When would you use an invoice?
Invoices are usually sent on a prearranged date, or when the customer is expecting them. By ensuring you've communicated that an invoice is coming before it is sent, you can set appropriate expectations with your customer, and avoid awkward conversations around collecting payments. Invoices are essentially bills. When a customer owes your business money because of something you have provided, then you can send an invoice You can customize an invoice to reflect your specific payment terms, for example, you could specify it needs to be paid within 30 days, note if a partial payment or deposit has already been received, or detail additional payment terms between the buyer and seller.
Does my business need invoicing?
Invoices aren't often used for industries like retail where the customer pays upfront for goods, receives a receipt, and then has the goods sent to them. Industries that provide goods or services before payment is received are more likely to use invoices, these include manufacturing and whole sellers, IT services, legal services, trades and home service providers, and creative services or agencies.
Because these industries often have large purchase orders for their products or provide a service-based business, invoices give them the flexibility to adjust the final amount owed based on the final amount of work provided or product purchased. For large orders, an invoice gives the purchaser time to make arrangements to pay for the goods or services they are purchasing. Invoices can be used by both B2B and B2C businesses.

What should an invoice look like?
Helcim Invoicing comes with a robust system that can help your business collect payments using professional, customized invoices. When you sign up for Helcim, you have the ability to send unlimited invoices to customers. Any electronic invoice that is emailed also includes a pay now button making it easy for customers to review the details from any device and quickly submit payment using their credit card.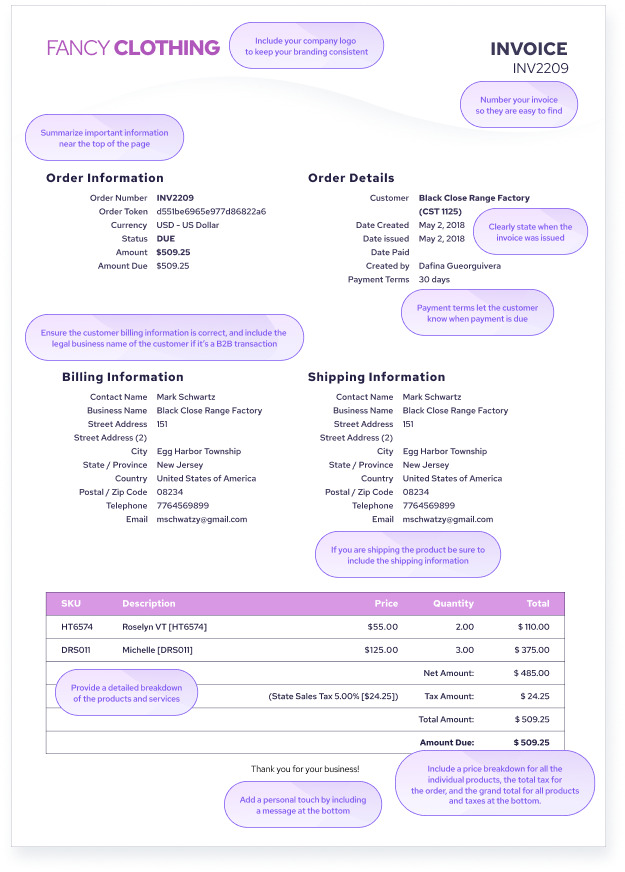 What to include on an invoice
No matter what industry you're in the business of, there is a baseline of invoicing capabilities you should look for that just make sense.
If you're just getting started, brush up on how to write a professional invoice, which tells you what invoice details to include and tips to get paid faster.
However, the best feature of invoicing software is that most of the fundamentals should be taken care of for you.
Of course, your invoice should include details such as due date, client accounts and numbers, the date, your company, and the payment details. However, professional invoicing is more than just the content —it is in the ease of use and readability, branding, tactful payment reminders, and payment experience.
When considering invoicing software, look for tools and customizability functions, including:
Customize and add line items
The ability to upload custom digital logos and choose colors
The ability to collect payments
Payment methods such as credit cards, ACH, or through an online payment terminal
Upload photos and descriptions
Keep track and securely store customer data and payment details
Add in paid invoices to keep track of your books even if you've already settled the balance
Print out paper invoices
Add custom discounts and select shipping methods
Options to choose whether tax is calculated automatically or manually
Options to add notes or other details
Synchronization with other tools like inventory and project management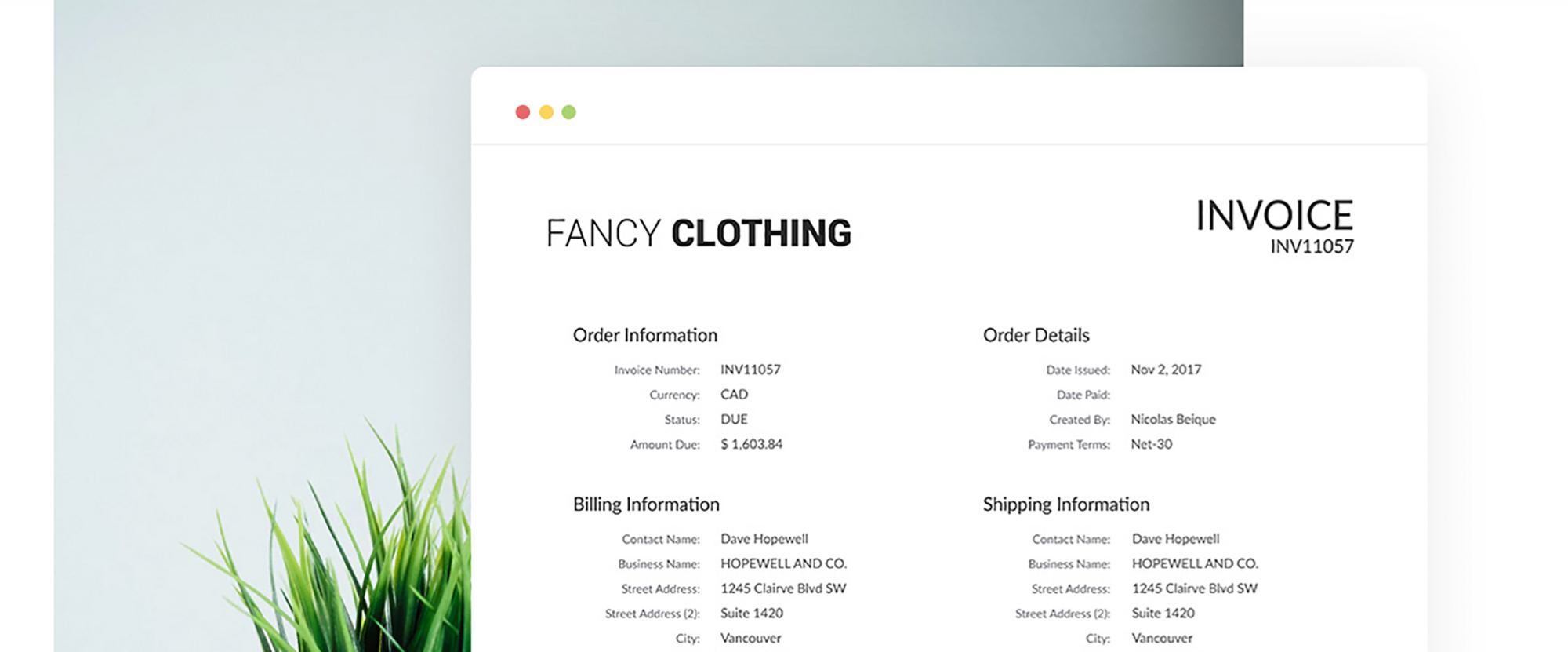 Invoicing for service workers and contractors
In your line of work, you need invoicing and payment features that can keep up with a large client base and ongoing/long-term projects. It can be hard to keep track of all the receipts for each contractor, material, repair, etc., which is why it is key to have invoicing software that can create client profiles that store all this information and customer payment details. It can also be extremely helpful to see when an invoice is paid and which ones are outstanding, or set a recurring invoice so you don't have to remember to bill your clients.
A few invoicing features to keep in mind when choosing software include:
The ability to send invoices and request deposits (great for down payments)
Send invoices and payment reminders via email and SMS
Payment terms or progress billing allows contractors to set installments such as the first 15-day and 30-day increments as a project develops
An invoicing tool that has a built in customer portal to quickly pull up customer information instead of manually copying or entering customer details every time
Statements for long-term clients or projects
Ability to upload files such as receipts for materials and contractors to reference for clients
Payment options such as credit card payments which allow you to place a deposit
Mobile and wireless card reader for in-person transactions for when you're at a worksite
For more tips on details to include and a template read our blog on invoicing for service-based businesses.
Invoicing software for wholesalers
As a wholesaler, there are certain key details that need to be included on every invoice. The main point is that your customers are getting a special wholesale rate. Therefore your invoice should clearly state the regular or comparable rate, the discounts applied, and the final wholesale rate.
Adding these custom fields and looking up unit prices for each item can be tedious, which makes invoice templates so impactful. Having the ability to customize discounts for buying bulk is great for encouraging large-volume purchases and sales.
You may also want to consider the following:
Customizable or automatic volume discounts
The ability to save an invoice as a template or recurring bill
Easy-to-add line-items
By including all of these details, you can help to ensure that the invoice is clear and accurate, helping to avoid any potential confusion or dispute down the road by clearly stating those feel-good savings.
Invoicing essentials for health and wellness industry professionals
Specific invoicing features can help health and wellness professionals to manage their businesses efficiently. The features you need will depend on what services you offer, but some essentials include easy-to-use payment processing options for clients, secure data storage for sensitive financial information, automated reminders for overdue invoices, and clear statements that are easily understandable by clients.
You may want to look into invoicing software that synchronizes with direct billing as well so you can communicate directly with the insurance or benefits company to get paid faster. Alternatively, sending online invoices makes it easy for clients to submit their invoices to their benefits department retroactive to payment.
"Make recurring" is a great toggle option for setting up new customers as ongoing clients for these industries. When you have to juggle numerous clients you see on a monthly or weekly basis, it can be hard to keep track of sending out invoices. With SMS and email reminders, it's easy to follow up and get paid on outstanding invoices without having to manually sort through past due dates and cold-call.
While you might not need to add products or SKUs for your business, you can add in and save services and descriptions to save time and then just add the service and amount of time to their cart.
Invoice features for subscription-based businesses
Because subscription businesses rely less on customer acquisition and more on maintaining customer retention, a huge portion of your relationship comes down to monthly subscription statements i.e. invoicing software.
This is also one of your only points of contact for building customer loyalty and brand trust, so you will want to have the ability to include details such as logo, branding, and other communications. So make an impression (or at least not a poor one) with an organized and clear statement.
A final element to consider when choosing invoice software is synchronization features with other essential tools like custom reporting insights and analytics to better understand and retain your existing customers. According to a recent article by Forbes, better data has become instrumental for subscription-based businesses looking to scale. The study cited in the article names bad data as one of the biggest culprits for poor decision making and failure for these business models.
Why you should consider invoicing software for your business
Invoices are a beneficial tool but there are several challenges that arise when trying to do everything manually such as time constraints, room for error, and more lost and outstanding invoices. Manually creating each invoice, exporting it, and sending it is tedious and requires more man-power. Not to mention trying to sort out payment reminders, reconciling paid invoices, and accepting credit card payments. Invoicing software automates much of that process. While there may be some initial set-up and a few entry fields that will be required for you to fill out, such as date and payment amount for each client, everything else will be streamlined.
Create professional invoices in a snap
Invoicing can be a confusing and daunting task for small businesses — from estimates to receipts. We hope this blog helped you to learn the invoicing basics and what to include for your own clients. Whether you're just starting or looking to switch up your system, check out Helcim- we have ready-made templates so you can quickly whip up an invoice with everything you need and get back to business!