History
Moneris is Canada's largest merchant services provider, and was established in 2000 by the Bank of Montreal and the Royal Bank of Canada as a collaborative venture. Having been established earlier than many of their competitors, Moneris has an impressive record of firsts in payments, including being the first acquirer in Canada to process an online Interac transaction (all the way back in 2005!). Today, they service over 350,000 businesses.

Overview
Moneris is by far the most popular processor in Canada, and while Square has made some serious inroads—especially in the retail and restaurant space—Moneris appears to be the favoured choice among professional services businesses across the country. Now, we should clarify that being the most popular doesn't necessarily mean you are the most liked.
Having the country's two biggest banks behind you helps with name recognition of course; but more than that, this strategic relationship with two of Canada's largest financial institutions gives Moneris a slightly less than fair advantage. This is because so many businesses bank with either BMO or RBC and are funnelled directly into Moneris' sales channels based on the partnership between them and the banks—not on the merit of their product offering.
Moneris is an old school processor, so they're not home to the easiest sign up and set up processes, and they still do some things the old fashioned way…like locking merchants into contracts. Specifically, Merchants who sign up with Moneris enter into three year agreements, which come with a sizeable $300 termination fee. This really isn't uncommon for major acquirers and is just something merchants need to be aware of when considering processing with giants like Moneris.
Hardware
You can get everything you need to get up and running from Moneris, including a mobile card reader, full-size desktop terminal, and an iPad to use as a POS, but Moneris actually rents merchants all of their hardware for a monthly fee (and your iPad rental fee doesn't include the POS software, you'll need to pay an additional monthly fee for that). Check out this article to see how we feel about renting or leasing equipment here.
Software
Moneris has a fairly extensive suite of solutions, being one of the oldest and most largest payment processors in Canada. This includes POS software, and a hosted payments page for your website. That being said, the use of Moneris' tools can be expensive as they charge monthly fees for pretty much everything under the sun and their user interface looks like it was designed in the previous century (sorry guys, it's true).
Accepting Payments Online or On The Go
If you're a restaurant owner wanting to enable online food ordering for your customers with Moneris, you'll need to sign up with Bookmark and UEAT in addition to having a Moneris account—that's a lot of accounts (and fees!) to have all so you can accept online food orders.
If you need to take payments on the go in addition to having a POS at your place of business, you're also going to need two accounts with Moneris, as payments processed with them on the road run through Moneris Go.
Rates
Moneris only posts their PAYD and Moneris Go pricing on their website, both of which are flat rate offerings and include a monthly fee ($19.95/mo for PAYD, $29.95/mo for Go). If you want a more traditional payments outfit you'll want to look into Moneris Core, but the downside is, you'll need to call them to find out more about what sort of pricing they can offer you as it's not posted on their website. That could mean Moneris Core offers custom rates to every business they sign based on projected annual revenue (or some other metric), or it could mean their pricing doesn't look as great on paper as they can make it sound over the phone. We'll let you decide.
As an example, if you compare Moneris' PAYD flat rate pricing structure with Helcim's Interchange Plus pricing model, you'll see some significant differences: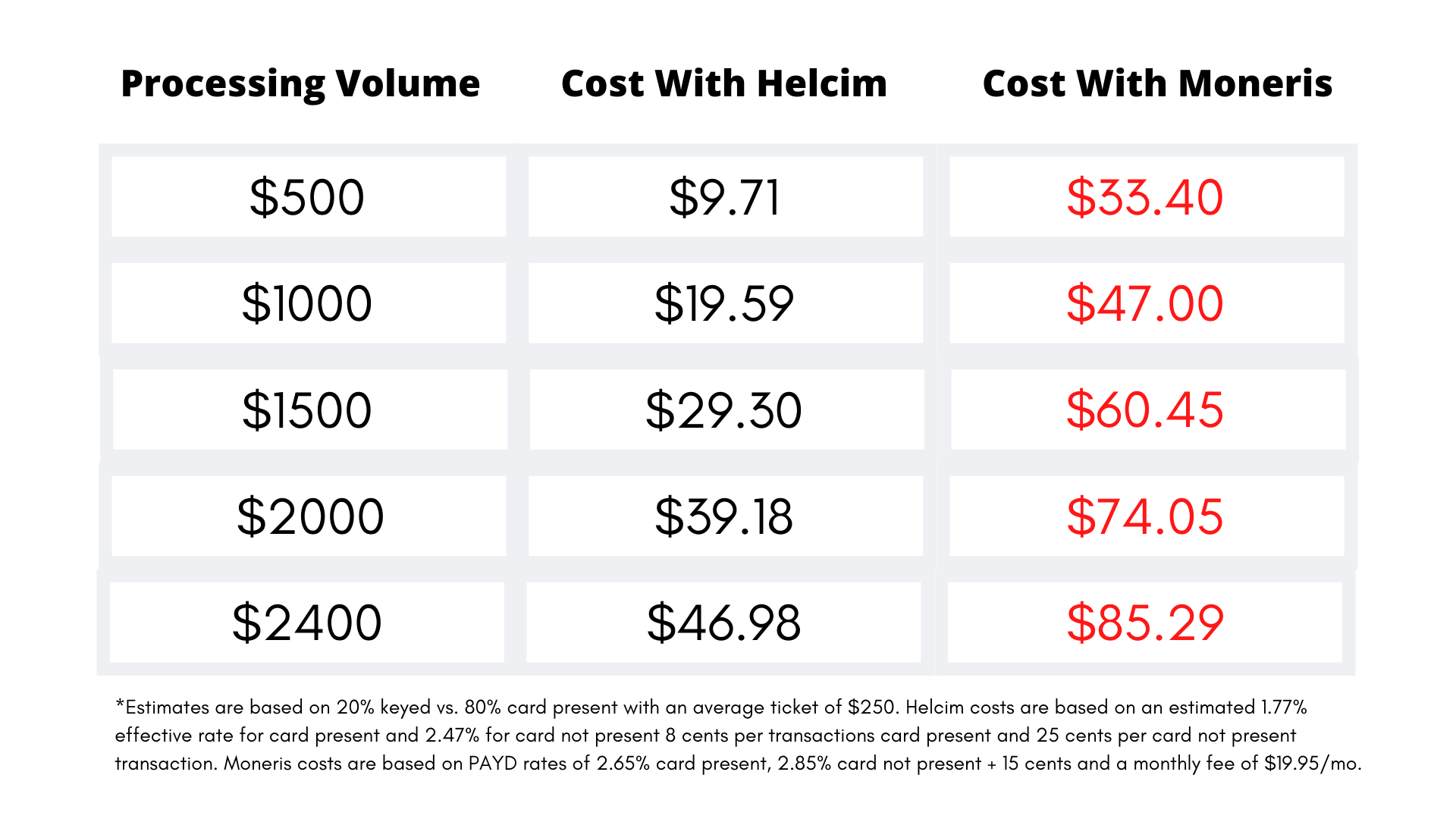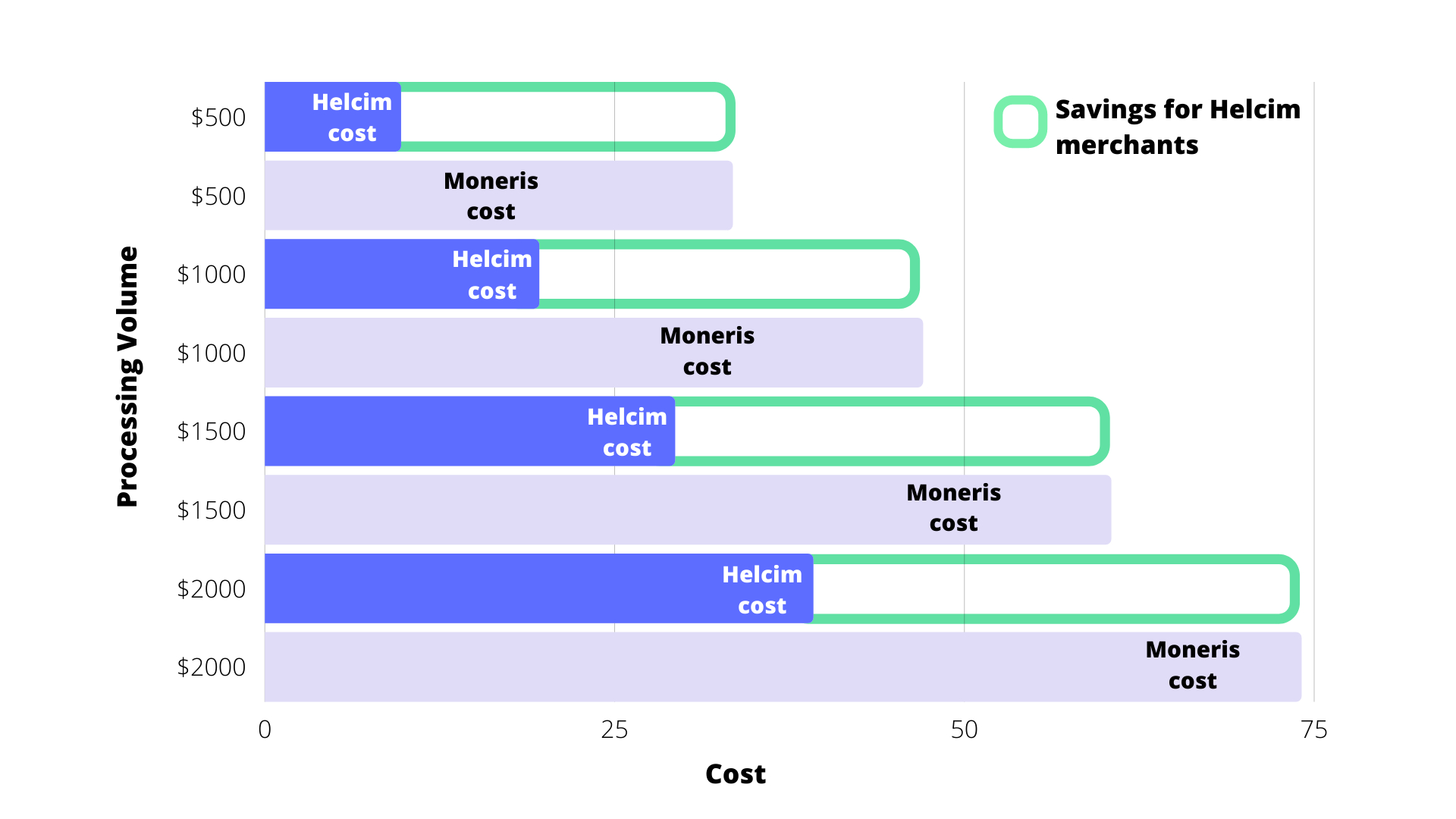 Introducing Helcim
Putting merchants first. Making payments easier and more affordable. We are Helcim, and we're changing the payments landscape one transaction at a time.
4 Reasons to Choose Helcim
1. No Monthly Fee
At Helcim, we don't charge a monthly fee to any of our merchants. You just pay processing fees—that's it! No more PCI fees, annual fees, sign-up fees, equipment or set-up fees. None. As a small business owner, not having to worry about a monthly fee can not only save you money, but simply grant you peace of mind.
2. Helcim's Tools Don't Cost Extra
It's not just the lower payment processing fees that you'll benefit from. With Helcim, merchants get full access to all of our software and tools at no charge. That means useful features like adding more users or devices, sending unlimited invoices, and even inventory management are all free. Some other powerful tools you'll also get access to will let you do things like build a fully hosted online store or securely store customer card information for recurring billing; and you'll never pay extra for a single tool.
3. Helcim Point of Sale
One of the free tools included with your Helcim account is our POS software. Our software can not only integrate with certain POS hardware (if you're thinking about switching and want to know if we can integrate, give us a call), it allows you to turn your tablet, phone, or desktop into your own POS system—no additional (expensive!) hardware required.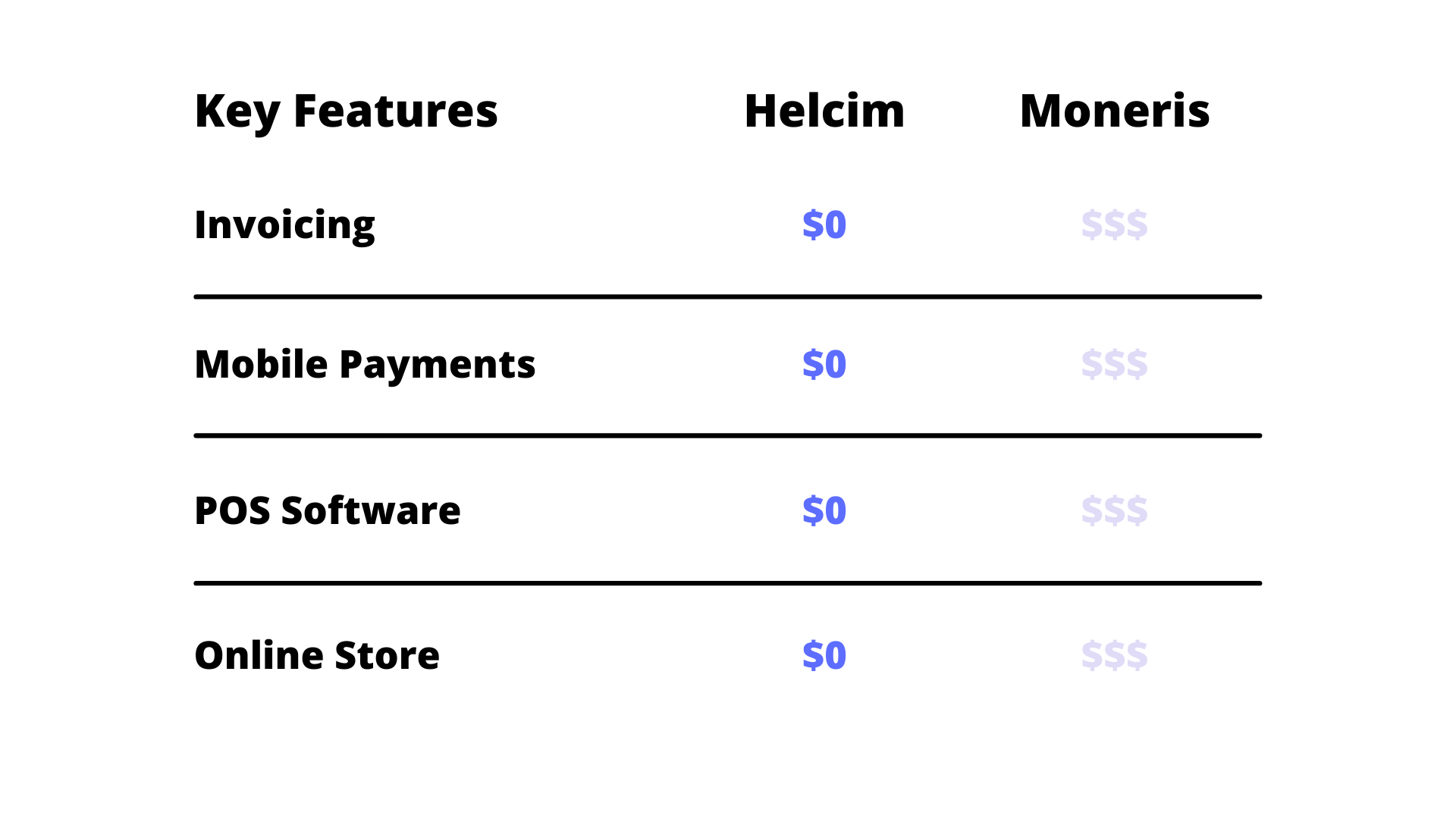 4. Our Customer Service Makes the Difference
To us, Better Payments doesn't stop at just offering more affordable pricing and better tools. We are extremely proud of our knowledgeable in-house Merchant Experience Team who are available whenever you hit a bump on the road. Available by phone or email, they're happy to help you better understand the sometimes complicated world of accepting payments, find a solution to help you grow your business, or answer any questions that might come up about our services or the payments industry in general. If you prefer self-service support, Helcim also offers a detailed support section with step by step tutorials and videos to help you get started.
Experience Better Payments
At Helcim, we're on a mission to become the world's most loved payments company, and that's why we put our merchants first in everything we do. We work hard to over deliver in our software, hardware, and customer service offerings, while at the same time offering some of the most competitive pricing in the industry. If you're tired of overpaying for credit card processing, or working with a processor that just doesn't seem to care about you or your business, switch to Helcim and see the difference that having a payments company in your corner can make. We'll be waiting to welcome you to the Helcim family with open arms!