There are a lot of payment processing companies out there, and it can be tough to figure out which one is the best for your business. Moneris is one of the most prominent players in the game, and they are one of the most popular and oldest payment processors out there - but is it the best?
In this post, we're going to take a look at what Moneris has to offer and see how it compares to other payment processors such as Square or Helcim. We'll also discuss some of the pros and cons of using Moneris so that you can make an informed decision about whether or not it's right for your business.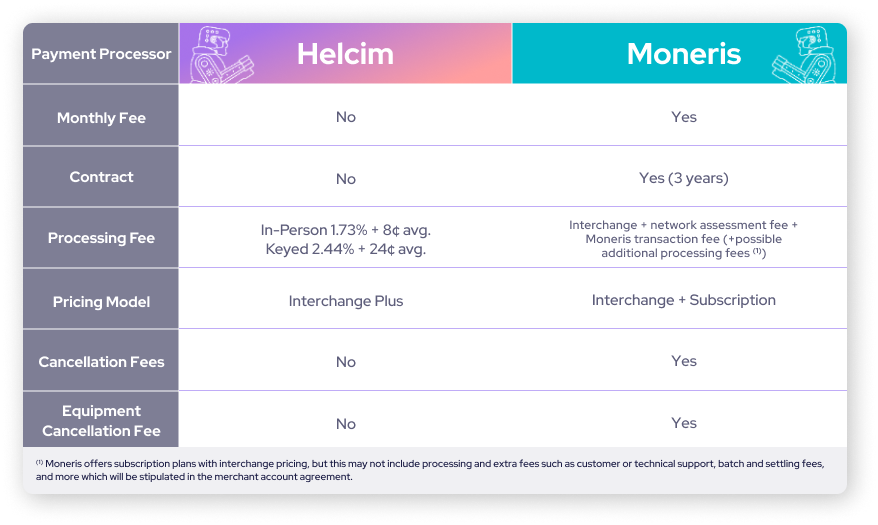 A villain origin story or a household name?
There are times when sticking to what you know pays off, and others when the default or most well-known isn't always the best.
Moneris has been around the block, but have they picked up enough to stand out on their own, or are they just a household name?
Here's what we know about Moneris:
Established in 2000- it's been around for about 20 years
3.5 billion transactions every year
325,000+ merchant locations
Sounds impressive, right? If there was a popularity contest, Moneris might be winning.
But, most popular doesn't necessarily mean you are the most liked or necessarily the best payment provider - We'll let you be the judge of that.
Of course, having two of the country's biggest banks behind you doesn't hurt. Moreover, this strategic relationship gives Moneris a slightly less than a fair advantage.
This is because many businesses bank with either BMO or RBC and are funneled directly into Moneris' sales channels based on the partnership between them and the banks-not on the merit of their product offering.
So, let's take a deep dive into what their service, prices, products, and customers have to say about them.
In this blog, we will break down this review into three parts:
Services and capabilities
Monthly, hidden and extra fees
Customer reviews and overall satisfaction

Whats on the table: Moneris' services and capabilities
When you consider what Moneris offers, they have a decent variety, but the cost is high. Here's a breakdown of the top products and services they offer: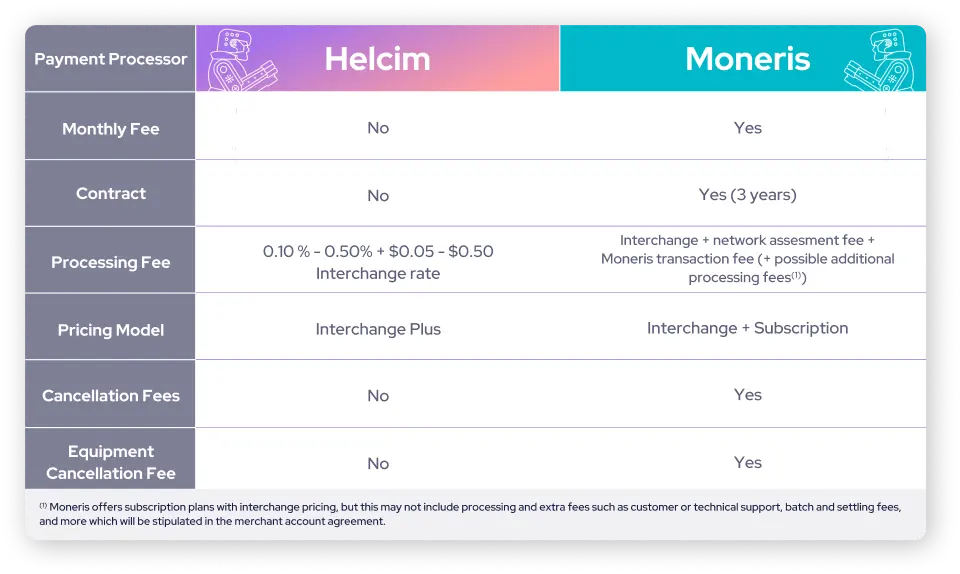 Pros
Modern POS equipment
Mobile payments for on the go
Mobile POS software
Third party app integration
Extra Features and capabilities
Cons
Monthly equipment fee
Requires separate account with MonerisGo
Extra cost
Third party app capabilities actually come standard with other processor POS systems and costs extra in this case
Extra cost
Hardware & Software
As you can see above, you can get most of the basics from Moneris, including a mobile card reader, a full-size desktop terminal, and an iPad to use as a POS. Still, Moneris rents merchants all of their hardware for a monthly fee (your iPad rental fee doesn't include the POS software; you'll need to pay an additional monthly fee).
You can select a subscription fee of just under 50 dollars to $99 to include extra features like inventory and customer management, but additional software features will hike up your subscription fee.
P.S. We wouldn't recommend renting equipment, nevermind the costly subscription.
Moneris offers software integration, a hosted payments page/e-commerce site Moneris Online, and Moneris Checkout, which can be integrated with your website. Still, they may charge extra for tools or integration with other platforms or your current POS platform.
Accepting Payments Online or On The Go
If you're a restaurant owner wanting to enable online food ordering for your customers with Moneris, you'll need to sign up with Bookmark and UEAT in addition to having a Moneris account-that's a lot of accounts (and fees!) to have all so you can accept online food orders.
If you need to take payments on the go in addition to having a POS at your place of business, you're also going to need two accounts with Moneris, as payments processed with them on the road run through Moneris Go.
Rates
When it comes to merchant fees, merchants often don't know to look past the subscription, flat rate, or interchange cost/ transaction. Some processors, like Moneris, will charge extra or hidden processing fees on top of their standard rate.
Moneris states they charge an Interchange+ Network Assessment Fee+ Moneris Transaction fee on every transaction. We know this is bundled with their subscription plans and may be subject to additional processing fees.
Moneris only posts their PAYD and Moneris Go pricing on their website, which are flat-rate offerings and includes a monthly fee ($19.95/mo for PAYD, $29.95/mo for Go). If you want a more traditional payments outfit, you'll want to look into Moneris Core, but the downside is that you'll need to call them to find out more about what pricing they can offer you, as it's not posted on their website. That could mean Moneris Core offers custom rates to every business they sign based on projected annual revenue (or some other metric), or it could mean their pricing doesn't look as great on paper as they can make it sound over the phone. We'll let you decide.
As an example, if you compare Moneris' PAYD flat-rate pricing structure with Helcim's Interchange Plus pricing model, you'll see some significant differences:
EFTs, hidden, and extra fees
Customer Reviews point to expensive Early Termination Fees and equipment refurbishing fees when merchants try to leave their length 3- year merchant account contracts. While others point out there can be hidden batch or processing fees that were hidden in the terms and conditions of their merchant account contract.
Before signing up with any processor, especially Moneris, carefully read the terms and conditions to see which types of fees you might be charged for.
Customer reviews and overall satisfaction
We will admit that Moneris has a decent spread of customer service channels to reach them. Chat, phone, schedule a phone, get them to call you back - so many options to reach them. Of course, there are many other elements of excellent customer service you look for in a payment processor than a catch-all hotline.
An abundant number of online reviews would agree, citing "unexpected renewal of contracts, broken promises of refunds and rebates, and difficulty resolving problems through the company's customer service," according to https://www.cardpaymentoptions.com/
Final Verdict
Moneris is not the right fit for smaller businesses. It's an older payment processor with a lot of big bank default traffic that comes at an expensive subscription, which doesn't include the added costs for POS hardware and software integration options and lacks key features like in-house customization tools and features or leeway for merchants to get out of their contracts if they're not satisfied. When it comes to payment processors, the right fit isn't always the biggest name.