In this article, we give you an apples-to-apples comparison of Stripe vs. Helcim's products.
Pricing models
Rates
Customizability
POS equipment
Integration capabilities
Software options
Customer Service
Which businesses are better suited to Stripe vs. Helcim
Everything in between that you might not have considered yet
Are you a new business looking to accept payments? Maybe you've seen the hike in prices and are looking for an alternative to Stripe. Whatever the case, you're looking into your options, and at this point, you're simply trying to learn more about Stripe vs. Helcim.
We're here to give you an honest review of Stripe- we will even show you their good side so you know we are being fair.
So let's pin the stripe on the zebra- or something like that.
Helcim Vs. Stripe Overview
Stripe is known for their online payments, although they do offer in-person as well. That said, most businesses deciding between these two payment providers are probably looking for a virtual terminal or online checkout to accept online payments and orders. At a glance, Helcim and Stripe have similar product offerings. In the chart below, you can see Helcim is in line with Stripe's core functions. You'll notice that many of Stripe's products come at an additional cost with varied pricing tiers.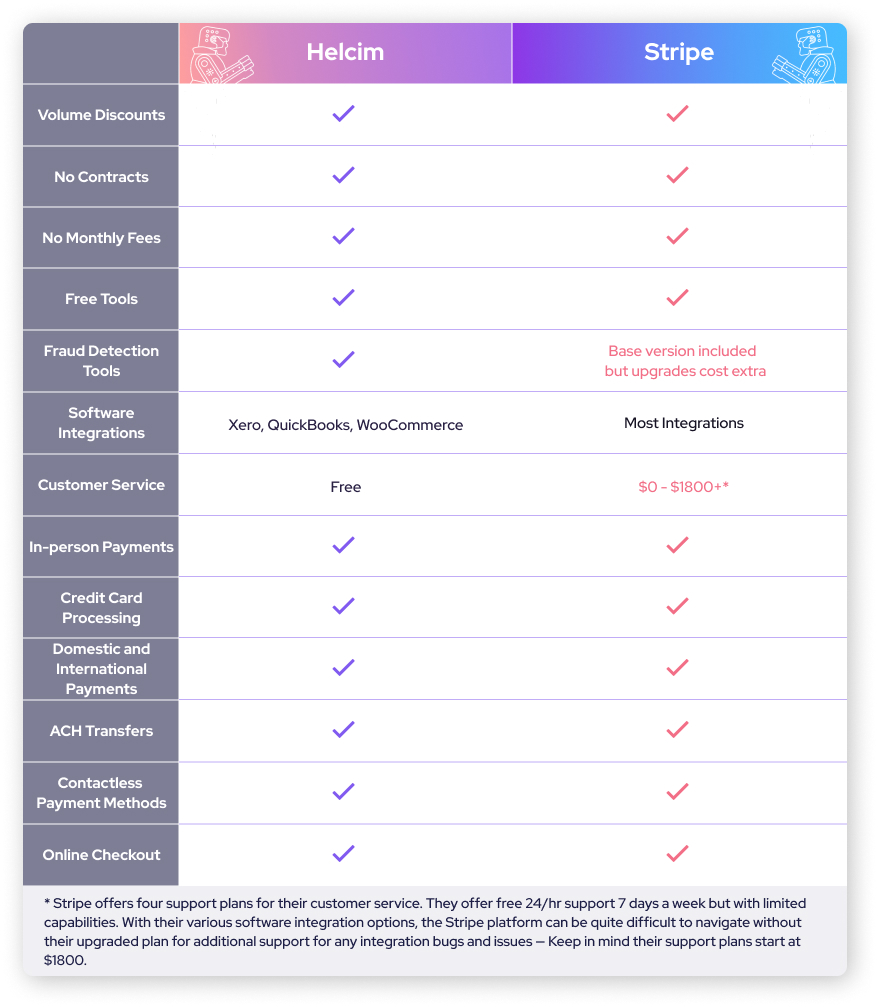 So while Helcim is a great alternative to Stripe for many of their core functions, what you'll see in the next sections is how Helcim supersedes Stripe when it comes to ease of use and affordability.
Helcim Pricing vs. Stripe Pricing
Take a look at Stripe's rates compared to Helcim's rates for in-person, manually-entered, and online transaction fees below.
In-person payments

Online payments

Keyed-in payments

The second element worth noting is that Stripe's pricing is usually made up of two components- not just one flat rate, as they say. Their main pricing is fixed at a flat rate for each transaction type, but they often also charge you an additional price for the tools they use (i.e. Invoicing will have an additional 0.4% on top). Their pricing becomes even more complex within each tool, as they have "starter" and "plus" tiers within many of these products, for example, customer service, invoicing, and fraud prevention.
So while Stripe offers flat rate pricing, which seems simple at a glance, you often pay more than that, plus you lose out on the savings from a variable interchange plus pricing rates.
You can learn more about Interchange Plus pricing here, but in the meantime don't be taken in by the allure of a 'simple' flat fee. As you can see, it isn't always as "flat" as they lead you to believe. Worth noting is that aside from the added margin from flat rate processing, Stripe also cuts monthly fees, PCI compliance fees, and refund fees like Helcim. In any case, they are counting on you to overpay for low-cost transactions for the sake of simplicity. Read more about how Stripe's products and services and the prices for these compare to Helcim below.

Tools and Capabilities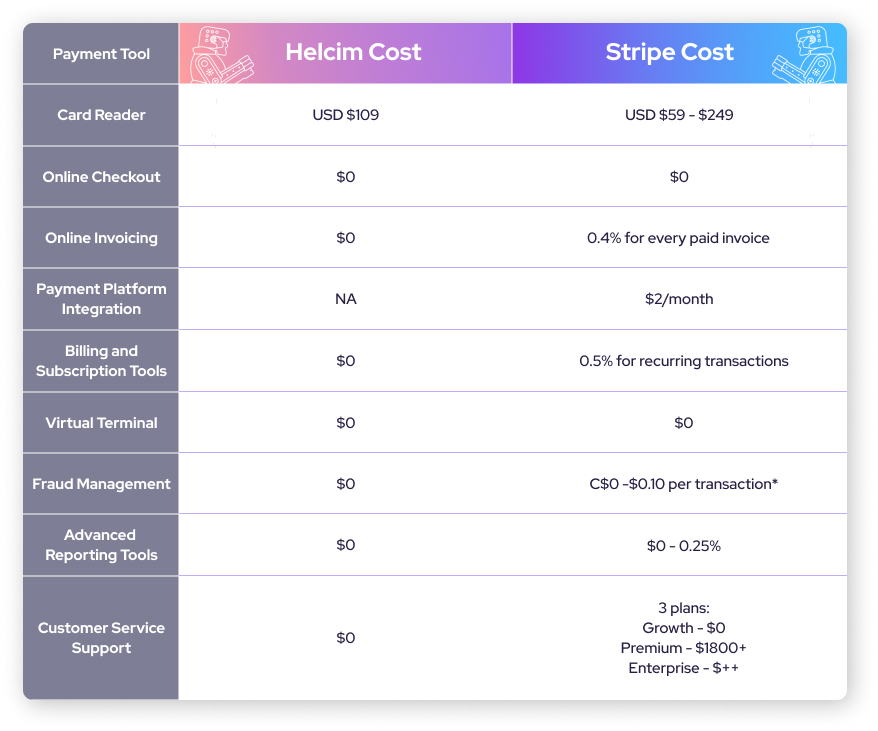 Fraud Prevention
The main reason cited for Stripe's price increase is fraud. Ironically, while Stripe offers a base model included with their payment gateway, they charge an extra C$0.10 per screened transaction for their higher-tier option- Radar for Fraud Teams. They also ask businesses to contact sales to add this option so it could be an added cost even to have access to the tool.
Helcim has a built-in fraud detection and prevention tool, Fraud Defender, which we offer free to our merchants with their free Helcim account.
Preventing fraud protects payment processors from having to bail out merchants, and merchants from having to deal with hefty chargebacks.
ACH transfers with Stripe VS. Helcim
ACH payments are one of those hidden gems. For businesses who have recurring payments from clients and want to save on credit card processing fees, ACH transactions are a solid bet as they typically have lower rates. Although they won't work for every business model, they can be a good way to streamline payments and reduce costs.
That said, if cutting processing costs is the goal of these transactions you will want to go with Helcim. While Stripe has a flat rate for ACH transactions above $625, they charge 0.80% on every transaction under that amount. Which means businesses who are looking to use ACH transactions for smaller transactions can save more with Helcim. In fact, with our lower rates you will save more with Helcim than you do with Stripe on on transactions up to $1000.
Virtual Terminal
With Helcim's Virtual Terminal you can easily add both credit and ACH payment details - in Stripe's you can not. You would likely have to go to subscription, invoicing, or payment links to find a workable solution. With Helcim you can easily create Customer profiles, upload and save payment details for recurring or future transactions and process an ACH, keyed-in, or online payment or send an invoice.
Card reader and in-person payments
While Stripe's strongsuits don't lie in in-person payments, their pricing is lower than Paypal, Zettle, and Square. They do have several card reader options as well which range in price. Helcim's card reader comes in somewhere in the middle for price, but also comes with colour stand options.
Customer Service
Most Stripe merchants are pretty much on their own when it comes to support. Being spread across the U.S, Canada, and the U.K with such a broad merchant base it can be a lengthy queue. Not to mention their products are not built for simplicity. This could make in-person payments doable, but hard to setup, troubleshoot, and use on a day-to-day basis. While they have many integration options, without an in-house developper or their expensive customer service plan you might wind up feeling stranded.
"I've worked with Helcim on a number of accounts now -- they're quick to offer support and work hard to resolve issues.  Their API is also easy to work with.  A lovely company and a great tool for competitively priced credit card processing."
- Jonathan, Edudeo Ministries
Why Stripe?
It's likely that you're reading because you already know about Stripe- or at least have heard of it (and maybe you're wondering who this new guy Helcim is— but more on that later.) The heart of the matter is that Stripe has surged in popularity as an online payment provider over the years- and it is a crowd favorite for a reason.
Stripe surpassed Paypal and created a solution for a hungry market of developers looking to retire inflexible industry technology. They became a jack of all trades for the payment industry, but much like the nature of trade work— Stripe's tools require a certain amount of elbow grease and savvy- arguably too much for their price tag.
Why Stripe doesn't work for everyone
The thing with Stripe is it works well for businesses who are looking for a more advanced and pliable solution, but it won't be right for everyone. Made primarily for developers, Stripe is known for its integration capabilities and customizability, but at the detriment of being less user-friendly (unless you build your own website and have a decent software understanding.) Not all small businesses have access to resources like developers and need a straightforward way to start taking payments.
Since Helcim's core offerings include a pre-built checkout, an easy-to-use POS platform, and a virtual terminal, businesses have everything they need right away to accept payments faster.
With Stripe, they make it strenuous to gain access to their virtual terminal, which requires an API- and their dashboard for keyed-in payments is tedious- PLUS, you can't accept ACH payments through this payment option.
With Helcim, the barrier to entry is easy; you don't need an extra headcount to get it running, as it encompasses all the tools you will need.
On the subject of tools, most small and medium businesses don't actually need more than Helcim's robust software with customization options and powerful built-in tools that are free with your merchant account.
Stripe has a large array of sub tools but with an à la carte product offering. That's an expensive bill once you start adding it all up. This is especially true with Stripe's recent increases on manual entry transactions up 0.5% from 2.9% + 30¢ to 3.4% + 30¢ in the US and 3.4% + C$0.30 for businesses in Canada.
These increases come at a time when business owners are already looking for ways to cut costs amid inflation and rising costs of products and services. Let's take a look at how their pricing model compares overall with Helcim.
Verdict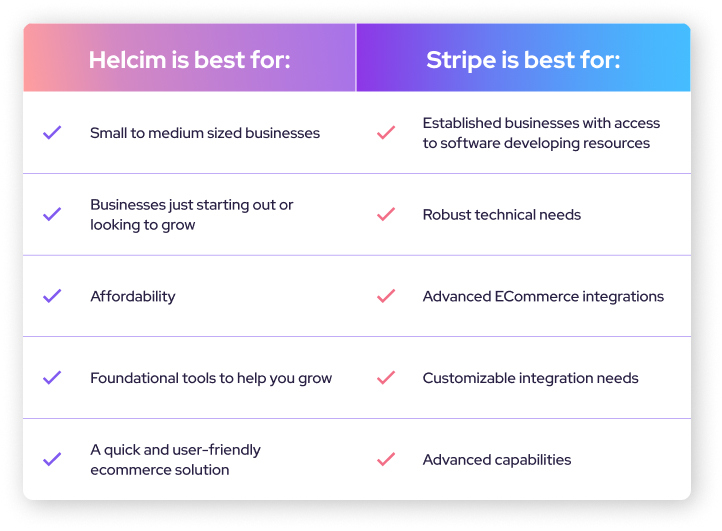 Stripe is a great product, but it might not be good value for the average merchant. It is best suited for international merchants, larger businesses, and merchants with a developper background who can make the most of Stripe's customizability and integrations.
For small to medium businesses who don't have the expertise coding in integrations, an all-in-one solution like Helcim might be a better choice. You can take advantage of lower prices with Interchange Plus pricing and no added costs for all those handy tools or a dedicated customer service team.
With ease-of-use and affordability in mind, you can feel good knowing that you aren't sacrificing on advanced tools or functionality when you go with Helcim.