When you think of Square, what do you think of? The little headphone jack card reader that made them famous? The sleek, white POS systems used by coffee shops and restaurants across the country? Flat rate pricing, maybe? Rates that are easy to understand?
When it comes down to it, Square has some major name recognition among merchants, and a lot of new business owners give them a first look, but how do they stack up against the competition? We decided to take a look at Square's payments offering to give you an idea of whether or not they could be the right payment processor for you.

History
Jack Dorsey, primarily known as the founder of Twitter, founded Square in partnership with Jim McKelvey in 2009. Square's first platform launch was a year later in 2010, and their headphone jack swipe reader quickly made an impact. This revolutionary technology simplified signups for businesses wanting to accept credit cards, and helped Square to quickly grow into one of the largest payments companies in the world. In 2015, the company went public, and six years later has a current market capitalization of $120 billion USD.
Upfront Costs
As of 2021, you can still sign up for a Square account at no cost and they'll ship you one of their magstripe readers for free. With magstripe readers going the way of the Dodo though, merchants should restrain their excitement about this freebie. It's hard to say how much longer merchants are going to be able to accept magstripe payments— card brands have already announced that magstripe will be going away completely in Canada and the USA—so instead, you'll need to upgrade to the chip reader which starts at $49 USD.
Now, if you want a more complete offering from Square; including their POS and payroll management software, it's going to cost you more monthly, so merchants also need to be aware of this. They also offer merchants the ability to create a free online store, but a custom domain is going to cost you monthly.
For example, apart from Square's free starter account, their "Plus Account" goes for $60 USD per month per location and gets you some extras like advanced inventory tools and Square Team Management. Square's rates may be affordable at first glance, but the charges start to add up as your enterprise begins to grow.
Rates
Square prides itself on offering transparent and easy to understand flat rate pricing. But is flat rate all it's cracked up to be? While this pricing structure certainly is simple, it likely won't save you money. In fact, flat rate pricing costs more than some of the other pricing structures out there. Typically, the most cost-effective pricing in the industry is actually interchange plus pricing, and unless you're really sold on Square's hardware, we would suggest looking for a payment processor that offers this instead. Check out this comparison chart to see how these two pricing models compare: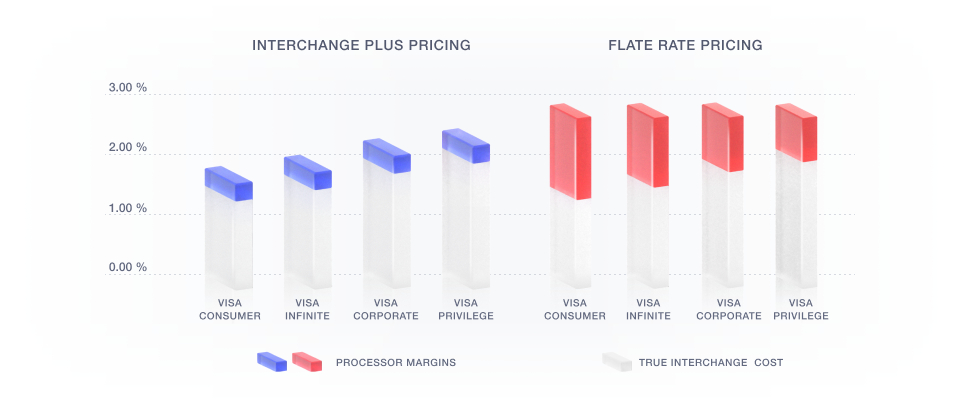 Overview
Square is dominating the payments game and have been for a while. As a result, they're often at the forefront of conversation, and offer a ton of software and hardware for all kinds of merchants. At the same time though, being at the top for so long can lead companies to become lackadaisical about customer service. Square gives merchants a lot, but their pricing model capitalizes on merchants not being educated about how interchange fees work, and takes advantage of this with flat rate prices that, while simple, don't benefit business owners as much as they do Square's bottom line.
Introducing Helcim
Interchange plus pricing, no monthly fees, and customer service only a phone call away. See how Helcim's rates compare with Square below: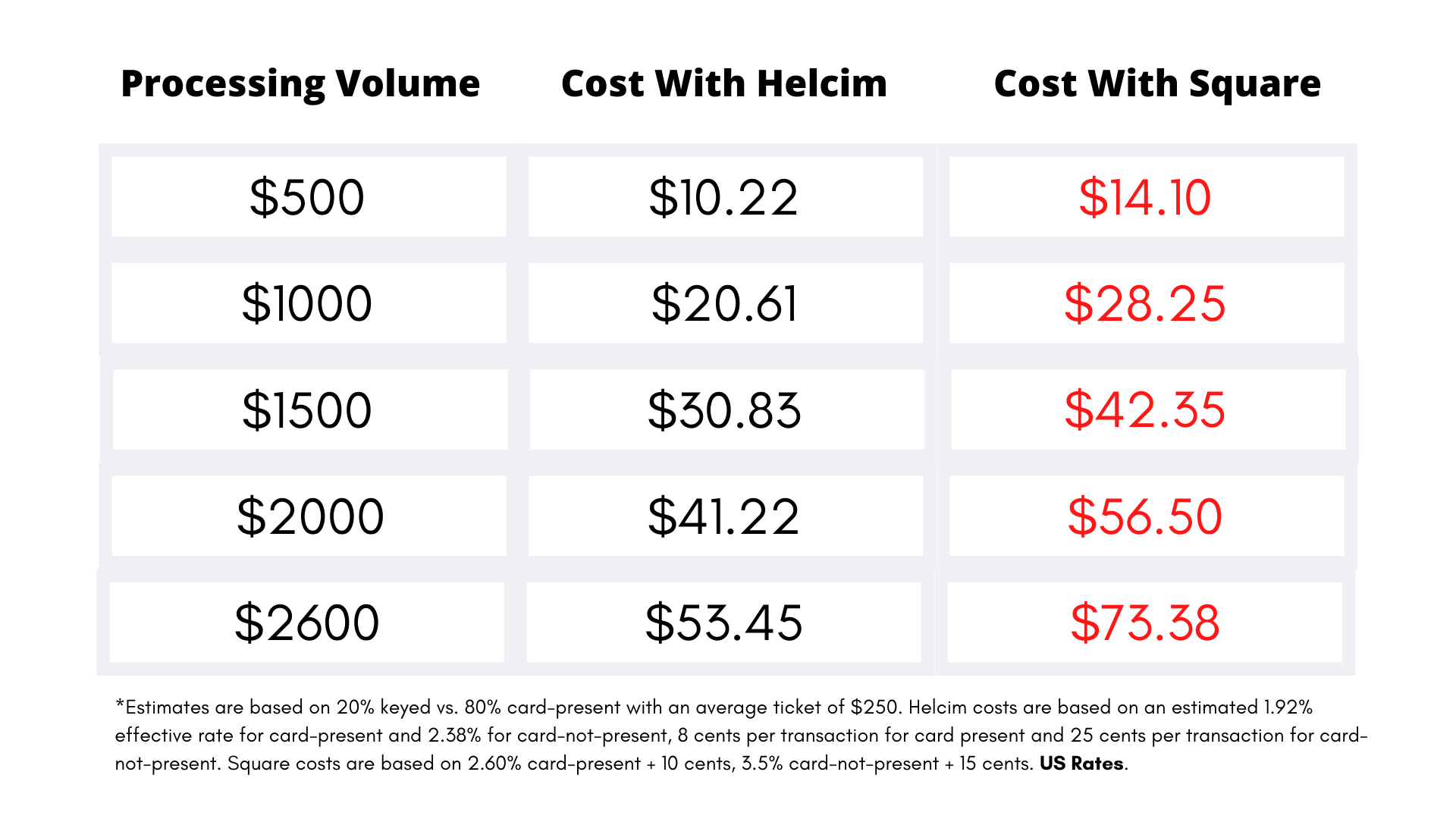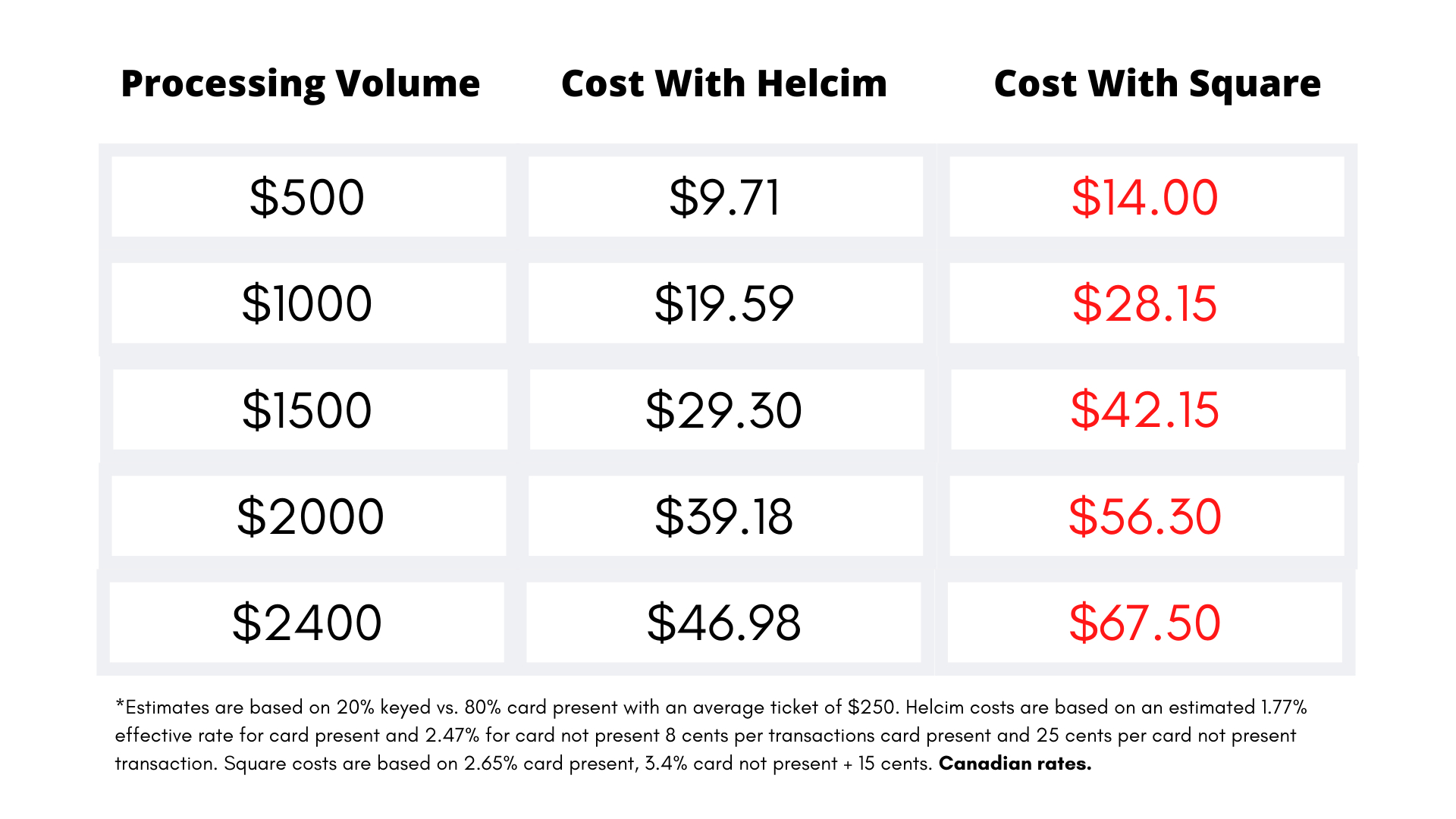 4 Reasons to Choose Helcim
1. Interchange Plus Pricing Flat Out Saves You Money
With Helcim, immediately benefit from transparent and more affordable Interchange Plus pricing. Where Square only offers to lower their rates for a select few businesses who process higher monthly volumes, Helcim offers Interchange Plus pricing to all of its merchants, no matter the size of their business.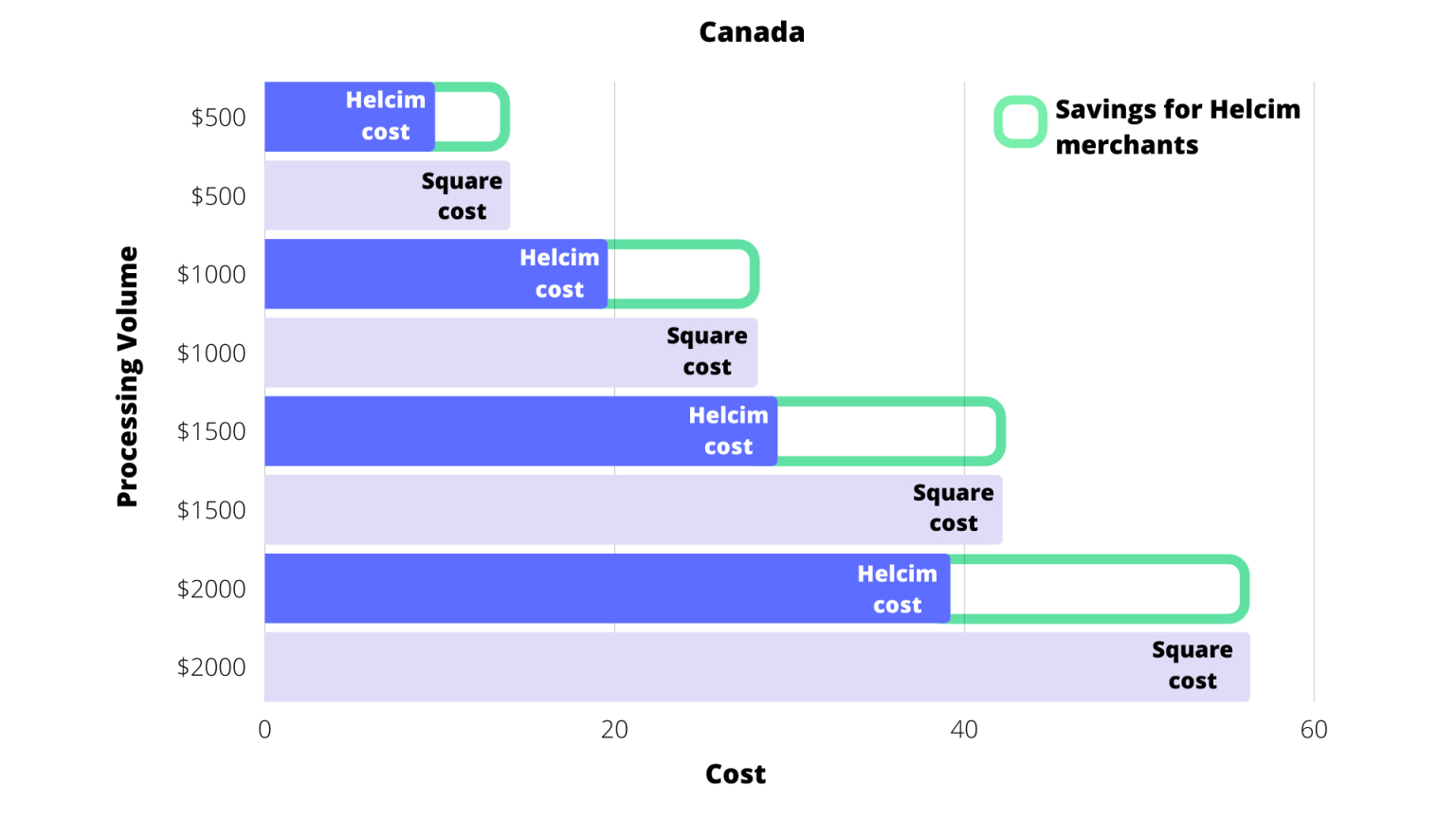 2. Helcim's Tools Don't Cost Extra
It's not just the lower payment processing fees that you'll benefit from. While Square charges extra for certain tools and premium access to their features, Helcim merchants get access to all of our software and tools at no charge. That means useful features like adding more users or devices, or sending unlimited invoices. You also get access to powerful tools that let you do things like create an online store or securely store customer card information for recurring billing.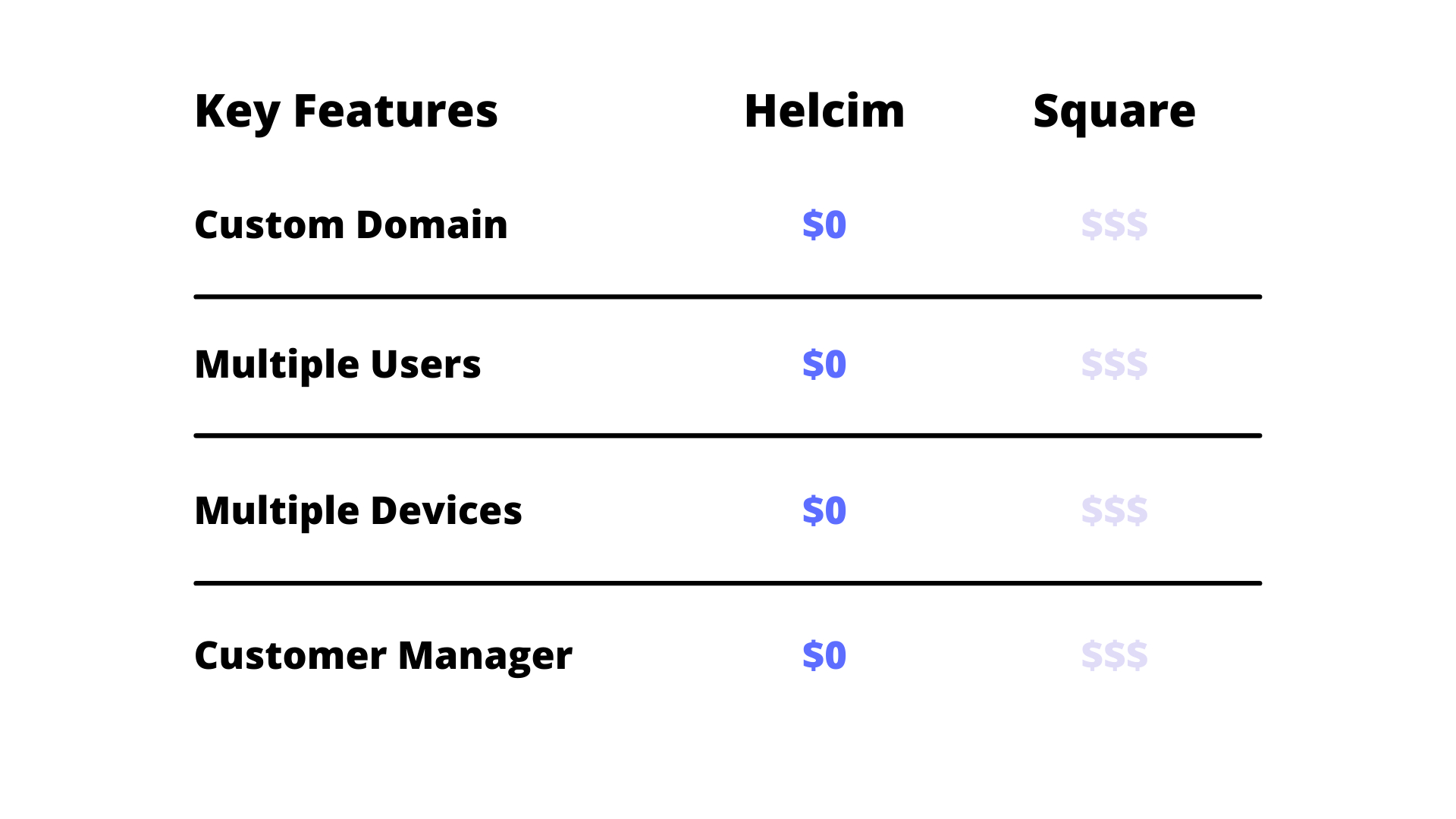 3. Our Customer Service Makes The Difference
To us, Better Payments doesn't stop at just offering more affordable pricing and better tools. We are extremely proud of our knowledgeable in-house Merchant Success team who are available whenever you hit a bump on the road. Available by phone or email, they're happy to help you better understand the sometimes complicated world of accepting payments, find a solution to help you grow your business, or answer any questions that might come up about our services or the payments industry in general. If you prefer self-service support, Helcim also offers a detailed support section with step by step tutorials and videos to help you get started.
"If you are using something like Square where you can't get someone on the phone to save your life… Call Helcim ASAP! I never thought I could love a credit card processing company. But they have a loyal customer here at Thrive With Wellness!"
– Kyla, Thrive with Wellness
4. Fast Bank Deposits
Helcim has combined the best of Square's easy to complete sign up process and no application fee, with the security of a more traditional underwriting review process used by the big banks. This means that you can quickly sign up for an account and be confident that you'll receive your deposits in a timely manner once you begin accepting payments.
Helcim offers businesses two-day deposits, so you can get your money quickly after you accept a payment. Square's lack of an underwriting process can be detrimental to your business when it's time to get your deposits. Because they don't know your business as well as a company like Helcim, that reviews new signups, Square is more likely to hold your funds or freeze your deposits when you process your first big transaction or have payment activity that is outside of your traditional payment patterns.
Experience Better Payments
At Helcim, we're on a mission to become the world's most loved payments company, and that's why we put our merchants first in everything we do. We work hard to over deliver in our software, hardware, and customer service offerings, while at the same time offering some of the most competitive pricing in the industry. If you're tired of overpaying for credit card processing, or working with a processor that just doesn't seem to care about you or your business, switch to Helcim and see the difference that having a payments company in your corner can make. We'll be waiting to welcome you to the Helcim family with open arms!
"Helcim seemed like the best option. plain and simple. Having used square and lightspeed in the past, I knew that I was not a fan of their systems even though they were highly rated. I wanted to try something new and what was most important to me when doing my research (was) customer service"
-Chara, Paw 2 Tails Pet Services