Are you looking for a processor to accept credit card payments? In this article, let's look into PayPal vs. Helcim.
When it comes to accepting payments online, small businesses have a tough decision to make. Finding the right provider can be like dating in the hopes of finding your perfect match. On the one hand, big names like PayPal are well known by both businesses and consumers and widely accepted worldwide. On the other hand, you have a payment provider such as Helcim, an up-and-coming payment processor whose reputation is lesser known but offers competitive pricing and a suite of free tools built specifically for small business owners.
In this blog post, we'll break down how PayPal and Helcim compare when it comes to credit card processing fees, additional costs and fees, the payment processing service itself, and point-of-sale (POS) hardware and software equipment so that you can be sure to find your business' perfect match.
Who is PayPal and how does it work?
In short, PayPal offers payment solutions for both small businesses and peer-to-peer (P2P) transactions. It is a popular option for individuals and businesses looking for a way to accept payments online, whether through platforms such as GoFundMe for fundraiser efforts and campaigns or through websites and social media for products and services. They now offer in-person payments through PayPal Zettle as well. You might already be familiar with PayPal's history of breaking ground in the online payment realm; founded in 1998 by a group of entrepreneurs, it was created to make it easier for people to transact online. PayPal has since become one of the most popular ways to send and receive payments from around the globe. Today it services over 200 countries, including the U.S and Canada, and owns various other big-name companies, including:
Who is PayPal Zettle?
To access PayPal's omnichannel experience (both in-person and online payments), you will be processing through PayPal Zettle and PayPal.
While PayPal is known best for its online payment gateways, it has recently branched out to in-person payments by acquiring iZettle — a European-based payment company focused on in-person POS equipment solutions. Together, iZettle rebranded to Zettle by Paypal / PayPal Zettle. PayPal Zettle lets consumers and businesses pay in person with the Zettle card reader and smart terminal to accept both card and contactless payment methods. Through in-person POS devices, Paypal users can also access software features in their PayPal account. Some of these in-person software tools and features include invoicing, sales data insights, custom checkout experiences, and subscription management. PayPal Zettle also lets you accept in-person payment methods such as QR payments, invoicing, keyed-in, or the classic Tap, Swipe, or Chip and PIN.
To start accepting online payments or offering PayPal as a web checkout option, you can use PayPal Payments or PayPal Flow which we will get into later. You will need these to send payments to individuals and businesses and make in-app and online purchases.
PayPal Zettle in-person payments
PayPal Zettle pricing for in-person POS features & tools
PayPal Zettle POS software includes the following features:
Inventory management and product cataloging
Sales data and insights
Virtual terminal
Staff scheduling
third party integrations

Access to their suite of tools will depend on your subscription model. While they offer decent rates for QR payments, at 2.29% + $0.09 per transaction, some of their other tools are reserved for subscription models with monthly fees.
How much does PayPal charge for online payments?
PayPal Payments
There are two main branches when it comes to using PayPal to accept online payments.
The first is to essentially use PayPal as an aggregator/ payment provider to accept all your online payments through.

The other is to add PayPal as a payment checkout option with PayPal Payflow Pro or Payflow Link. Either way, if you want access to (most) of PayPal's tools and payment processing services then you will have to choose one of their payment subscription plans.
PayPal Payments subscription plans
The cost to accept credit card payments online will depend on which type of transaction you are processing and which transaction pricing model you may be using. For example, a seller may choose to process with "Standard" or "Advanced" debit and credit card payments as their pricing model. These will each incur specific charges depending on the type of transaction and card as well.
When it comes to choosing between Standard or Advanced payments, Standard Credit and Debit Card Payments for PayPal is the default processing rate, with limited options for payment methods and somewhat higher rates since these are typically not associated with premium subscription plans. These payment rates come in at 2.99% +$0.49.
Advanced, however, gives you access to different subscription models, customizable credit card fields, and access to advanced tools. The rates tend to be lower at 2.70% + $0.49 but in order to qualify you will need to be approved for Advanced Debit and Credit Card Payments. Some higher rate subscription plans require this pricing model, so in exchange for those lower rates you end up paying anyways in higher subscription fees.
In addition to the pricing rate models, PayPal offers three subscription tiers for accessing their suite of online tools.
PayPal Standard Checkout,
PayPal Payments Advanced,
and PayPal Payments Pro.
PayPal Standard Checkout: This free subscription tier will still require hiring a developer to integrate it with your API but gives sellers access to recurring billing at no extra charge and "smart" AI-generated payment buttons for your checkout page but still lacks the customizability and tools that come with other paid subscription options.
PayPal Payments Advanced: For the $5 monthly subscription, you get the ability to save and pull up customer checkout details, track transactions in one place, implement extra verification processes, add fraud prevention options, and accept more payment methods such as digital waller and direct banking. You can also add the option to add chargeback protection for an extra $0.40 per transaction.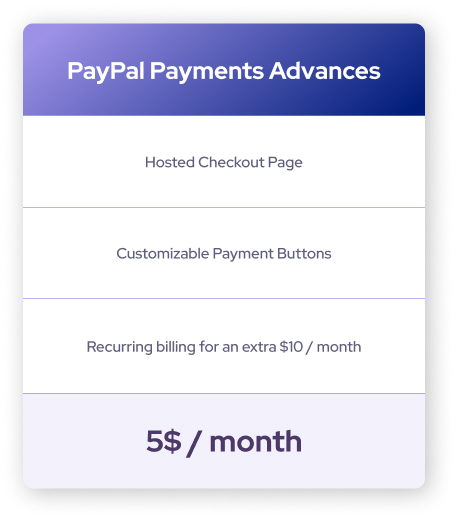 PayPal Payments Pro: Sometimes listed as Website Payments Pro, this $30 monthly subscription gets you those customizable payment buttons, a customized built-in checkout page, access to their recurring payment tool, and access to the virtual terminal. The virtual terminal is ready to use without hiring a developer and coding it into your website like many of their other products and services. However, processing rates are higher than online payments at %3.09 + $0.49 per payment taken this way. This subscription model processes online transactions at 2.90% + $0.49 for Visa and Mastercard and 3.50% for AMEX transactions.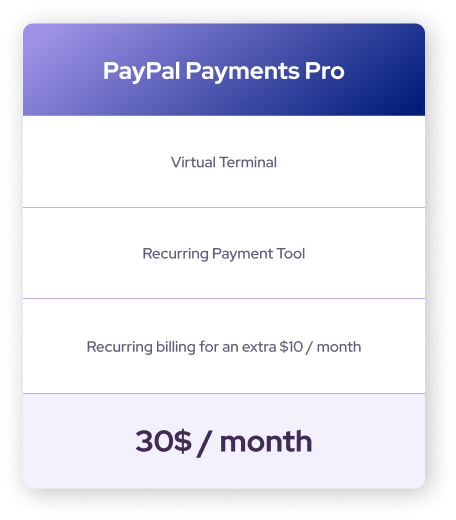 PayPal Flow
With PayPal Flow options, PayPal's Online Payment Gateway Option, you can choose between Payflow pro and Payflow link to embed a customized URL or use a pre-built online checkout on your website. This payment gateway gives you a quick way to start accepting credit card payments on your site and use Paypal's gateway with your current payment processor. However, Paypal charges a $0.10 transaction fee for each payment taken this way, plus a $25 monthly fee and $99 setup fee for Payflow pro.

Additional payment processing fees
While their credit card processing fees are on the higher end of the scale, PayPal is reasonable for stuffing in only a few extra fees, long-term contracts, or early cancellation fees like some payment processors.
However, some of their fees are still higher than others, including:
A fee for most withdrawal methods on your funds
Fraud prevention is available for an extra charge.
Access to their virtual terminal is available for an extra $30 fee/per month.
In addition, you can expect to pay monthly software fees depending on your tools and plan, as well as the occasional setup fee.
As you can see in the following table, with PayPal, accessing tools like their virtual terminal will cost extra (since they require access to the Paypal Payments Pro subscription tier we mentioned earlier).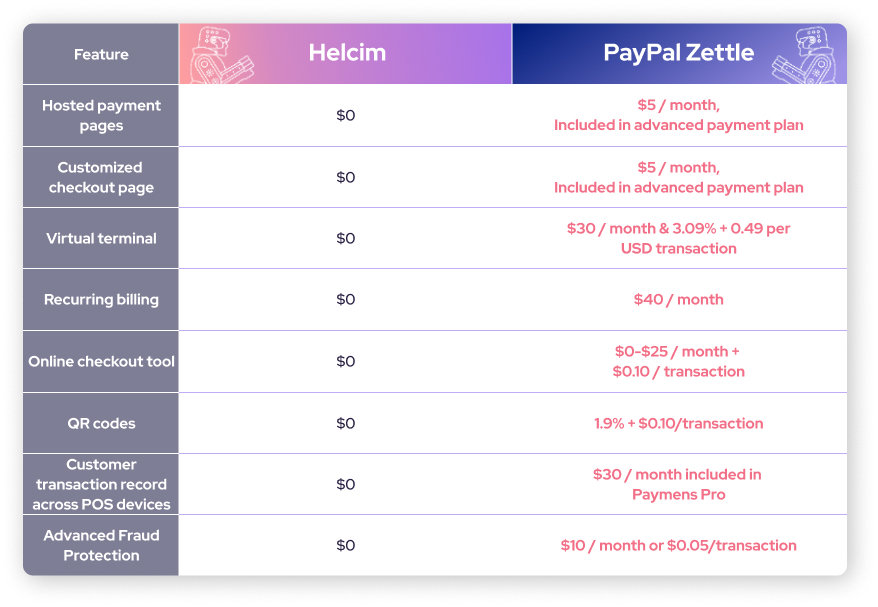 POS Equipment
Paypal does offer Point of Sale (POS) equipment hardware, with options to connect your phone and use with paypal's mobile app or use the Zettle terminal on its own.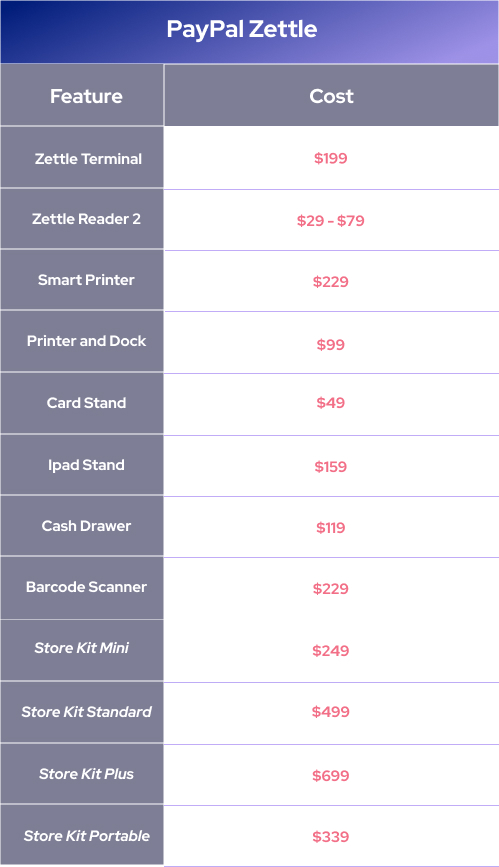 Terminals can be connected through mobile devices such as tablets and smartphones as long as they are updated to ios 12 or Android 8 software or later and can access the app or run through 3 & 4G or WiFi.
PayPal Zettle card reader ($29 USD for first terminal or $79 USD for each additional)- This POS device works as a basic debit and credit card reader compatible with contactless payment methods such as Apple and Android Pay. This version, while wireless, still needs to hot spotted through your phone or connected to Wifi and synchronized with your phone to connect to the app in order to process transactions.
The Zettle Terminal ($199)- This card reader can function on its own without a mobile POS device to process card payments and connect to the app.
Customer Service
PayPal's customer service is a common point of contention amongst online reviewers - compounded by their reputation for terminating merchant accounts without warning. Their focus on enterprise businesses means limited contact with dedicated sales representatives, leaving small merchants vulnerable in times of trouble or if assistance is needed. Small merchants should take note and consider their options carefully before committing to PayPal services; the risk of being left high-and-dry in times of distress might outweigh potential benefits they might offer.

Is Paypal right for you and your business?
Due to the nature of their product offerings, most businesses considering PayPal are at the start of their online payments journey. You might be a new business starting out or a more mature one looking for eCommerce integrations. You might be looking for an online checkout, which allows you to get set up quickly without setting up a whole eCommerce site and integrate it easily with links to your current website, Google listing, or social media.
Businesses may prefer Paypal as their payment processor for the following reasons:
They are set on specific PayPal checkout integrations for their eCommerce site.
They need to get set up quickly and assume setting up a dedicated merchant account will be a long process with little benefit.
They need more features and options and are willing to pay for a more mature eCommerce solution. -Their customer market is primarily integrated with PayPal already.
They don't place an emphasis on customer service (P.S. it matters)
You don't mind slower deposit times (3 days or an extra 1% fee for instant access)
Conversely, PayPal may not be right for you if the following apply to your business:
You need a well-rounded POS solution for online and in person payments.
You depend on your funds not being frozen or held, so you don't mind a few extra approval questions if that means a smoother process later.
You operate in an industry that many merchant service providers consider high-risk.
You want to be able to rely on customer management for support regarding technical questions about your POS equipment, charges, and other payment processing service questions.
You want an omnichannel solution with built-in tools that don't cost extra.
If you take a look at our Helcim vs. Square article, you'll notice that Paypal and Square compete in a lot of the same areas but with PayPal gearing towards online payments and Square being more well-known for in-person transactions and it's memorable sleek white POS design.
However, these two have higher processing rates in common compared to Helcim. However, one of the appealing factors of these two payment options is their ability to get set up quickly without needing to be approved for a merchant account like traditional banks. While this can be faster initially, many businesses cite the same frustrations that come with these types of setups.
Since PayPal is made for individuals and businesses, their product offering, customer service, and solutions might not be specialized and focused enough for your business, especially if it is small or medium-sized. Most businesses won't consider PayPal as an all-in-one credit card processing company, but rather, it is often added to online checkouts and payment pages as an additional payment option alongside other solutions an online business might be using to capture sales for customers who want to pay through their PayPal account. With that in mind, Helcim offers these same tools, such as Online Checkout and hosted payment pages for free with your free Helcim merchant account.
P.S. Here are a few signs that you should be looking into interchange plus pricing for your business model.
First, the obvious: You are looking for more savings for credit card processing than flat-rate pricing models offer. Second, you process many low-cost transactions (lower interchange fees). And third, you are okay seeing your monthly statement fluctuate, knowing that you are saving on average and you aren't being charged for any funny business like added costs for tools and features or extra and hidden fees.
Final Verdict on processing payments with PayPal
When choosing a credit card processor, we love supporting small businesses and helping them make informed decisions that ultimately boost their bottom line and allow payments to work for them. That's why we can admit that PayPal has a time and a place and that we may not be the best solution for every business. However, at Helcim, our goal is to help you make decisions that both boost revenue and provide an affordable and well-rounded payment processing experience - something PayPal might not be able to do due to customer service limitations, expensive processing when it comes to add-ons for tools and features, and of course, a flat rate pricing model which leaves no room for savings.