Visa and Mastercard have announced the new interchange rates for April - including new rates for recurring payments.
In this post we take a deep dive into:
How to take advantage of the new April 2022 interchange rates
Why Helcim merchants and business owners alike can benefit

What interchange rate changes can merchants expect to see?
We've put together a few charts to show you the new fees, the interchange rate and cost per item - Plus, we've even shown you how those fees can add up in savings in comparison.
Tokenized card fees and the new small business merchant rates (processing < 250k in Visa volume) are some of the highlights on the roster this Spring.
Lower fees for low risk tokenized transactions
Another interesting fee is the addition of a tokenized card category- allowing merchants to save when they process recurring payments. This fee requires merchants to use a recurring billing tool or store customer payment information in a card vault to ensure encryption and data protection.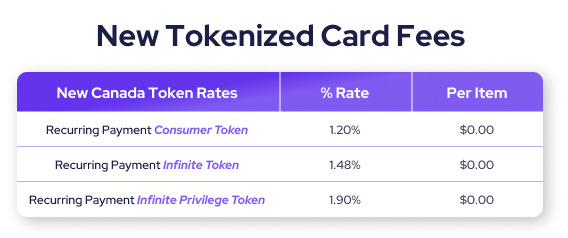 The new Canadian fees for Visa, will be Recurring Payment - Consumer - Token, Infinite, Infinite- Token, Infinite Privilege, and Infinite Privilege- Token.
Why are card brand fees favoring security?
By encouraging merchants to use secure tools where they can, they can lower their risk of fraudulent transactions and chargebacks (and ultimately costs for both them and the banks.)
A few of the benefits of card vaults and recurring billing tools include:
Securely store customer payment information
Recurring and automated billing
Lower processing rates
Lower risk of fraud
Tailored customer profiles
When merchants process payments through a processor who invests in the latest technology such as card vaults, they can take advantage of both fraud security, and lower rates.
What do changes in interchange rates mean for Canadian merchants?
Merchants who accept credit card payments are able to offer the flexibility, security and perks to their customers, but also must cover the cost of these benefits through processing fees to the issuing banks.
Rises or decreases in interchange rates will influence this overall cost, especially considering the volume of transactions many merchants process.
While flat-rate processor fees won't likely reflect the lower interchange rates as they charge a flat fee regardless of the cost/ interchange rate - merchants who process payments using interchange plus pricing will be able to take advantage of lower processing fees.
When you use an interchange plus processor that offers payment tools such as recurring billing and card vault you will also be able to capitalize on the savings of tokenized card rates as well.
Curious? Find all the April 2022 interchange rates here, on our website.
FAQ's
Who sets the interchange rate? The interchange rate is typically determined by the card brands Visa and Mastercard. Interchange fees can vary greatly depending on the card type and industry.
When setting the rate card, brands typically consider:
Type of credit card used
Card brand
Merchant business type
Type of purchase, i.e., in-person or online
Processing cost
Transaction risk
Want to learn more? Read "The Interchange Fee: Your Questions Answered"
What are the different pricing models for payment processing?
Other payment processors offer many different pricing models, most notably interchange plus, flat fee, tiered, and subscription-based.
What are interchange rates, and how do they affect merchants?
Your business will pay a processing fee every time a customer purchases with their credit card. The processing fee comprises three components:
The interchange rate is determined by the card brands
What type of business you are in, i.e., non-profit vs. a restaurant
A profit margin for the payment processor