History
While the Stax moniker is relatively new to the payments world, FattMerchant, the company behind Stax, has been around for a while. Founded in 2014, and based in Orlando, Stax is unique in its payment offering in that it offers merchants a subscription based service for credit card processing. Now while most other credit card processors are technically "subscription based" in that they often charge a monthly fee, Stax does not markup their processing cost (as is the case with flat rate processing) but instead turn a profit from their all-inclusive monthly fee structure.
Overview
Stax claims to be the "first" or "only" payment processor offering an omni-channel solution for merchants, but there are other companies out there offering all of their tools to merchants for a single monthly fee. One thing that Stax does include in their offering which is unique is the use of a terminal at no additional charge. This means merchants do not have to purchase or lease a terminal to get up and running with Stax.
Rates
While Stax offers their customers "direct cost" on payment processing, this notion is a little simplistic and could easily be misinterpreted by merchants. Stax does pass on the true cost of interchange (set by the issuing banks) to their merchants without any additional markup on the interchange rate itself, but still charges customers a small fee for every transaction processed. Here's how it works:
Unlike with an interchange plus pricing model, Stax offers "interchange plus zero", whereby merchants are charged the true interchange cost plus a few cents ($0.08 cents for card-present and $0.15 for card not present) for every transaction. How Stax make their money though is through their monthly fee structure. So while there is no variable markup on interchange (as with interchange plus pricing), Stax's monthly fees more than make up for this difference. In fact, for some businesses, the monthly fees can be prohibitively expensive. Their small business processing package (Stax Pay) is $99 USD according to their website, but this is exclusive of additional software, which costs extra.
SoftwareRight now, Stax offers three software plans for small businesses starting at $49 USD (Starter), and moving up to $89 USD (Growth), or $129 USD (Pro) per month. These plans are on top of what you'll pay for Stax Pay. Like a phone plan, Stax offers add ons to their base plans, like same day funding and custom branding for invoices-but these are going to cost merchants additional money every month. Some merchants may like the idea that they can choose which software tools they want à la carte, but paying for individual tools can add up quickly, especially if you need them all. For example, take a look at how Stax's fee structure stacks up when compared with Helcim's interchange plus pricing model (where all your software is included at no extra charge):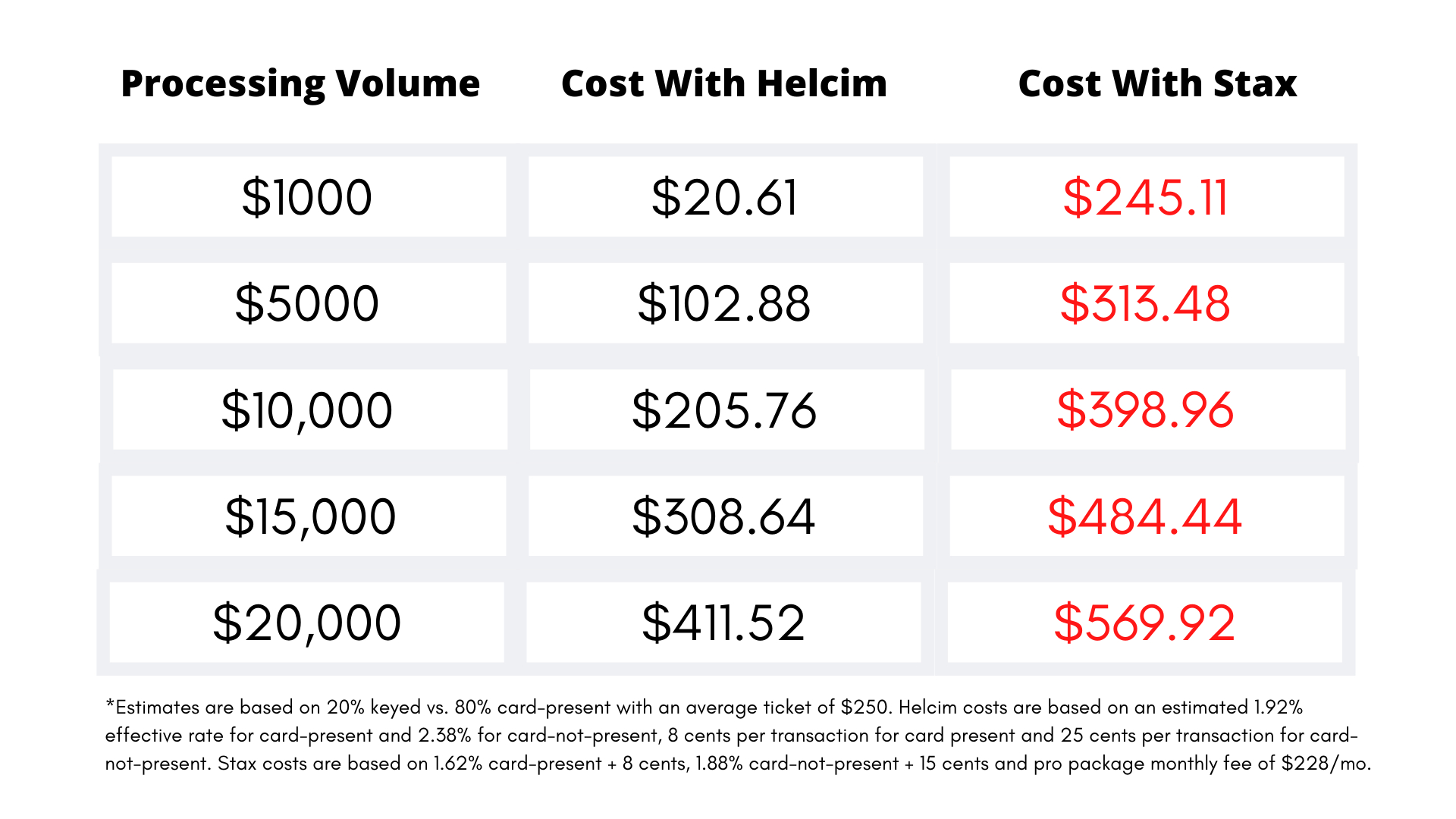 As you can see, when you take into account the monthly fees, using Helcim results in significant savings for your business. For Stax to be the more effective payments solution for your business, you will need to be processing at least $100,000 per month. At this point, interchange plus zero finally gets you level with Helcim (although as your processing volume increases, so does your business's bargaining power, so you'll likely be able to glean competitive rates at other processors).
POS & Online Store
Stax does not offer POS software for merchants, but rather relies on their merchants utilizing a POS company that will integrate with Stax's payments platform. They also do not offer merchants the ability to build their own hosted website, but can integrate their payments solution with certain e-commerce platforms.
What Is a Reseller?
Fattmerchant is what is known in payments as a reseller, meaning they are not a Payment Facilitator (PayFac), but a Merchant Service Provider reselling the services of an acquirer. Fattmerchant discloses their acquirer relationship on their website:
"Fattmerchant, Inc. is a registered ISO/MSP in association with Fifth Third Bank, Cincinnati, OH"
Without getting into the nitty gritty, this essentially means that Stax does not completely own their platform but is subject in certain regards to their acquiring bank. Stax controls some of the payment experience and how they price their product, but they do not own the process from front to back or manage their own risk.
The long and short of reselling is that it limits a company's ability to service merchants effectively with the best pricing and most robust software. Resellers have a piece of the payments puzzle that businesses need, but can't provide merchants with everything they need at the best possible price.
Introducing Helcim
Putting merchants first. Making payments easier and more affordable. We are Helcim, and we're changing the payments landscape one transaction at a time.
4 Reasons to Choose Helcim
1. No Monthly Fee
At Helcim, we don't charge a monthly fee to any of our merchants. You just pay processing fees-that's it! To get a software offering that resembles ours with Stax, you'd need to sign up for their pro account, which comes with a hefty monthly price tag of $248 USD per month. As a small business owner, not having to worry about a monthly fee can not only save you money, but simply grant you peace of mind.
2. Helcim's Tools Don't Cost Extra
It's not just the lower payment processing fees that you'll benefit from. While Stax charges extra for certain tools and premium access to their features, with Helcim, merchants get full access to all of our software and tools at no charge. That means useful features like adding more users or devices, or sending unlimited invoices. You also get access to powerful tools that let you do things like create a fully hosted online store or securely store customer card information for recurring billing, and you'll never pay extra for a single tool.
3. Helcim Point of Sale
One of the free tools included with your Helcim account is our POS software. Our software can not only integrate with certain POS hardware (if you're thinking about switching and want to know if we can integrate, give us a call), it allows you to turn your tablet, phone, or desktop into your own POS system-no additional (expensive!) hardware required.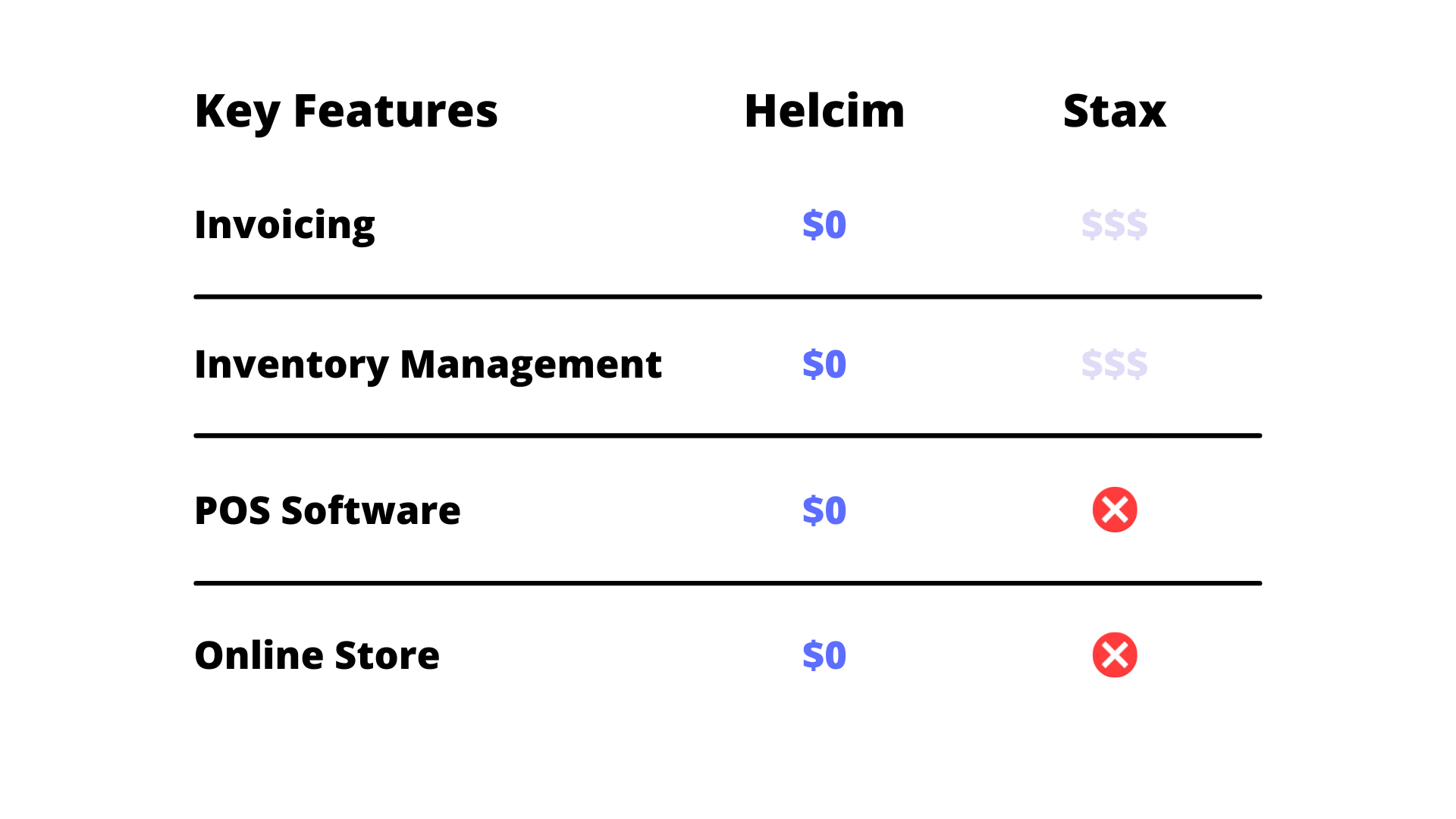 4. Our Customer Service Makes the Difference
To us, Better Payments doesn't stop at just offering more affordable pricing and better tools. We are extremely proud of our knowledgeable in-house Merchant Success team who are available whenever you hit a bump on the road. Available by phone or email, they're happy to help you better understand the sometimes complicated world of accepting payments, find a solution to help you grow your business, or answer any questions that might come up about our services or the payments industry in general. If you prefer self-service support, Helcim also offers a detailed support section with step by step tutorials and videos to help you get started.
Experience Better Payments
At Helcim, we're on a mission to become the world's most loved payments company, and that's why we put our merchants first in everything we do. We work hard to over deliver in our software, hardware, and customer service offerings, while at the same time offering some of the most competitive pricing in the industry. If you're tired of overpaying for credit card processing, or working with a processor that just doesn't seem to care about you or your business, switch to Helcim and see the difference that having a payments company in your corner can make. We'll be waiting to welcome you to the Helcim family with open arms!