Last Updated on December 6, 2022 by Ryleigh Stangness
Are you taking a look through your payment options? Read this first.
Known for its sleek card readers and POS, Clover has impacted the payment industry like few other processors have managed to. However, don't judge a book by its cover- or in this case, Clover by their POS equipment.
In this article, we will explore the following:
A quick background on Clover
The scoop on processing with Clover- the man behind the curtain
A review of Clovers POS hardware and software
An honest comparison of Helcim to Clover We hope this article gives you the inside scoop on what you should look for when you are researching your options to process credit cards and debit cards.
Overview of Clover
Clover is a point-of-sale system. They control some of the payment experience but do not own the process from front to back or manage their own risk as a Payment Facilitator (PayFac) would. Clover is not a PayFac and does not own its payments platform or anything they sell.
This means that Clover is the equipment and software you can use to physically accept credit card payments and other methods of payment processing, but your merchant account will be through another payment processor, whether Fiserv or one of its resellers.
Clover is a popular point-of-sale platform designed to meet the needs of a wide range of businesses. Their POS equipment options are extensive and robust, but with a high price point. So while the equipment is admittedly sleek, most merchant pain points come from becoming trapped in expensive binding equipment rental agreements and merchant account contracts with Fiserv. While they have some great features, it can also be expensive and restrictive when it comes to software integration.
Before falling head-over-heels for their supermodel POS equipment, we recommend reading our guide to payment equipment and software to determine your business needs. If you decide their hardware is a good fit for you, make sure you know what you're signing up for before you find yourself in a frustrating reality with Clover's payment processing experience.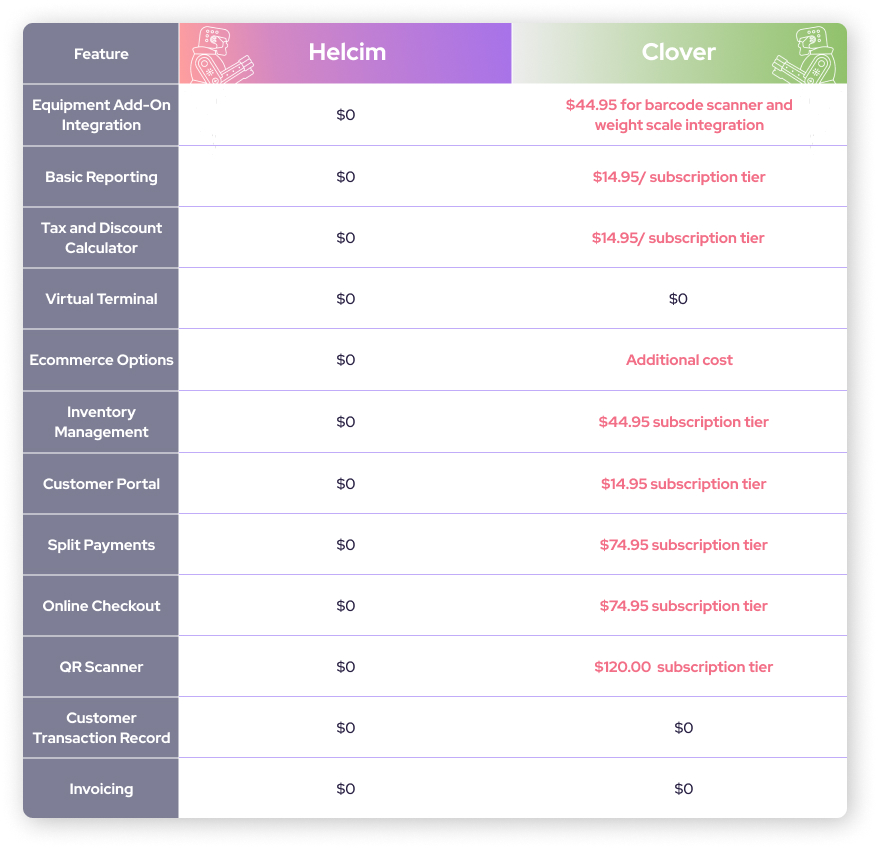 Helcim is another option for businesses looking for reliable POS solutions. Helcim offers many of the same features that Clover does, at a lower cost and with much more flexibility in terms of free and built-in software options. This article takes an in-depth look at how Clover and Helcim compare when it comes to POS equipment, rates, and software options.
History
Founded in 2010, Clover broke into the payments scene when it launched its cloud-based POS just two years later. The company was acquired by processing giant First Data (now Fiserv) later that year.
Imagine being the largest payment processor in the world but having one of the worst reputations. A double-edged sword, no? That was First Data before Clover.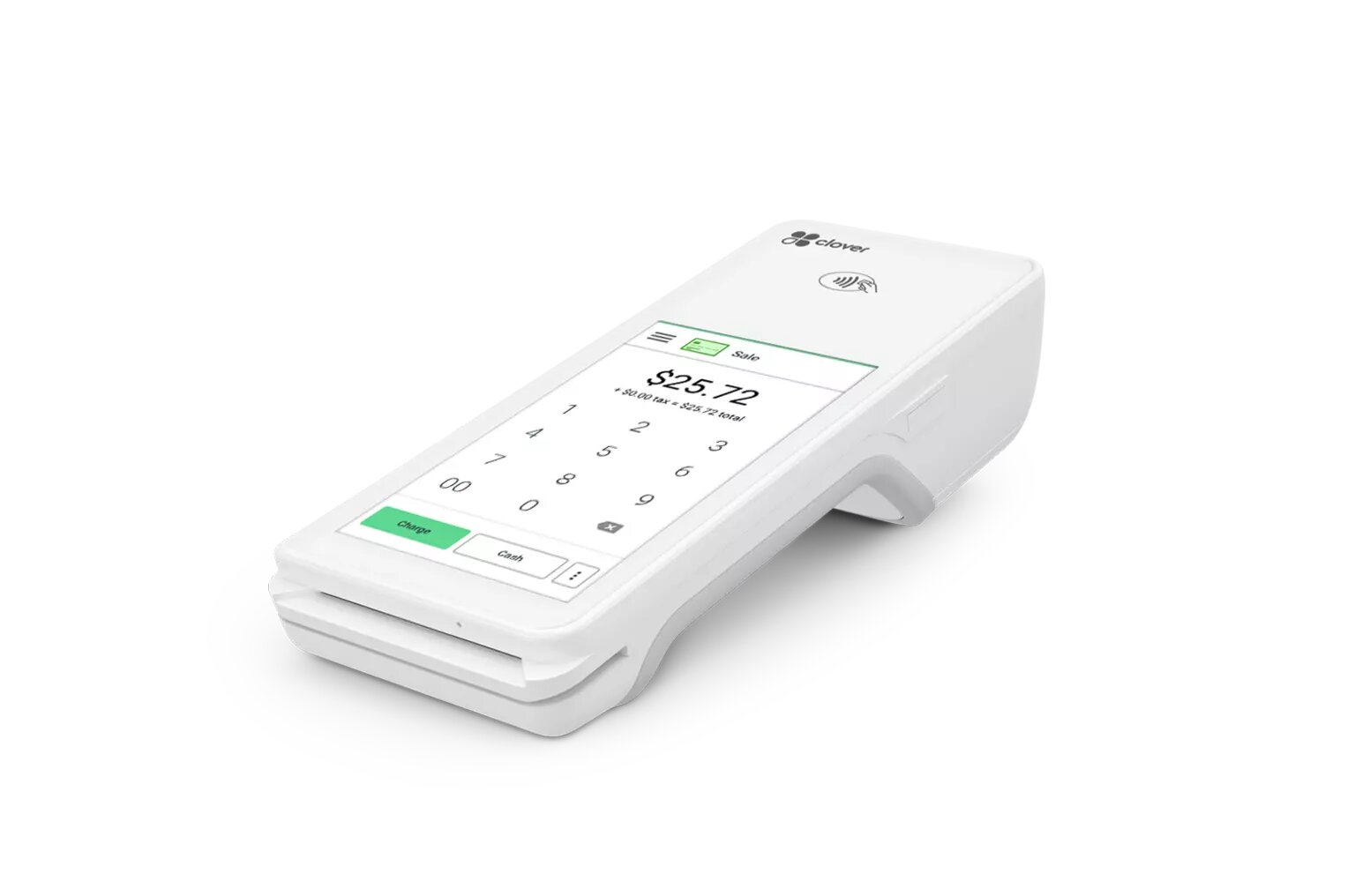 Since 2012, Clover has been marketed as a separate company, but in reality, it is an arm of Fiserv. This was a great exposure opportunity for this old-school payment processor to re-access the market with a new name and slick-looking brand.
Hardware Review & Cost
Clover has six POS equipment options, one of which is a dashboard-only option (no hardware required). The cost of the equipment will depend on whether you choose to sign an equipment leasing agreement (we strongly advise not to) and which software option you decide to go with. For specific products like the Clover Go and Flex, you can buy or rent the equipment with no software or system add-on necessary. For others, they usually offer two tiers as options.
When it comes to hardware, Clover's ultimate claim to fame is its flagship product, the Station Duo (formerly the Station Pro). If you can get past the sting of the price tag at $1,799 USD ( or $130 per month with their monthly payment plan), the Station Duo is a complete and professional-looking POS option. The full countertop setup includes a customer-facing display and receipt printer.
The Station Duo lets you manage inventory and employees, plus the basics of accepting payments. It also syncs with the cloud, so you can have access to your POS data on the go.
All of Clover's other POS and card reader offerings give business owners less than the Duo but for a lower price tag. Your various hardware options are as follows:
Clover Flex ($499 + $0- 80/month OR $35/ mo for hardware and software) - a wireless handheld card reader, receipt printer, and touchscreen POS combined; the Clover Flex is one of the most popular POS systems in Clover's lineup. Compatible with contactless payment options and, of course, chip and swipe.
Station Solo ($120-$150/ month) - With a 14" touchscreen, a cash drawer, a built-in camera, a barcode scanner, and a receipt printer, you can accept chip and swipe payments (no tap or contactless methods).
Clover Mini ($799) - With a smaller 8" touch screen, this model is more affordable than Clover's Station line but more robust than the Flex reader. Customers can review their purchase details, insert or tap payments, and print receipts— all in one device. This device also synchronized with third-party app integrations and POS hardware like a cash drawer for an extra cost. Compatible with Clover's Retail and service business plan ($45- $90 per month) and their Restaurant and food service plan ($90 -$120/per month).
Clover Go ($49) - The Clover Go does seem affordable but is limited in capabilities. It only works by pairing with your Apple or Android mobile device to process payments. Although it boasts no monthly fee, if you want to add reporting and inventory management to this POS system, it comes in at an extra $15 a month.
Because Clover is essentially First Data repackaged, their hardware might be the only good thing about their service. Still, if you get stuck in a lease for that equipment, you'll be wishing you'd never considered them in the first place, as the leases are typically more expensive than buying the product outright (and non-cancellable!).

Software
Clover offers a variety of plans for business owners looking to use their software, each of which gives merchants access to particular tools and features that cater to varying types of businesses. Overall, Fiserv is similar to most payment processors out there, charging monthly fees to merchants for access to all necessary functions to run their business.
With Fiserv running Clover's backend, though, merchants need to be wary of getting into a contract that is virtually impossible to get out of for four years.
Here's a breakdown of Clover's software plans:
Starter plan - $0.00/mo. This monthly payment plan is quite limited and restricted to Clover Go.
Standard plan - $14.95/mo. This system has a few more capabilities than the starter plan, but the price tag also receives a bump. Functionalities include basic reporting, tax and discount calculations at checkout, and a customer portal.
Advanced plan - $44.95/mo. This option allows you to create promotions, sell gift cards and offer loyalty options while granting access to further inventory management options.
Register Lite - $9.95/mo. - Clover's most basic software plan, second to the Starter plan; this option includes tools like basic sales reports and employee management.
ProRegister Plan - $39.95/mo. - Adds tools like inventory management, card pre-authorizations, mailing list, and table management.
Counter Service Restaurant Plan - $39.95/mo. - Gain access to tools like bill splitting and large-party service charges.
Table Service Restaurant Plan - $69.95/mo. - This industry-specific software tier has tailored software options like Clover's floor plans app and orders app.
Additional Device Fee - $9.95/mo - Beware: if you want to use a Clover device and Clover software with a different reseller (i.e., Payment Depot), you will need to pay their monthly fees in addition to Clover's (you guessed it— that fee goes straight to Fiserv).
To get the whole gamut of software with Clover, you're going to be paying some hefty monthly fees for tools to manage inventory or send invoices (even if you process exclusively through them), and overall, we feel there are better options with free software tools out there for your business.

Clover Rates
In-person and online transactions
Most businesses considering Clover have been hooked in by their sleek equipment. Unfortunately, since processing fees for in-person and online transactions will not come from Clover, this component is often under-emphasized in the vetting process for choosing a merchant service provider.
Your rates will depend on the payment processor you sign your equipment contract with; in most cases, this will be Fiserv.
Unlike Interchange Plus pricing, where you only pay the interchange fees with a small set margin on top, Fiserv customers are charged through a flat rate pricing structure.
Clover still pays the interchange fee, but they pocket a fatter margin on lower transactions where Helcim merchants would save money.
They charge a flat rate which ranges depending on your software plan from 2.3 - 2.6% + $0.10 for in-person transactions and 3.5% + $0.10 cents for card-not-present transactions.
Another added element to consider to the total cost of their pricing is the extra costs you'll find littered on your statement that will leave you feeling deceived.
To reiterate, Clover's processing rates are only one element of the cost if you want to accept payments with them, as their software and equipment plans also need to be considered. If you sign a contract directly through Fiserv you will be charged through their flat rate pricing model, however, pricing models may vary for Fiserv's resellers so be sure to read your contract thoroughly before signing.
ACH prices
Clover explains that they don't currently offer ACH payments, which makes sense since you must go through Fiserv. Conveniently they don't list these prices on their website, so you will have to contact Fiserv to determine these rates.
Whomever you decide to process ACH payments through, this is an invaluable payment method for businesses to cut costs and reduce administrative time. If you are looking to accept credit cards, find out how much you could save by using ACH transfers for eligible transactions instead.
Extra and Hidden Fees
If you are new to the payment industry, one of the most notorious aggravations you might hear about is extra and hidden fees. In fact, if you take a peek at their reviews, most of the leading complaints against Clover, and by extension, First Data and Fiserv, are regarding poor customer service, equipment leasing and extra fees.
These include expensive equipment contracts that are non-cancellable and extra fees for day-to-day administration and typical standard processes.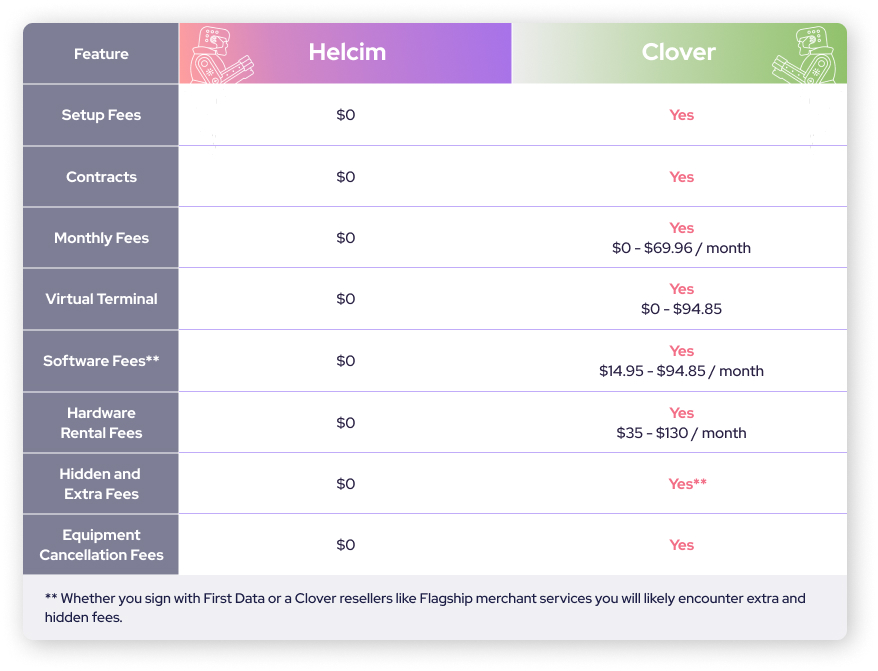 If you process with a reseller, your rates will vary based on that pricing structure. A couple of their popular resellers include Payment Depot and Flagship Merchant Services.
Flagship merchant services, for example, charges you a handful of miscellaneous and hidden fees on your merchant statement, ranging from "statement fees" to "additional fees," which require you to call in or email for clarification on these vague charges.
Make sure you know how to spot hidden fees on your statement and be aware of hidden and extra fees many payment gateways will charge you.
Contract length & early termination fees
All Helcim merchant accounts have no early termination charges or penalties — you simply need a 30-day notice before closing your account.
This is the minimum standard for every payment processor. Compare this with the industry-standard, however, where most providers require that customers fulfill their signed contract period- including Clover and First Data and penalize you for early termination.
Many small businesses that sign up for Clover's equipment leasing opt to end their contract early due to frustrations with Fiserv.
Consequently, they end up being hit with an early termination fee (ETF) for both their equipment and payment processing contracts. Early cancellation contracts and equipment contract fees can be tricky to get out of and are one of the main reasons people stay stuck in their contracts.
Looking to leave your merchant contract? Find out how to skip the ETF here.
The relationship between Clover and Fiserv
Clover is owned by Fiserv (which acquired First Data). You will need their backend to connect to card brand networks to accept and process those payments. So, to get Clover's equipment, you will need to sign a contract with Fiserv or a Fiserv reseller. Don't be fooled into thinking you are signing up with an independent payment facilitator— if you're signing up for clover equipment, you are likely signing with one of their many resellers.
These smaller resellers are often a wolf in sheep's clothing. While businesses feel like they are getting flexibility in choosing their processor, the reality is that there are just fewer resources for researching reviews or information on these resellers— and they still have many of Fiserv's pain points.
Your contract terms may be flexible, but your processing rates will still be through Fiserv, and your contract may still be ridden with hidden fees and extra costs too.
The overall score for Fiserv? We would say it is best for large enterprises who are bringing in at least $5 million a month and can afford to eat all of the hidden and extra fees, inflexible and expensive equipment leases in exchange for a break on their high processing volumes. For small and medium-sized businesses? We would say skip the frustrating contracts, extra costs, and opt for savings through an Interchange Plus processor with volume-based discounts.
Clover vs Helcim
Hardware and software
Let's be honest, if you're considering Clover, it is probably for their sleek, smart terminal. With Helcim, you can get competitive POS equipment that comes with free access to all our software and a free merchant account (no contracts or extra fees). Easily accept in-person and online ACH and credit card payments through our card reader POS system or the Virtual Terminal and synchronize your POS with our free tools.
Clover's closest option to this is their free monthly plan for the Clover Go, but this only comes with the virtual terminal for credit cards(not ACH) and no other tools or software.
Besides a plethora of helpful free tools, with Helcim you get the added security and benefits of cloud-based POS software. If you do need to accept in-person payments, you can do so with the Helcim card reader which is a one-time payment of just $109 USD and comes with a free counter stand.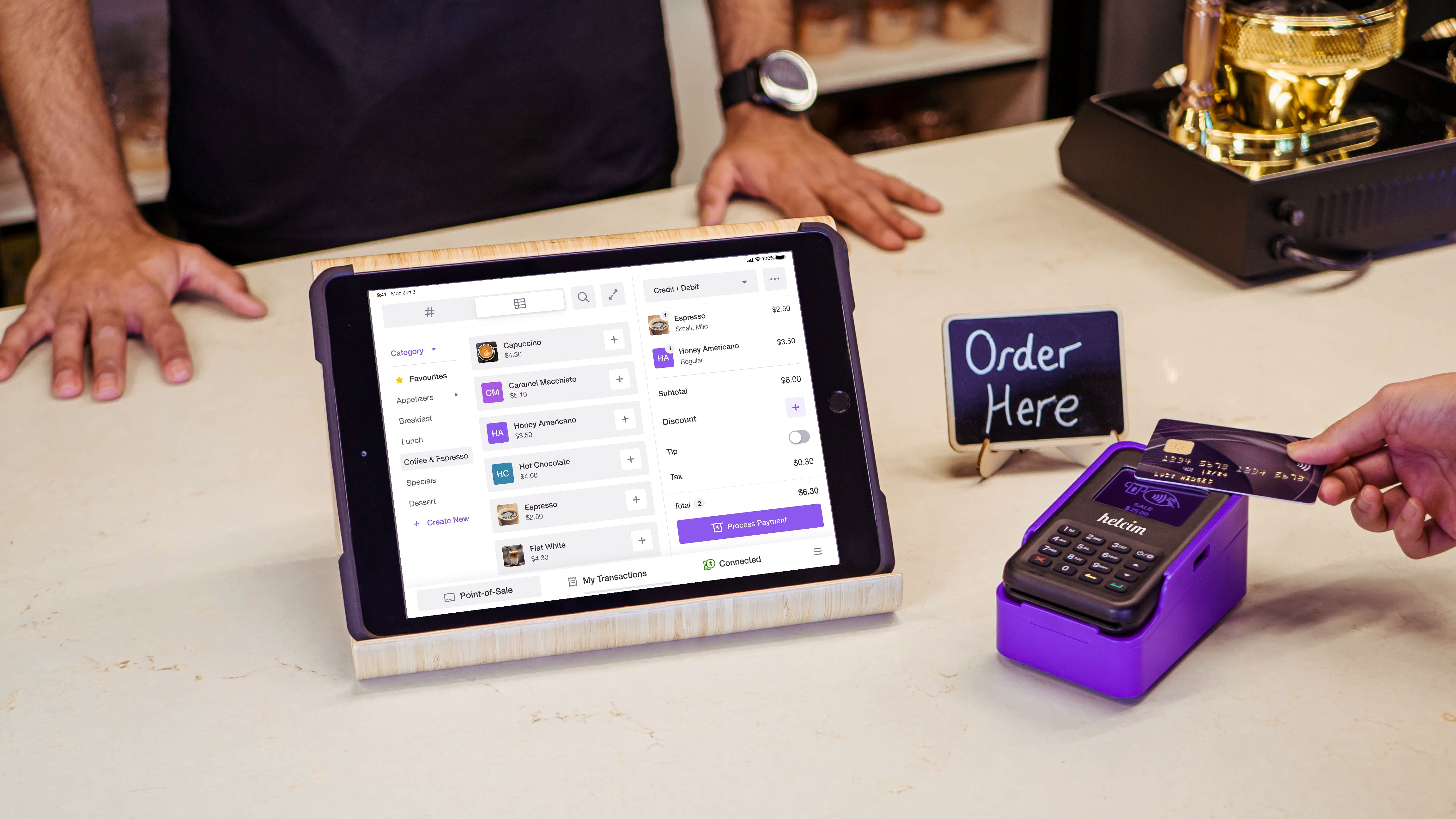 The best part? You can bring your own device to create a mobile or countertop POS that does it all with your phone, tablet, or computer. So you can use what you already have, or choose devices that fit your price range and aesthetic- did we mention the card stand comes in 3 colors?
Costs and Fees
Besides no additional cost for all the added tools and features, you can feel confident that Helcim doesn't charge any monthly, hidden or extra fees.
Our verdict
In our 2022 review of Clover, Clover is a decent choice for its hardware and software options. However, since you are not processing payments directly through Clover, their pricing and contracts can be very confusing, and they have hidden fees that could cost you more in the long run. Between the early cancellation fees and monthly fees for software and equipment plans, you will pay more than you need with Clover. While they have industry-specific tools and software, Helcim is a better choice for businesses for fair pricing with no hidden fees, excellent customer service, and industry-leading tools and features- all at no extra cost with your free account.
If you're looking for an affordable payment processor, check out Helcim.